Carl Zeiss Victory HT 8x54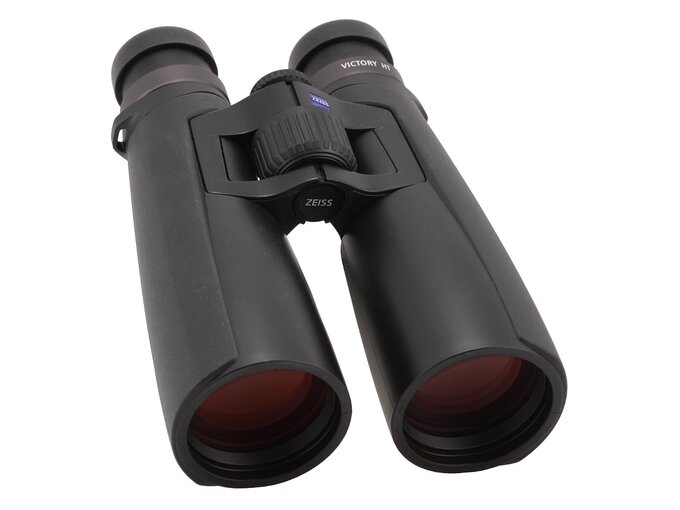 In March 2014 Zeiss announced a launch of new Victory HT devices, enlarging this series with two roof prism Abbe-Koenig instruments with the following parameters: 8x54 and 10x54.
The producer mentions the fact that you can find Schott HT glass in their optical system, with high transmission for blue and purple light, and low dispersion glass in the objective lenses. Additionally, all air-to-glass surfaces are covered by T* antireflection multi coatings and the outer elements are protected by hydrophobic LotuTec layers.
The casing is made of magnesium composites, coveredy by high quality rubber armour, nitrogen purged and waterproof (up to 400 mbar). The binoculars can be used in a temperature range from -30 to +63 degrees C.
The instrument comes with a 10-year warranty period. Buyers get in the box: a neoprene carrying strap, caps, a case, and an optics cleaning cloth.
Manufacturer data
Magnification
Lens diameter
Angular field of view
Prisms
Eye relief
Weight
Price
8
54
130/1000(7.4o)
BaK-4/roof
16 mm
1035 g
10300 PLN
Results of the review
Real front lens diameter
Left: 53.91+/- 0.05 mm
Right: 53.93+/- 0.05 mm
8 / 8.0 pkt
Real magnification
8.05+/- 0.05x
3/3.0
Transmission
91.6+/- 1%
19/25.0
Chromatic aberration
Practically zero in the centre, on the edge noticeably lower than average.
8.8/10.0
Astigmatism
Low. Images of stars almost point-like.
8.5/10.0
Distortion
Distance of the first curved line from the field centre compared to the field of view radius: 46% ± 5%
5/10.0
Coma
Coma appears already in a distance of 60-65% of the field of view radius and is high on the very edge.
4.5/10.0
Blurring at the edge of the FOV
Blur occurs in a distance of 73% ± 4% from the field of view centre.
4/10.0
Darkening at the edge the FOV
Slight.
4.4/5.0
Whiteness of the image
Bright, clear image, practically without any colouring. Very flat transmission graph.
4.9/5.0
Collimation
Perfect.
5/5.0
Internal reflections

| | |
| --- | --- |
| Left: | Right: |
| | |

Dark areas near the exit pupil but on the edges of the eyepiece you can notice small false pupils. Slight spikes and ghosting visible when you look at bright lampposts at night.
4/5.0
Housing
Stylish and not so big for this class of equipment. Padded with good quality rubber armour that has a different texture on the outside in order to make your grip more secure. Comfortable to look through and to handle, nothing sticks out, generally no reservations whatsoever. Produced in Germany.
8/8.0
Focusing
The central wheel is big, comfortable, and positioned right under your finger. It moves smoothly, with small but still noticeable resistance. Its focus throw amounts to as much as 650 degrees. Individual focusing done through a click-stop on a separate, smaller wheel on the other side of the bridge. Nothing moves outside.
5/5.0
Tripod
No standard tripod exit. Optionally you can buy a tripod adapter.
2/3.0
Interpupilary distance
from 57.8 to 76.4mm
5/6.0
Closest focusing distance
2.60 meters.
2/2.0
Eyepieces FOV
Apparent field of view of 59.0 degrees according to a simplified formula and 54.6 degrees according to the tangent formula.
10/20.0
Field of view
Measured by us amounted to 7.33 ± 0.04 degrees and it was a tad narrower than stated in specifications. A significant field for this class of equipment.
6.5/8.0
Quality of the interior of the barrels
Inner tubes are mat and dark but not perfectly blackened. The bottom next to prisms and the cell with the focusing element are dark but not perfectly matted. You can notice the focusing mechanism and some specks of dusts on the prisms.
3.5/5.0
Vignetting

| | |
| --- | --- |
| Left: | Right: |
| | |

OL: 0.29%, OR: 0.61%
7.5/8.0
Prisms quality
High quality BaK-4.
8/8.0
Antireflection coatings
Pink-yellow on objectives and prisms, pink-yellow-purple on eyepieces. Low intensity.
5/5.0
Warranty [years]
10
4.5/6.0
Final result

76.9%

146.1 / 190 pkt
Econo result
0pkt.
Summary
Pros:
very solid, comfortable, shapely, and stylish casing,
high transmission in the wide range of the spectrum.
very flat transmission graph and excellent colour rendering,
low chromatic aberration,
slight astigmatism,
imperceptible brightness loss on the edge of the field,
good quality Abbe-Koenig prisms,
high quality antireflection coatings,
circular exit pupils.
Cons:
a bit too high coma,
image on the edge should have been sharper,
false exit pupils.
The Zeiss company have always boasted of a very rich offer of low light 8x56 binoculars. First they launched the Dialyt model, produced in different versions from 1968 to 2016. From 1994 the Dialyt had company in a form of the Design Selection model and then different versions of the Victory series. At one point, after launching the Conquest models, Zeiss actually had as many as three 8x56 pairs of binoculars in their line-up and
the following chart
presents a comparison of their basic parameters.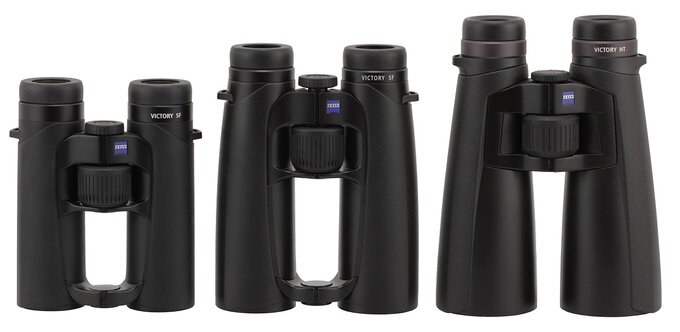 Zeiss Victory SF 8x32, Zeiss Victory SF 8x42 and Zeiss Victory HT 8x54.
The field of view of the Zeiss instruments used to be their huge selling point. Once the field of view of 8x56 binoculars rarely exceeded 7 degrees but that rule didn't concern the upmarket Zeiss models. Currently Zeiss's line up also features three 8x56 class instruments – one from the Conquest series, one from the Victory series, and one with a rangefinder -
our next chart
presents their basic parameters.
The Zeiss Conquest HD 8x56 we've already tested and now the time has come for the Victory HT model, a device by almost 1000 USD more expensive than the Conquest. Its parameters indicate that you gain when it comes to the field of view, weight, and physical dimensions. It is also more resistant to frost. Still, you have to pay for these assets with a lens by 2 mm smaller (so practically the cheaper model gathers over 7% of light more) and a less favourable eye relief distance. Is the more expensive Victory HT instrument still worth the extra money? Let's find out!
Glass and coatings might be the first argument in favour of the more expensive pair of binoculars. Zeiss claim that both night vision instruments feature T* multi-coatings but I suppose they differ a bit from each other. After all even the same coating covering a different type of glass can produce a different result. The amount of light reflected on one air-to-glass surface depends, among other things, on refractive index of the glass.
If you actually compare the transmission graphs of the Conquest HD and the Victory HT, and the colouring of images they provide, you see that they fare differently.
The Conquest HD performs like a typical pair of Zeiss binoculars – its transmission is excellent for yellow-green light, with a bit lower values for blue-purple and orange-red light. The constructors of the Victory HT focused on the flatness of the transmission graph - its maximum value doesn't exceed 92% but you land above 90% both for purple and orange light, a brilliant performance overall. You gain doubly, with crystal-clear images without any colouring and a great comfort of nighttime observations because our rods are more sensitive to blue-green light than our cones (the rods reaching the peak of their possibilities at 500 nm wavelength and the cones – at 550 nm). It seems the coatings of the Victory HT can be easily described as outstanding.
The Victory HT 8x54 corrects chromatic aberration better than the Conquest HD and the same can be said about astigmatism and brightness loss on the edge of the field. The cheaper model prevails when it comes to coma, distortion, and blur on the edge of the field of view, a narrower field of view, you should add.
The Conquest HD prevails when it comes to the appearance of exit pupils and the area around them because the more expensive Victory HT has a problem with visible false pupils. What's interesting, the cleanliness inside the tubes and their blackening is better in the cheaper Zeiss. Even though, according to official specifications, both binoculars feature the same minimum focusing distance, the measurements show that the Victory HT model is able to focus from a bit shorter distances.
The final verdict? Both pairs of binoculars fare equally well in our test. The more expensive Victory HT model officially got a higher score but the difference is so insignificant that it might be considered the margin of measurement error. We can end up this review with a kind of judgement of Solomon. If a wider field of view, smaller weight, and physical dimensions are your priority, you should get interested in the Victory HT model. If you are more tolerant when it comes to a narrower field of view, more significant weight and other dimensions the Conquest HD will suit you fine as it is, undoubtedly, an excellent piece of equipment as well. Moreover, you will be left with almost 1000 USD extra spending money in your pocket...