Leica Ultravid 8x32 HD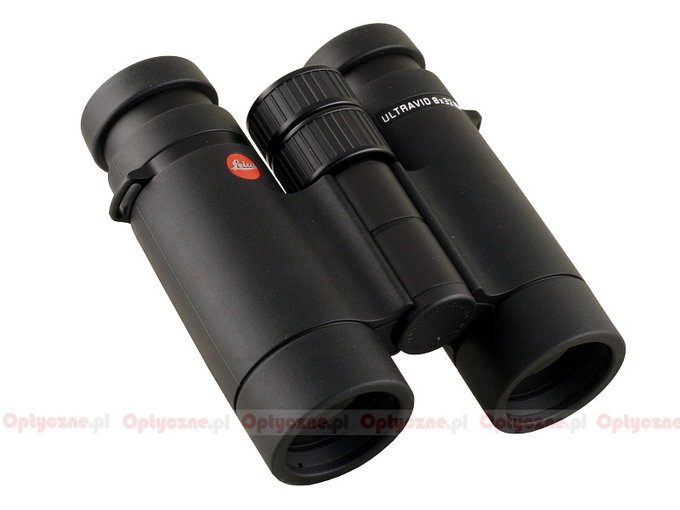 The Ultravid HD binoculars series was launched in 2007, replacing the Ultravid series. It consists of roof prism models with the objective diameters from 20 to 50 mm. All binoculars feature Schmidt-Pechan prisms. They were covered by dielectric HighLux (HLS) coatings to ensure high transmission level and additionally they were phase P40 correction coated.
In the objectives fluorite glass and better antireflection coatings were used which are to guarantee the transmission higher than in the previous version by 3%. Additionally the outer optical surfaces were covered by AquaDura coatings, which make water flow down very quickly. These coatings also make the cleaning easier – the traces of humidity, dirt or fingerprints are supposed to be very easy to remove.
The magnesium body of the binoculars is covered by soft matt rubber which is task is to ensure a firm grip in every conditions. Additionally the instrument is waterproof up to 5 meters and nitrogen-filled. The Ultravid HD series binoculars can be used in temperature ranging from –25 to +60°C.
The buyer gets a neoprene strap, a Cordura case and caps for objectives and eyepieces as a part of the product bundle. The instrument comes with a 10-year guarantee.
Manufacturer data
Magnification
Lens diameter
Angular field of view
Prisms
Eye relief
Weight
Price
8
32
135/1000(7.7o)
BaK-4/roof
13.3 mm
535 g
7179 PLN
Results of the review
Real front lens diameter
Left: 32.2+/- 0.05 mm
Right: 32.2+/- 0.05 mm
8 / 8.0 pkt
Real magnification
7.92+/- 0.05x
3/3.0
Transmission
91.7+/- 1%
19/25.0
Chromatic aberration
Very low in the centre, medium on the edge.
7.2/10.0
Astigmatism
Very low.
8.8/10.0
Distortion
The distance between the first curved line and the field centre compared to the field of view radius: 36% ± 5%
3/10.0
Coma
Appears in the distance of about 80% from the field centre and on the very edge is on the borderline between low and medium value.
8.9/10.0
Blurring at the edge of the FOV
The blur occurs in the distance of 81% ± 5% from the field of vision centre.
6/10.0
Darkening at the edge the FOV
Slight.
4.3/5.0
Whiteness of the image
Good.
4/5.0
Collimation
Perfect.
5/5.0
Internal reflections

| | |
| --- | --- |
| Left: | Right: |
| | |

Perfect. An example to be followed. Perfectly black background around the pupils.
5/5.0
Housing
Small, handy and solid at the same time. The padding a bit too slipperly. The rubber doesn't stick out anywhere. Plastic, twsit-up eyecups. Practically it would be difficult to find any reservations. Very comfortable to hold and to look through.
7.8/8.0
Focusing
Very big central wheel which moves smoothly and is comfortable to use. Full turn takes 380 degrees. Individual focusing through click stop on the central wheel. Nothing moves outside.
4.7/5.0
Tripod
Optional tripod adapter. In the 8x32 binoculars' test we awarded all instruments the same, average value of 1.5 points in this category as a tripod exit is rarely used in this class of equipment.
1.5/3.0
Interpupilary distance
from 52.8 to 75.4mm
5/6.0
Closest focusing distance
1.75 m
1.5/2.0
Eyepieces FOV
Apparent field of view of 62.0 deg (accoriding to simple formula) and 56.9 deg (according to tangent formula).
11.5/20.0
Field of view
Measured by us amounted to 7.83 ± 0.04 degrees and it was a bit wider than stated in specifications. A big field of view for this class of equipment.
6.5/8.0
Quality of the interior of the barrels
Inner tubes black and matt, the bottom too. Some specks of dust on the prisms.
4.8/5.0
Vignetting

| | |
| --- | --- |
| Left: | Right: |
| | |

OL: 0.9%, OR: 1.9%
6.5/8.0
Prisms quality
High quality BaK-4.
8/8.0
Antireflection coatings
Green-yellow on objectives and eyepieces. Green-yellow-blue on the prisms. Low intensity.
5/5.0
Warranty [years]
10
4.5/6.0
Final result

78.7%

149.5 / 190 pkt
Econo result
0pkt.
Summary
Pros:
solid, compact and handy casing at the same time,
good transmission,
negligible astigmatism,
well-corrected chromatic aberration,
low coma,
slight brightness loss on the edge of the field of view,
good colour rendition,
perfectly black background around exit pupils,
very good blackening inside the inner tubes,
high quality antireflection coatings,
good prisms made of BaK-4 glass.
Cons:
small eye relief,
too high distortion,
slightly egg-shaped pupils.

At first sight the Leica Ultravid 8x32 HD draws attention to its compact dimensions. It is a small instrument with a well-put-together casing, padded with uniform black material; it makes an impression of a diminutive device, smaller than it really is. You can notice it in this photo, where the Leica is positioned next its most serious competitors. It is significantly smaller than the Swarovski on the left and a bit smaller than the Zeiss. In the 8x32 class dimensions and weight matter a lot so the Leica has an advantage over its rivals; it can be clearly seen in the following chart, presenting a comparison of these instruments.
For such an expensive device produced by such a reputable company this pair of binoculars has plenty of advantages: its build quality, good transmission (its graph is presented below and it can reach 95% in the red part of the spectrum) and splendid correction of most optical aberrations.
What's interesting, though, in the equipment from such a high price segment we can still find some slip-ups. You can count among them not a very good degree of distortion correction and small eye relief – it amounts to just 13.3 mm and it might be problematic for those who wear glasses. In this category the Leica fares worse not only compared to its immediate competitors but even to much cheaper sets of binoculars.
The issue of small eye relief in the 32 mm class is a serious one and we would like to write some more about it here. If a 8x32 pair of binoculars is less than 120 mm long it means that its focal length is on a similar level. Assuming that the Leica's 8x32 objectives feature the focal length of about 110 mm we can calculate easily that, in order to get 8x magnification, you must use eyepieces with the focal length of ca. 14 mm.
In most of the binoculars available on the market we find Kellner or Plössl eyepieces - simple and efficient constructions consisting of 3 or 4 elements. They have one serious drawback, though: their eye relief is typically about 2/3 of their focal length. In the case of an eyepiece with the focal length of 14 mm we get a not very comfortable eye relief of less than 10 mm. In 32 mm class binoculars the usage of ordinary Plössl eyepieces is problematic. In this situation you must apply 5 or even 6-element constructions to get a comfortable value of exit pupil. Unfortunately compared to the classic Plössl the length and the weight of these more complicated optically eyepieces increase significantly.
In order not to sound baseless, let's consult several facts. A classic Plössl produced by the TeleVue company, a known and appreciated manufacturer on the astronomical market, with 15 mm focal length features an eye relief of 10 mm. The same company has a Radian eyepiece on its offer, with 14 mm focal length and with a very comfortable eye relief of 20 mm. That eyepiece consists of 6 elements but is almost twice as long as the Plössl, over three times heavier and almost three times more expensive. You can't have everything…
As we mentioned before, in the 8x32 class small dimensions and weight matter. If that TeleVue Radian 14 mm eyepiece weighs 245 grams, two of them will give you almost the total weight of a light set of 32 mm class binoculars. Using big and heavy eyepieces in such instruments is rather senseless. When you use short and small eyepieces we start having problems with their field of view and eye relief. Every company must compromise on this point a bit and different companies choose a different approach. Leica decided to count on small dimensions and gave up the eye relief. Unfortunately in optics you get nothing for nothing.