Carl Zeiss Conquest HD 8x56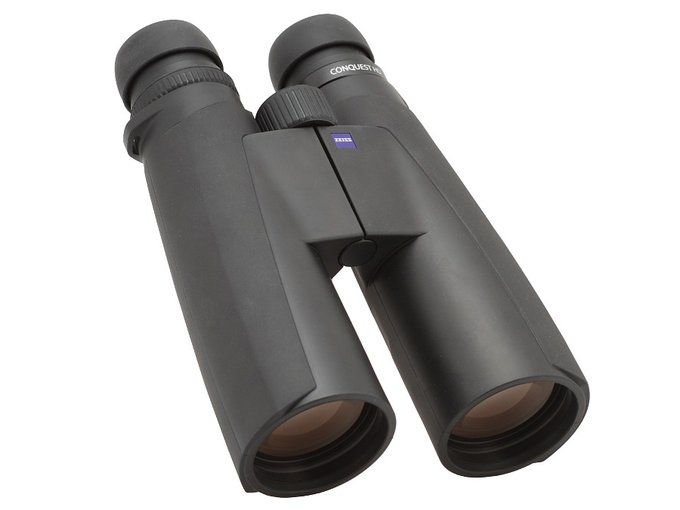 The Zeiss Conquest series was launched on the market over ten years ago. These binoculars were produced by Zeiss in their Hungarian factory and, overall, the series consisted of ten models, with the diameter of objectives ranging from 30 to 56 mm.
In January 2012 a refreshed Conquest series was shown on the market with HD letters in their names; its production was moved back to Germany. The 8x42 and the 10x42 models were launched as the first, then the 8x32 and the 10x32 joined them and finally Zeiss launched the 8x56 ,the 10x56 and the 15x56 models.
Binoculars from that series are supposed to have a special optical system marked as HD which, combined with antireflection T* coatings, allegedly guarantees bright and properly contrasted images. The producer emphasizes the fact that the overall transmission of a pair of binoculars should reach over 90% because of the Abbe-Koenig prisms, which can be found in the low light models with an objective lens of 56 mm.
The Conquest HD series binoculars boast LotuTec water shedding outer coatings for all weather use and easier cleaning; they are also nitrogen-filled, fully armored and waterproof up to 5 meters. They can be used in temperatures ranging from -20 to +63 degrees Centigrade.
Buyers get a rainguard and lens caps, a strap and a hard case with a strap of its own in the box. The product comes with a 10-year guarantee period.
Manufacturer data
Magnification
Lens diameter
Angular field of view
Prisms
Eye relief
Weight
Price
8
56
125/1000(7.1o)
BaK-4/roof
18 mm
1265 g
6300 PLN
Results of the review
Real front lens diameter
Left: 56.03+/- 0.05 mm
Right: 56.05+/- 0.05 mm
8 / 8.0 pkt
Real magnification
7.99+/- 0.1x
3/3.0
Transmission
93.8+/- 1%
21/25.0
Chromatic aberration
Slight in the centre, on the edge a bit higher than average.
6.3/10.0
Astigmatism
Slight.
7.8/10.0
Distortion
Distance between the first curved line and the field of vision centre compared to the field of vision's radius: 60% ± 5%
7/10.0
Coma
Appears in a distance of 75% of the field of view radius and is medium on the very edge.
7.8/10.0
Blurring at the edge of the FOV
The blur occurs in a distance of 77% ± 3% from the field of vision centre.
5/10.0
Darkening at the edge the FOV
Slight.
4.2/5.0
Whiteness of the image
The highest transmission for green light, about 5% lower for red. Noticeable green-yellow hue.
3.8/5.0
Collimation
Perfect.
5/5.0
Internal reflections

| | |
| --- | --- |
| Left: | Right: |
| | |

Almost perfect.
4.8/5.0
Housing
Very solid and long. Comfortable to hold and to look through. Covered by rubber armour which is a tad too slippery. The rubber sticks out slightly next to the objectives. The eyecups are rubberized and regulated. Officially they feature in-between stops but in fact they move with such a resistance that you can put them in any position and still use without any problem. Produced in Germany.
7.3/8.0
Focusing
A comfortable central wheel which is smooth but works with slight resistance. A full turn takes an angle of about 410 degrees. Individual focusing on the right eyepiece done through a comfortable, rubber ring with ribs. It moves the outer element.
4.5/5.0
Tripod
There is a tripod exit but, due to its position close to tubes the access is a bit difficult..
2.5/3.0
Interpupilary distance
from 53.7 to 75.4mm
5/6.0
Closest focusing distance
2.90 metra
2/2.0
Eyepieces FOV
Apparent field of view of 55.1 deg (according to simple formula) and 51.4 deg (according to tangent formula).
7/20.0
Field of view
Measured by us amounted to 6.90 +\- 0.04 degrees and it was by 0.2 of a degree narrower than stated by the producer. A significantly big field for this class of equipment.
4.5/8.0
Quality of the interior of the barrels
Good darkening and matting of the tubes which feature a lot of apertures and ribs. Dark bottom. The right tube is clean whereas in the left one you can spot some specks of dust on the focusing element.
4.3/5.0
Vignetting

| | |
| --- | --- |
| Left: | Right: |
| | |

OL: 0.4%, OR: 0.0%
7.5/8.0
Prisms quality
High quality BaK-4 , Abbe-Koenig system.
8/8.0
Antireflection coatings
Purple-pink –blue on objectives and eyepieces, purple-pink on prisms. Low intensity.
5/5.0
Warranty [years]
10
4.5/6.0
Final result

76.7%

145.8 / 190 pkt
Econo result
0pkt.
Summary
Pros:
solid casing,
high transmission,
slight astigmatism,
no serious problems with chromatic aberration,
moderate coma,
slight brightness loss on the edge of the field,
almost perfectly dark area near the exit pupil,
nice, circular exit pupils,
good darkening inside the tubes,
high quality Abbe-Koenig prisms made of BaK-4 glass,
efficient antireflection coatings,
excellent darkening inside the tubes.
Cons:
the edge of the image could have been sharper.

The Carl Zeiss Conquest HD 8x56 is a pair of binoculars practically devoid of any flaws. Even the only position in our cons section, the sharpness on the edge of the field of view, was added a bit by force because, after all, in that category the binoculars got 5 points out of 10 so a perfectly medium result which usually we don't criticize at all. Still noblesse oblige – you should be more demanding when it comes to a Zeiss instrument.
However, the new Conquest does have one problem – its rivals. You might start with its older brother, the Zeiss Victory 8x56 T* FL. It is true that pair of binoculars is no longer produced but when it was available in shops it cost a similar amount of money. It still can be bought at different sales or on Internet auction sites for about 1200-1400 Euro. In our test its score was a bit higher than that of the Conquest HD 8X56 and it featured a wider field of view so, overall, it seemed a bit better option.
Zeiss Conquest HD 8x32, Zeiss Terra ED 8x42 and Zeiss Conquest HD 8x56

In a way the move of Zeiss is perfectly understandable and you can even interpret it in positive terms. The top-of-the-range Victory FL series was superseded by the Victory HT models with objectives as large as 54 mm. The Conquests HD are one step below the Victory ones and still they are able to score as high as a model which was placed at the very top even several years ago. It would be not so bad if not for the price because that weaker model still costs as much as the ex-best model used to.
Mind you other rivals don't let the grass grow under their feet. You can buy such sets of binoculars as the Docter 8x58 B/CF or the Minox HG 8x56 BR MIG for far less than the Conquest HD and in our tests their scores were exactly the same as the result of the Zeiss. The field of view seems to be the only selling point of the Conquest as it is wider than the field of both of those competitors (but still it is a bit narrower than stated in the specifications).
If I had to recommend anything here I would suggest looking for the last specimens of the Zeiss Victory FL 8x56. For about 1200-1400 Euro it will be most likely a better purchase than the Conquest HD, tested here. Anyway let's wait for some special offers and lowering of the price – under 1100-1200 Euro even the Conquest might become a juicy morsel but currently it seems to be a bit overvalued.
What's interesting, on different Internet auctions you can buy Conquests HD 8X56 for 1150 Euro so noticeably cheaper than in stationary shops in Poland. That price tag might incline you to think about the purchase seriously.

Attention! In this test the transmission value has been measured only for two wavelengths: 532 nm (green) and 657 nm (red) with a margin of error never exceeding 1%. Four measurements have been taken for each optical path and the results have been averaged out.