Carl Zeiss Dialyt 8x56 B/GA T* ClassiC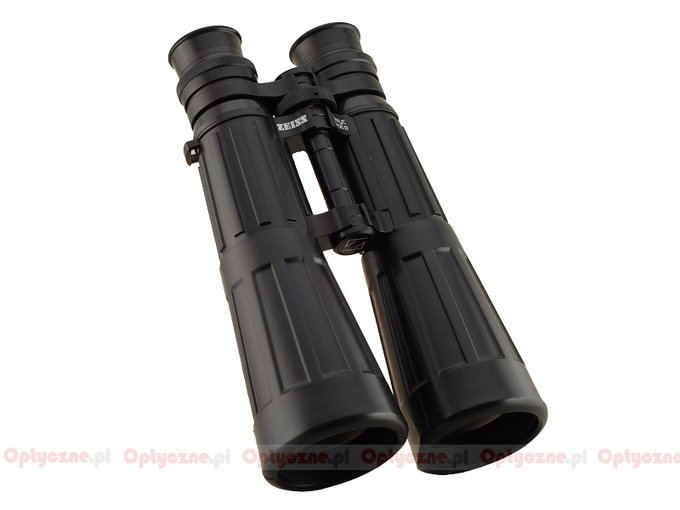 One of the most classic binoculars on the market, which was constructed 40 years ago. We deal here with a typical achromatic objective lens consisting of two elements, Abbe-Koenig roof prisms, which assure high transmission level due to total internal reflection phenomenon, and an eyepiece with classic three-lens Kellner design. The pair of binoculars is long because a long focal length, allowing a better correction of chromatic aberration and usage of smaller prisms – its length also contributes to the greater dimensions of an instrument. The comparison between the optical construction of a classic Dialyt 8x56 and the newest model of a Victory 8x56 T* FL is presented in the diagram below.
Of course during these 40 years the quality of coatings changed a lot so a Dialyt 8x56, manufactured today, is equipped with the newest multi-layered T* coatings, put on all air-to-glass surfaces.
The binoculars are only splash- proof (it is not waterproof so you can't put it under water) and they are not nitrogen-filled. Their standard accessory kit is modest indeed – we get neither a case nor any caps for the front lenses. The manufacturer only provides a strap and one cap for oculars. The binoculars are given a 10-year-long guarantee period.
Manufacturer data
Magnification
Lens diameter
Angular field of view
Prisms
Eye relief
Weight
Price
8
56
110/1000(6.3o)
BaK-4/roof
17.5 mm
1010 g
4850 PLN
Results of the review
Real front lens diameter
Left: 56.05+/- 0.05 mm
Right: 56+/- 0.05 mm
8 / 8.0 pkt
Real magnification
8.07+/- 0.15x
3/3.0
Transmission
90.7+/- 1%
18/25.0
Chromatic aberration
A bit lower than average in the centre, high at the edge.
5/10.0
Astigmatism
Slight.
8.1/10.0
Distortion
The distance of the first curved line from the field centre compared to the field of view radius: 54% +/- 3%
6/10.0
Coma
Appears above 65% of the field and at the edge is medium at most.
8/10.0
Blurring at the edge of the FOV
The blur appears in the distance of 91% +/- 3% from the field of vision centre
8/10.0
Darkening at the edge the FOV
Noticeable but not very big.
4/5.0
Whiteness of the image
Almost ideal. Very nice, flat transmission curve.
4.8/5.0
Collimation
Exemplary.
5/5.0
Internal reflections

| | |
| --- | --- |
| Left: | Right: |
| | |

Exit pupil on dark background. Clear false pupils are a problem.
3.5/5.0
Housing
Long and narrow. The rubber armour nice to the touch. Solid. Rubber-coated eyecups without any regulation (you can fold them).
7.2/8.0
Focusing
Narrow central screw (a 450-degree turn) plus a classic occular bridge. It is smooth and well-damped. You can't change the oculars position by putting a pressure on them. Individual focusing moves the whole right ocular.
4/5.0
Tripod
A pipe. You can buy an adapter to it.
1/3.0
Interpupilary distance
from 58 to 75.2mm
5/6.0
Closest focusing distance
5.2 m
1/2.0
Eyepieces FOV
Field of view of 50.8 deg (according to simple formula) and 47.8 deg (accoding to tangent formula).
4/20.0
Field of view
Measured by us amounted to 6.29 +/- 0.03 degrees and was in fully accordance with the technical specifications. A field typical for this class instruments.
5/8.0
Quality of the interior of the barrels
Dark, black, matt and clean. An example to be followed.
5/5.0
Vignetting

| | |
| --- | --- |
| Left: | Right: |
| | |

Slightly truncated exit pupils.
OL: 0.2%, OR: 0.6%
7.5/8.0
Prisms quality
Good quality BaK-4 put in the Abbe-Koenig system.
8/8.0
Antireflection coatings
On front lenses and eyepieces yellow-orange, on prisms purple. Low intensity.
5/5.0
Warranty [years]
10 years
4.5/6.0
Final result

72.9%

138.6 / 190 pkt
Econo result
0pkt.
Summary
Pros:
high transmission,
interesting, old-style barrel but solid at the same time,
low astigmatism,
slight coma,
sharp image in almost all field of view,
slight brightness fall-off at the edge,
very good white reproduction,
fantastic blackening and cleanliness inside the inner tubes,
high class Abbe-Koenig prisms,
very good anti-reflective coatings,
Cons:
minimum focusing distance could have been smaller,
significant chromatic aberration at the edge of the field of view,
modest accessories kit.

The Carl Zeiss Dialyt 8x56 GA T* ClassiC is a very interesting instrument. It combines classic looks and modernity. The workmanship is very modern, with modern glass, coatings and, of course, modern processing. For every optics maniac it is a true collector's item and, as I can be numbered among them, I find it very hard to make an objective assessment in the summary.
Let's start with the transmission graph because these measurement results come from an impersonal spectrophotometer and they can speak for themselves.
In the visible spectrum centre the transmission is high and it reaches 91-92%. Such a result doesn't disgrace the tested device but if we remind ourselves how Docters 8x58 and a Nobilem 8x56 fared we might feel a bit unsatisfied. We can find some comfort in the fact that the Dialyt presents one of the flattest high transmission graphs in all parts of the visible spectrum window which ensures good colours reproduction and light, white, contrasting image.
The Dialyt 8x56 has good or very good results in practically all optical categories, tested here. Only the chromatic aberration correction was a bit troublesome for it but still the achieved result was medium. The binoculars haven't had any significant, let alone serious, slip-up. If you consider their price, though, a better accessory kit should be expected.
To sum up: everyone who decides to buy a Dialyt will be satisfied with it for sure. Our test's result places this device between a much bigger and heavier Docter 8x58 and a smaller but much more expensive Leica Geovid 8x56. Everybody should find something perfect for him/herself then.