Vortex Diamondback 10x50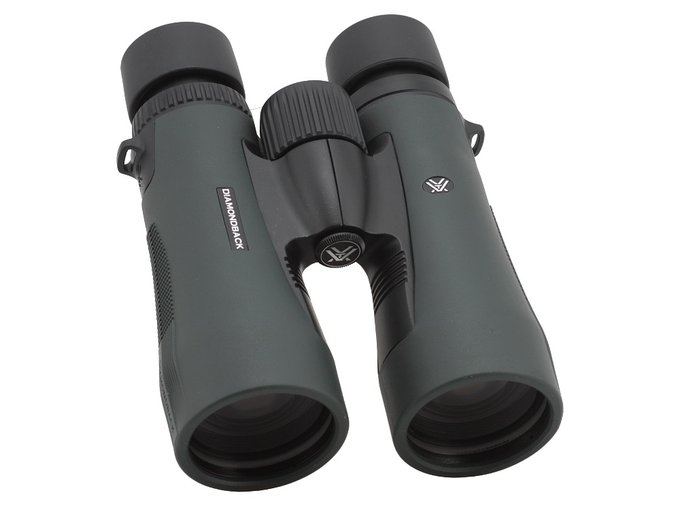 The current Vortex Diamondback series was launched on the market in 2016. It consists of as many as eight models with the following parameters: 8x28, 10x28, 8x32, 10x32, 8x42, 10x42, 10x50 and 12x50. All of them are roof prism Schmidt-Pechan instruments with prisms covered by dielectric coatings. Apart from that the producer declares that all air-to-glass surfaces of the optical system are covered by antireflection multilayer coatings.
The binoculars are padded by rubber armour; they are waterproof, argon purged and come with lifetime warranty of the producer.
Manufacturer data
Magnification
Lens diameter
Angular field of view
Prisms
Eye relief
Weight
Price
10
50
105/1000(6o)
BaK-4/roof
17 mm
839 g
1199 PLN
Results of the review
Real front lens diameter
Left: 50.26+/- 0.05 mm
Right: 50.31+/- 0.05 mm
8 / 8.0 pkt
Real magnification
9.95+/- 0.1x
3/3.0
Transmission
82.9+/- 1%
11/25.0
Chromatic aberration
A bit lower than medium in the centre, very high on the edge of the field.
3.3/10.0
Astigmatism
Medium. Stars are sparking distinctly.
4.5/10.0
Distortion
Distance between the first curved line and the field centre compared to the field of view radius : 54% +\- 4%
6/10.0
Coma
Appears in a distance of 55% of the field of view radius and is on a borderline between high and medium values on the very edge.
4.4/10.0
Blurring at the edge of the FOV
Blur occurs in a distance of 79% ± 3% from the field of view center.
5/10.0
Darkening at the edge the FOV
Noticeable but not especially bothersome.
3.6/5.0
Whiteness of the image
Transmission curve only slightly slanted. Very slight green-orange colouring of images.
4/5.0
Collimation
Very good.
4.5/5.0
Internal reflections

| | |
| --- | --- |
| Left: | Right: |
| | |

Visible drop next to the proper pupil.
3/5.0
Housing
Very nice and stylish; also not especially big for the 10x50 class. Rubber armour of good quality, ensuring a proper grip. It isn't loose in any place and it doesn't stick out. Thumb indents make the binocular a joy to use and it is very comfortable to look through them. No shoddy workmanship. Rubberized twist-up eyecups offer you a wide range of settings and move very smoothly. Made in China.
8/8.0
Focusing
Big, comfortable central wheel with ribs, which moves smoothly and is well-damped. Running through the whole distance scale takes a turn through an angle of as much as 640 degrees. Dioptre adjustment done through a ring on the right eyepiece. It moves the outer lens.
4.5/5.0
Tripod
Quite sensible access.
3/3.0
Interpupilary distance
from 59.4 to 76.4mm
4/6.0
Closest focusing distance
2.30 metres.
2/2.0
Eyepieces FOV
Apparent field of view of 60.1 deg (according to simple formula) and 55.3 deg (according to tangent formula).
11/20.0
Field of view
Measured by us amounted to 6.04 ± 0.04 degrees and it was in perfect agreement with the value stated in the specifications. A sensible field for this class of equipment.
6/8.0
Quality of the interior of the barrels
Very nicely blackened, matted and ribbed tubes near the objective but further on the situation deteriorates. Apart from that the edges of objective lens are too shiny. The areas next to prisms are matted and darkened, further on they are left uncovered. Very clean.
3/5.0
Vignetting

| | |
| --- | --- |
| Left: | Right: |
| | |

OL: 0.62%, OR: 0.59%
7/8.0
Prisms quality
Good quality BaK-4.
8/8.0
Antireflection coatings
Greenish everywhere. One air-to-glass surface is suspiciously shiny and doesn't have any colouring.
4/5.0
Warranty [years]
lifetime
6/6.0
Final result

66.7%

126.8 / 190 pkt
Econo result
0pkt.
Summary
Pros:
solid, very nice and ergonomic casing,
good colour rendering,
very clean optics inside the tubes,
good quality prisms made of BaK-4 glass,
ifetime warranty period.
Cons:
high chromatic aberration on the edge of the field of view.
As you see in photo below we organized a small duel between different 10x50 roof prisms models during our latest binoculars test. The instruments which took part in that test were as follow (in alphabetical order): the Focus Nordic Extreme 10x50, the Delta Optical Chase 10x50 ED and the Vortex Diamondback 10x50. According to our scoring the Focus Nordic lost that duel completely, and the Vortex was only slightly worse than the Delta. Still it doesn't mean the tested pair of binoculars is automatically doomed to fail on the market.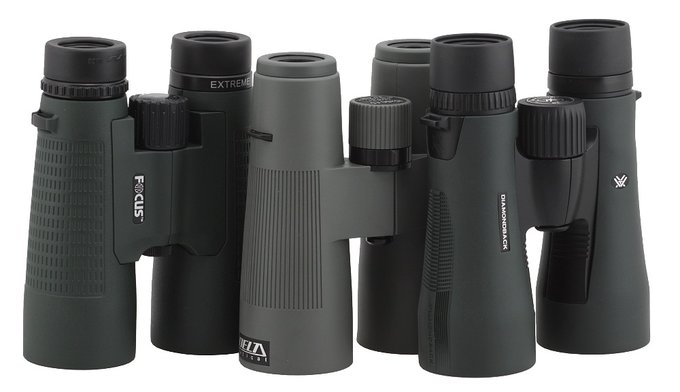 Focus Nordic Extreme 10x50, Delta Optical Chase 10x50 ED and Vortex Diamondback 10x50.
The appearance and build quality of the Diamondback are two big points in favour of that instrument. The Vortex really can attract your attention and let's face it, it's a serious asset with such a wide choice of different instruments available on the market. It also seems the Vortex company has no difficulty with rigid quality control in Chinese factories – the casing of their instrument is practically flawless , the interiors of the tubes are cleaner than in many more expensive binoculars and the prisms are designed and set so well that the pupils are almost round. If only the inner part of the tubes was blackened better we would deal with an example to follow.
When it comes to the transmission, which graph we present below, it remains typical for roof prisms instruments of this class. You don't get any sensational values but you can't seriously complain either.
If I wanted to describe the flaws of this instrument in a nutshell I'd say the optics of the Diamondback lags a bit behind the quality of the casing and its great looks. You don't get many very good or excellent results in our test which is ruled by mediocrity. Still that mediocrity means medium results so no dramatic slip-ups either. In fact, if I had to list a serious flaw only a high level of chromatic aberration on the edge of the field comes to my mind. As you see, that mediocrity left a distinct impression on our pros and cons list which remains unusually short (but it features significantly more pros than cons too).
It seems the Delta Optical Chase 10x50 ED and the Vortex Diamondback 10x50 are competitors worth each other. The design of these pairs of binoculars is equally nice and stylish. Both of them cost practically the same. The Delta's score in our test was a bit higher even though it features a bit wider field of view. The Vortex weighs a bit less, its eye relief distance is a tad bigger and it comes with a longer warranty period; yet it's the Delta seems to be the winner of the duel. Still it must be said that the differences between these two models can be noticed only if you compare them directly in the same conditions. Independent users who don't draw a comparison between the Delta and the Vortex will be equally pleased with their purchases and with such a judgement of Solomon we end our test.