William Optics 7x50 ED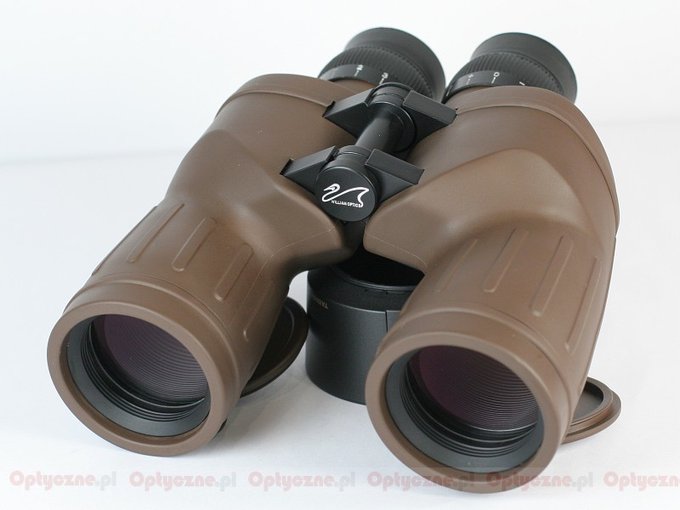 At the beginning of 2006 a Taiwanese company, William Optics, launched the 7x50 ED model with objectives featuring, among others, one low-dispersion glass element. The pair of binoculars looked very much like FMTR-SX Fujinon products, known for their excellent optical and mechanical properties.
WO 7x50 ED was equipped with huge prisms made of BaK-4 glass and a very solid casing. As a result this pair of binoculars is heavy and quite big. The instrument also features an individual focusing system.
Manufacturer data
Magnification
Lens diameter
Angular field of view
Prisms
Eye relief
Weight
Price
7
50
132/1000(7.5o)
BaK-4/Porro
23 mm
1600 g
1299 PLN
Results of the review
Real front lens diameter
Left: 50+/- 0.05 mm
Right: 50+/- 0.05 mm
8 / 8.0 pkt
Real magnification
6.85+/- 0.2x
3/3.0
Transmission
91.5+/- 4%
19/25.0
Chromatic aberration
Low in the centre and medium at the edge. For ED glass it could have been lower.
6.9/10.0
Astigmatism
Negligible. Almost point-like star images.
8.4/10.0
Distortion
The distance of the first curved line from the field centre compared to the field of view radius: 58% +\- 3%
6.5/10.0
Coma
Appears quite late, near ¾ of the field of vision, and is low on the edge.
7.9/10.0
Blurring at the edge of the FOV
The blur occurs in the distance of 95% +\- 3% from the field of vision centre.
9/10.0
Darkening at the edge the FOV
Negligible.
4.7/5.0
Whiteness of the image
Very natural.
4.3/5.0
Collimation
Perfect.
5/5.0
Internal reflections

| | |
| --- | --- |
| Left: | Right: |
| | |

Noticeable but slight.
3.7/5.0
Housing
Very solid and heavy. Comfortable to hold in big hands but certainly not an instrument for women. The eyecups are not especially comfortable and the rubber sticks out a bit. Objective caps fixed on thin straps.
6.9/8.0
Focusing
Individual. Practically perfect.
5/5.0
Tripod
There is a comfortable exit.
3/3.0
Interpupilary distance
from 55.8 to 74.2mm
5/6.0
Closest focusing distance
4.2 meters which is a good result for Porro binoculars with an individual focusing system.
1/2.0
Eyepieces FOV
Apparent field of view of 50.9 deg (according to simple formula) and 48.0 deg (according to tangent formula).
4/20.0
Field of view
Measured by us amounted to 7.43 +\- 0.03 degrees and it was only by 0.07 degrees narrower than stated in the specifications. A quite wide field for such a class of equipment.
6/8.0
Quality of the interior of the barrels
Inner tubes dark and mat from the inside. A bit of rust on the bottom and some white glue. Clean.
3.9/5.0
Vignetting

| | |
| --- | --- |
| Left: | Right: |
| | |

OL: 2.2% - slightly egg-shaped pupil..
OR: 2.0% - elements in the pupil's field .
5/8.0
Prisms quality
High quality prisms BaK-4.
8/8.0
Antireflection coatings
High quality coatings on all air- to-glass surfaces. Medium intensity.
4.5/5.0
Warranty [years]
1
1/6.0
Final result

73.5%

139.7 / 190 pkt
Econo result
No econo rank in this test.
0pkt.
Summary
Quite noticeable similarity to the Fujinon FMTR-SX 7x50 is indeed the first thing that sticks out. Outwardly these two pairs of binoculars differ only in colour and inscriptions on casings. Both instruments are heavy, big, equipped with huge Porro prisms and not less impressive eyepieces with individual focusing.
The mechanical workmanship is, by and large, perfect. The casing is made of strengthened aluminum with good quality rubber padding. Big eyepieces are comfortable to look through; it seems you can sit on the instrument and still it will be left unscathed. One thing you can carp about are these rubber objective caps, attached on thin straps – their life expectancy is not long. If you are not scared of significant dimensions and weight of the WO 7x50 ED you will take a liking to it for sure. Optics is definitely one of its more important strengths. Here in almost all categories the binoculars fared very well, even perfectly well. We deal here with negligible astigmatism, very low coma, very slight brightness loss near the edge of the field and low chromatic aberration. When it comes to the latter, we expected it to be even lower. ED glass obligates to a good performance, after all.
Noticeable central vignetting, on the level of 2%, can be called a minor slip-up – it can be seen when you look at exit pupils. An excellent image quality should be praised, though - good sharpness level, kept throughout the whole field of view, good control of geometric deformations and good whiteness rendering contribute to it.
What can be written in the summary? Perhaps that the best WO 7x50 ED recommendation is its final score. It shows unanimously that the lens, tested here by us, not only resembles Fujinons FMTR-SX outwardly but its optical and mechanical properties are similar as well. What's the most important thing the WO 7x50 ED costs almost two times less than the Fujinons. I suppose that fact can replace the whole commentary.