Docter Nobilem 10x50 B/GA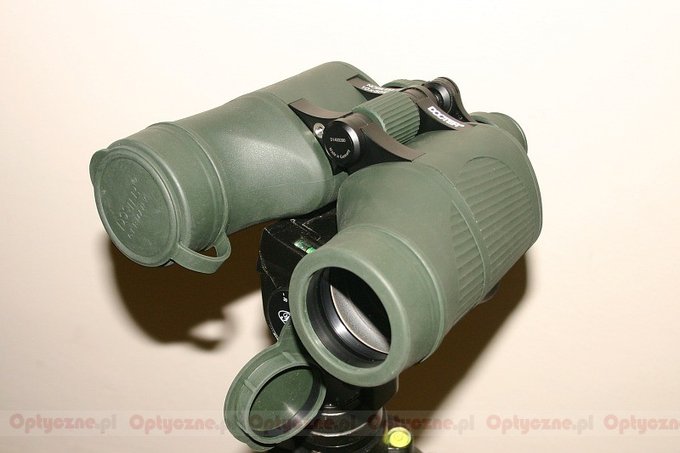 After the German reunification the Carl Zeiss Jena company, renowned for its high quality products, lost the right to use Zeiss brand name. The factory was bought by Analytic Jena and that company started production of its own optical instruments among which there are Docter Nobilem binoculars. It is a series of porro-prism devices with 50, 56 and 60 mm objective lenses. We tested the 10x50 model.
All binoculars from the Nobilem series are big and heavy, equipped with huge prisms. They consist of a two-element objective lens and a four-element eyepiece (you can conclude as much from a schematic drawing in its advertising leaflet). All air-to-glass surfaces are covered by high quality antireflection multilayer coatings. The binoculars are made of aluminum (starting from 2007 the body is made of magnesium) and padded with thick, high quality rubber armour. They are waterproof, feature central focus regulation and they come with a 30-year-long guarantee.
Manufacturer data
Magnification
Lens diameter
Angular field of view
Prisms
Eye relief
Weight
Price
10
50
118/1000(6.7o)
BaK-4/Porro
17.5 mm
1300 g
3150 PLN
Results of the review
Real front lens diameter
Left: 50.27+/- 0.17 mm
Right: 50.25+/- 0.24 mm
8 / 8.0 pkt
Real magnification
9.82+/- 0.3x
3/3.0
Transmission
96.5+/- 3%
24/25.0
Chromatic aberration
Low.
6.8/10.0
Astigmatism
Very low.
8.3/10.0
Distortion
The distance of the first curved line from the field centre compared to the field of view radius: 48.0% +\- 2.8%.
5/10.0
Coma
Low but still visible at the edge.
6.4/10.0
Blurring at the edge of the FOV
The blur occurs in the distance of 70.1% +\- 2.3% from the field of view centre.
3/10.0
Darkening at the edge the FOV
Only at the edge of the field of view.
4.3/5.0
Whiteness of the image
Very good.
4.3/5.0
Collimation
No reservations.
5/5.0
Internal reflections

| | |
| --- | --- |
| Left: | Right: |
| | |

Quite good.
3.5/5.0
Housing
Big and solid but comfortable to hold. The rubber sticks out in some places.
6.8/8.0
Focusing
Without serious reservations.
4.5/5.0
Tripod
Not very comfortable exit.
2/3.0
Interpupilary distance
from 53.2 to 74.9mm
5/6.0
Closest focusing distance
4.07 m.
2/2.0
Eyepieces FOV
4-element eyepieces with the field of 65.7 deg (according to simple formula) and 59.7 deg (according to tangent formula).
14/20.0
Field of view
Measured by us amounted to 6.69 +/- 0.03 degrees and it was by 0.06 +/- 0.03 narrower than that given in the specifications.
7.5/8.0
Quality of the interior of the barrels
Black tubes, matt bottom, no glue traces and/or shiny elements.
4.4/5.0
Vignetting

| | |
| --- | --- |
| Left: | Right: |
| | |

OL: 0.0%, OR:: 1.9%
7/8.0
Prisms quality
Good quality and huge BaK-4 prisms.
8/8.0
Antireflection coatings
No reservations.
5/5.0
Warranty [years]
30
5/6.0
Final result

80.4%

152.8 / 190 pkt
Econo result
2.3pkt.
Summary
If it weren't for the Fujinon FMTR-SX, the Docter Nobilem, like other models from this producer, would get a review full of superlatives. It's score is not much worse than the score of binoculars which climbed the podium – undoubtedly the Docter is a very good pair of binoculars indeed.
The Nobilem's good result stems from the same factors as the results of the Fujinon – huge dimensions, big prisms, solid build quality and the highest class optics which give excellent transmission, a wide field of view, negligible astigmatism and a very good whiteness rendition.
The Docter is just minimally worse than the Fujinon - the sharpness at the edge of the field of vision is basically the most pronounced difference here. Unfortunately it is also almost 200-300 USD more expensive than the Fujinon and it bodes ill. If you can buy something which is minimally better and cheaper at the same time, why should you pay more? For some people, the advantage of the Docter, comparing to Fujinon, might be the cental focusing system.