Carl Zeiss Jena Dekarem 10x50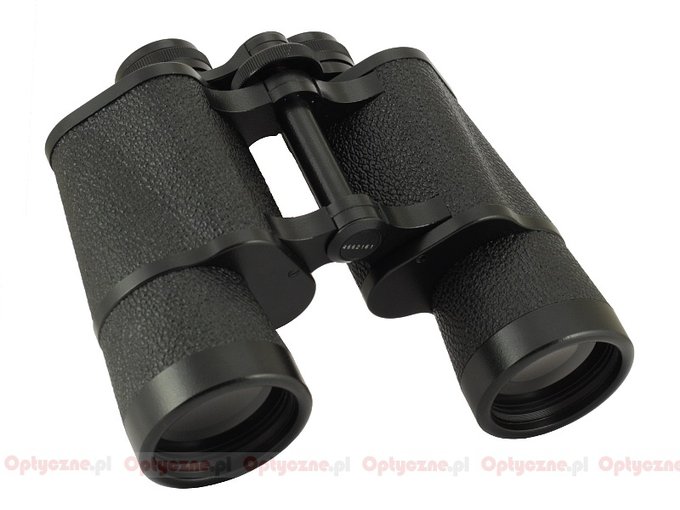 The Carl Zeiss Jena 10x50 binoculars had different names depending on the type of its focusing system. The Dekaris 10x50 model featured an individual focusing system and the Dekarem 10x50 – a central focusing system. At the close of Jena's business activity different models with the same construction were sold under the common name of Jenoptem (8x30, 7x50, 10x50).
The Dekaris model was produced since 1929 and the Decarem – since 1931. Only objective lenses and coatings have been modernized. After 1945 the whole optics was covered by bluish Zeiss T coating, which in 1978 was changed to multi-coatings with characteristic, slightly orange hue (T3M). No CZJ models were nitrogen filled.
After the takeover of the CZJ by Docter Analytic, so after 1991, these models have been manufactured under the name of Docter Classic.
The Dekarem, tested by us, had been given 5071188 serial number which means it was produced in 1980. It already features the best coatings used by CZJ company so the T3M coatings.
We would like to thank Mr. Pawe│ Turek from Warsaw for lending us this pair of binoculars for our tests.
Manufacturer data
Magnification
Lens diameter
Angular field of view
Prisms
Eye relief
Weight
Price
10
50
128/1000(7.3o)
BaK-4/Porro
12 mm
1020 g
900 PLN
Results of the review
Real front lens diameter
Left: 49.94+/- 0.04 mm
Right: 50.03+/- 0.02 mm
8 / 8.0 pkt
Real magnification
9.9+/- 0.3x
3/3.0
Transmission
86.7+/- 3%
14/25.0
Chromatic aberration
Medium in the centre. Better at the edges.
4.8/10.0
Astigmatism
Low but noticeable.
7.1/10.0
Distortion
The distance of the first curved line from the field centre compared to the field of view radius: 41.5% +\- 4.5%.
4/10.0
Coma
Distinctly visible.
5.2/10.0
Blurring at the edge of the FOV
The blur occurs in the distance of 50.7% +\- 2.2% from the field centre.
0/10.0
Darkening at the edge the FOV
Noticeable.
3.6/5.0
Whiteness of the image
Tragic.
0.8/5.0
Collimation
Perfect.
5/5.0
Internal reflections

| | |
| --- | --- |
| Left: | Right: |
| | |

Quite good.
4/5.0
Housing
Classic and solid. Small eyecups by the eyepieces are the only flaw here.
6.9/8.0
Focusing
Moves smoothly. You can defocus binocular pressing the eyepieces. Slight lateral "play" of the bridge.
3.8/5.0
Tripod
There's just a tube in the middle to which you can attach a DIY tripod treadle.
1/3.0
Interpupilary distance
from 49 to 75.5mm
6/6.0
Closest focusing distance
4.3 m.
2/2.0
Eyepieces FOV
Apparent field of view of: 72.9 deg (according to simple formula) and 65.0 deg (according to tangent formula).
17/20.0
Field of view
Measured by us amounted to 7.36 +\- 0.04 degrees and it was by 0.06 +/- 0.04 narrower than that given in the specifications.
8/8.0
Quality of the interior of the barrels
No reservations when it comes to the blackening. Some dots on the prisms.
4/5.0
Vignetting

| | |
| --- | --- |
| Left: | Right: |
| | |

OL: 1.2%, OR: 0.8%

6.5/8.0
Prisms quality
Good quality BaK-4 prisms.
8/8.0
Antireflection coatings
Without serious reservations because all air-to-glass surfaces are covered. The transmission level proves that they do not meet contemporary standards, though.
4.5/5.0
Warranty [years]
1
1/6.0
Final result

67.5%

128.2 / 190 pkt
Econo result
7.9pkt.
Summary
It is simply a cult pair of binoculars, adored by hunters and astronomy enthusiasts because if its reliability and good optics. Why did we place it among losers in the summary of our test? Time is responsible here…
The newest Zeiss instruments from Jena are already 20 years old. Such an amount of time is an enormous chasm when it comes to the anti-reflection coatings production technique, much more advanced now than it used to be. Zeiss T3M coatings, deemed to be so perfect and highly-praised in the 80's of the 20th century, nowadays are far from being the best. Pentax or Nikon multi-coatings, not to mention such tycoons as Swarovski, Fujinon or Leica, are definitely better than the coatings of Zeiss Jena, which were launched in 1978. The Dekarem's transmission result and whiteness rendition, being distinctly worse than in the case of currently produced devices, prove it very well.
The binoculars' field of view didn't withstand the flow of time either. The Dekarem's construction comes from an era when a wide field was a priority at the expense of the image quality at the edge. The field of view is truly huge here – 7.3 degrees. Compare it with fields of 5-6.5 degrees, seen in most of binoculars, taking part in our test. The edge of such a wide field doesn't meet current standards, though, with high blur and visible distortion.
In the case of other optical parameters and the build quality outside and inside, the Dekarem can compete successfully with any instrument currently produced.
The final conclusion? Average prices of Dekarem and Jenoptem series 10x50 binoculars reach about 200-300 Euro. If you buy a set of binoculars second-hand you never know whether or not it will need an additional visit at an optics specialist (a paid visit of course). You won't have such a problem with e.g. a Minolta Activa or a Nikon Action EX (the same price segment), which can be bought new, with a guarantee period. You can invest in Jena binoculars but only if you manage to find a specimen in good condition costing less than 150-200 Euro.