Leupold BX-5 Santiam HD 12x50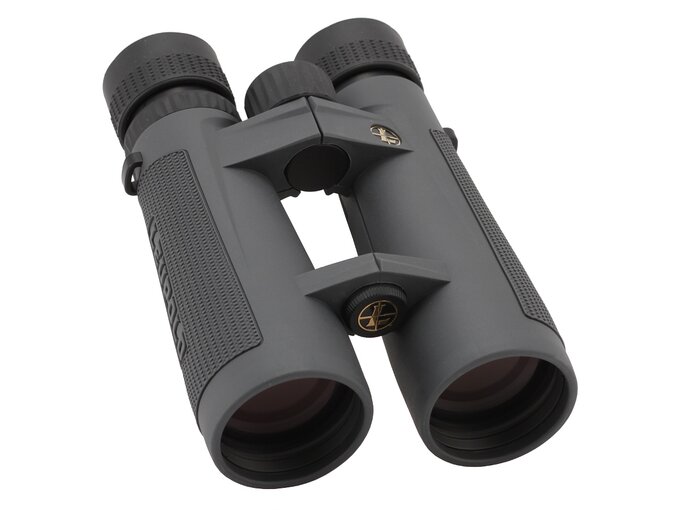 The BX-5 Santiam HD series consists of top-of-the-range devices with the highest price-performance ratio produced by the American Leupold company. There are five roof prism models with the following parameters: 8x42, 10x42, 10x50, 12x50 and 15x56. All are produced in Japan.
In their objective lenses you can find calcium fluoride glass, known for its very good low dispersion properties. Schmidt-Pechan roof prisms are made of BaK-4 glass and phase correction coated.
The producers ensure that all air-to-glass surfaces are covered by high quality antireflection multi coatings. Additionally, the outer optical elements are protected by hydrophobic Guard-ion coating.
Binoculars from this series are waterproof, nitrogen-purged, and they come with lifetime warranty period. Buyers get in the box with them: special harness, a case, a cleaning cloth and a set of caps.
Manufacturer data
Magnification
Lens diameter
Angular field of view
Prisms
Eye relief
Weight
Price
12
50
91/1000(5.2o)
BaK-4/roof
16.6 mm
912 g
6979 PLN
Results of the review
Real front lens diameter
Left: 50.05+/- 0.05 mm
Right: 50.05+/- 0.05 mm
8 / 8.0 pkt
Real magnification
12.63+/- 0.08x
2.5/3.0
Transmission
85.1+/- 1%
13/25.0
Chromatic aberration
Low in the centre, a bit higher than medium on the edge.
6.7/10.0
Astigmatism
Very low.
8.4/10.0
Distortion
Distance of the first curved line from the field of view centre compared to the field of view radius: 61% ± 3%
7/10.0
Coma
Starts already at 75% of field of view and is between low and average on the very edge.
8.3/10.0
Blurring at the edge of the FOV
Blur occurs in a distance of 85 ± 3% from the field of view centre.
7/10.0
Darkening at the edge the FOV
Negligible.
4.2/5.0
Whiteness of the image
Red-pink hue of images and we are not surprised – the highest transmission, exceeding slightly 90%, can be observed in this part of the visible spectrum.
3.8/5.0
Collimation
Perfect.
5/5.0
Internal reflections

| | |
| --- | --- |
| Left: | Right: |
| | |

Dark areas near exit pupils.
4.3/5.0
Housing
Classic open hinge design, with very sensible dimensions for the 12x50 mm class. Good quality rubber armour with distinct texture on the sides that improves your grip. On the chassis the rubber sticks to the binoculars very well, it doesn't stick out near objective lenses either. Rubberized eyecups with three detention stops. Still, I had some problems with fitting this piece of equipment to my eye sockets. Perhaps the edges of eyecups are a tad too sharp. Overall I found the design and build quality of some details a bit under the par for a piece of binoculars at this price point. Produced in Japan.
6.5/8.0
Focusing
Huge, rubberized central wheel with ribbing. It moves smoothly and is properly damped. Running through the wole distance range needs an angle of 560 deg – an appropriate value. Individual focusing done through an additionall pull-on ring on the right eyepiece that moves the outer element. It's interesting that the cheaper BX-4 ProGuide HD series features a more weather-sealed solution with a click-stop on the central wheel.
4.5/5.0
Tripod
There is an exit but far away from the centre of gravity of the binoculars.
2.5/3.0
Interpupilary distance
from 58.1 to 73.6mm
4/6.0
Closest focusing distance
2.80 meters.
2/2.0
Eyepieces FOV
Eyepieces with an apparent field of view amounting to 65.2 deg (the simplified formula) and 59.3 deg (the tangent formula).
14/20.0
Field of view
Measured by us amounted to 5.16 ± 0.04 deg and was in accordance with official specifications. A sensible field for this class of equipment.
6.5/8.0
Quality of the interior of the barrels
Inner tubes are dark, matted and ribbed. You can also spot additional apertures. The cell of the focusing element is dark and matt, the bottom near the prisms quite small, gray, with visible parts of screws. Very clean.
4.4/5.0
Vignetting

| | |
| --- | --- |
| Left: | Right: |
| | |

OL: 0.76%, OR: 1.20%
6.5/8.0
Prisms quality
Good quality BaK-4 glass.
8/8.0
Antireflection coatings
Greenish-purple on objectives, green on the prisms, green-yellow-purple on the eyepieces. Intensity between low and medium.
4.7/5.0
Warranty [years]
lifetime
6/6.0
Final result

77.8%

147.8 / 190 pkt
Econo result
0pkt.
Summary
Pros:
sensible field of view,
good correction of astigmatism,
low chromatic aberration in the centre of the field of view,
slight coma,
lack of distortion-connected problems,
low brightness loss on the edge of the field,
good quality BaK-4 prisms,
proper blackening and cleanliness inside the binoculars,
good quality anti-reflection coatings on all air-to-glass surfaces,
lifetime warranty.
Cons:
the transmission graph should have been more flat, with a higher result in the centre of the visible spectrum.
I was really curious how the Leupold BX-5 Santiam HD 12x50 would fare in our test. After all it is a pair of binoculars with a price tag reaching top-of-the-range segments so I admit my expectations were really high.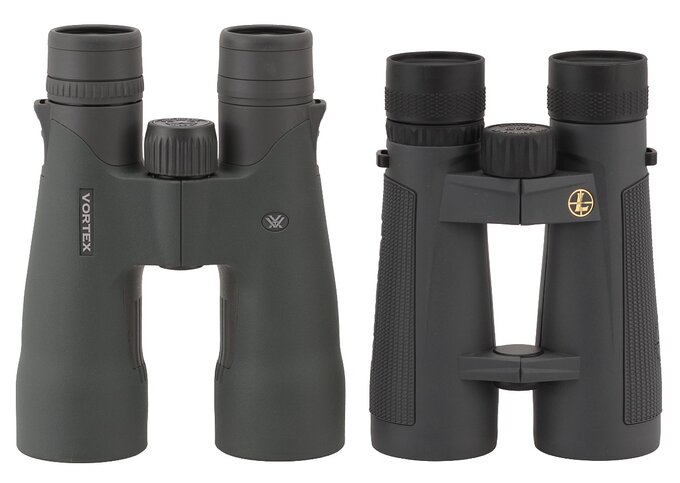 Vortex Razor UHD 12x50 and Leupold BX-5 Santiam HD 12x50.
My first glance left me a tad disappointed. I didn't like the design of the binoculars and I found it not especially comfortable to look through. I was also surprised that it featured some solutions you can find mainly in cheaper instruments (e.g. lack of inner dioptre correction) and images had slight red colouring. As our transmission measurement showed, the transmission graph is noticeably slanted and the binoculars let through the most of light, a tad over 90%, for the red colour exactly. We have nothing against that transmission level but we'd rather such a value was measured in the centre of the visible spectrum, not near its end.
Top-end binoculars are characterized by such flat transmission graphs with values exceeding 90% in the wide range of the spectrum and we think the Leupold missed the mark a bit. I don't know whether it's a matter of antireflection coatings or lack of access to glass with high transmission at the shorter wavelengths; still, the result is such that the final effect fell short of my expectations.
Let's stop complaining. The final score of the Leupold is high enough to deserve more praise than criticizing. Practically all optical aberrations are corrected in a good or very good manner. We didn't notice any slip-ups in any testing category so we think the optical system is very efficient.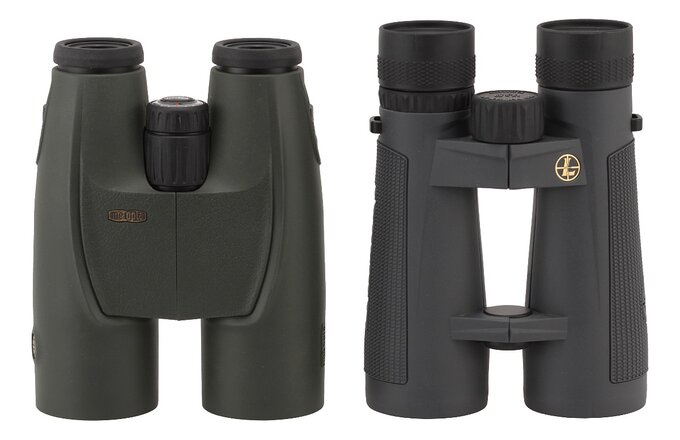 Meopta Meostar B1 Plus 12x50 and Leupold BX-5 Santiam HD 12x50.
The price point of the Leupold BX-5 Santiam HD and its final score in our test places it close to the performance of the Meopta MeoStar B1 Plus 12x50 HD. Still the Czech product is distinctly heavier and, surprise, surprise, in my case it was more comfortable to handle and to look through. Of course I am completely aware of the fact that it is a matter of individual shape of eye socket so I strongly recommend testing a pair binoculars before the purchase. Sad but true – no test is able to tell you whether or not a set of binoculars would suit your particular anatomy, you have to check it personally, preferably by handling a chosen instrument before you buy it. Nothing is better than a direct contact, especially if you are prepared to spend over 1000 USD on a pair of binoculars.