Vortex Razor UHD 12x50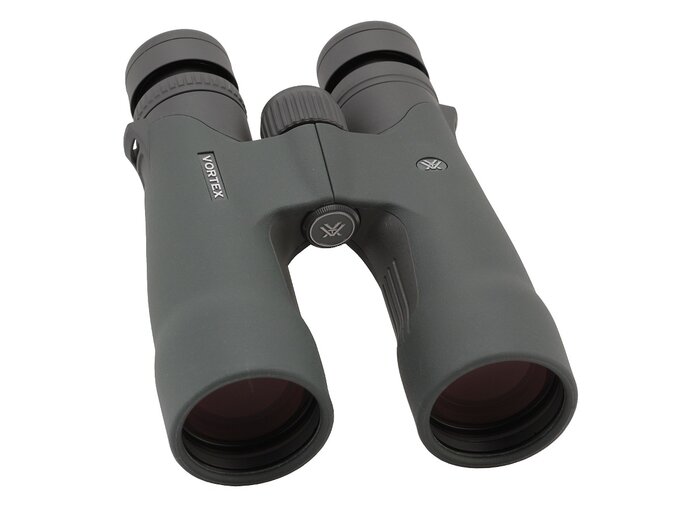 For several years now the product lines of Vortex binoculars have been put in clear order. They range from the cheapest and basic Crossfire HD series through the Diamondback HD, Viper HD, to the most expensive Razor HD and instruments from that one can cost about 3000-4000 PLN, very near a premium level. In Poland Diamondback and Viper have been among the most appreciated binoculars, especially because their favourable price-performance ratio.
Still in 2019 Vortex made a very bold move and decided to attack positions of the most important market players by launching the Razor UHD line which models reach a quite high price point, that of 2000 USD.
The UHD abreviation stands for Ultra High Density; according to the producer it means using glass with exceptionally low dispersion, allowing excellent chromatic aberration correction.
All air-to-glass surfaces are supposed to be coveredy by XR antireflection multi coatings. The Abbe-Koenig system prisms are made of BaK-4 glass and are phase correction coated. They also feature a reflective dielectric coating. The outer elements are protected by hydrophobic ArmorTek layers which are supposed to make them scratch-resistant and prevent dirt and grease from sticking to the glass.
The casing of the binoculars, made of magnesium composite and covered by rubber armour, is waterproof and argon filled. Buyers get a standard accessory kit (caps, strap, cleaning cloth), along with a premium carry case and a chest harness. The product comes with a lifetime warranty of the producer.
Manufacturer data
Magnification
Lens diameter
Angular field of view
Prisms
Eye relief
Weight
Price
12
50
96/1000(5.5o)
BaK-4/roof
17 mm
1023 g
10889 PLN
Results of the review
Real front lens diameter
Left: 50.03+/- 0.05 mm
Right: 50.01+/- 0.05 mm
8 / 8.0 pkt
Real magnification
12.27+/- 0.05x
3/3.0
Transmission
88.6+/- 1%
16/25.0
Chromatic aberration
Low in the centre, near medium on the edge.
6.4/10.0
Astigmatism
Very low.
8.8/10.0
Distortion
Distance of the first curved line from the field of view centre compared to the field of view radius: 65% ± 3%
7/10.0
Coma
Starts already at 75-80% of field of view and is between low and average on the very edge
8.8/10.0
Blurring at the edge of the FOV
Blur occurs in a distance of 93 ± 3% from the field of view centre.
9/10.0
Darkening at the edge the FOV
Very low.
4.7/5.0
Whiteness of the image
The highest transmission level in the red part of the spectrum so images are slightly red.
4.3/5.0
Collimation
Perfect.
5/5.0
Internal reflections

| | |
| --- | --- |
| Left: | Right: |
| | |

Very nice! Dark area near exit pupils.
4.6/5.0
Housing
Quite long for the 50 mm class but slender, the instrument looks very stylish and solid. Excellent quality rubber armour that sticks to your hands properly well covers all the chassis, making the binoculars very comfortable to use. Rubber doesn't stick out anywhere, not even near objectives. Rubberized eyecups with three detention stops. Produced in Japan.
8/8.0
Focusing
Significant central wheel that is comfortable to turn as it features rubberized ribbing. It moves smoothly and is properly damped. Running through the whole focusing range takes an angle of as much as 1000 deg! Definitely too much! Dioptre correction done via a ribbed ring on the right eyepiece that is ribbed and quite comortable to reach. It moves the outer element.
4.5/5.0
Tripod
There is a comfortable exit.
3/3.0
Interpupilary distance
from 55.6 to 77.9mm
5/6.0
Closest focusing distance
1.60 of a meter – a sensational result for the 12×50 class.
2/2.0
Eyepieces FOV
Apparent field of view of 65.9 deg (simplified formula) and59.8 deg (tangent formula).
14/20.0
Field of view
Measured by us amounted to 5.37 ±0.04 deg and was a tad narrower than stated in official specifications. A wide field for this class of equipment.
5.5/8.0
Quality of the interior of the barrels
Inner tubes are dark, matt, and ribbed but only near objectives. Deeper you can notice gray tubes, not covered by anything and up from the focusing element the interior is once again dark and well-matted, with a lot of ribs. The bottom and the area near prisms are dark gray and matted. Very clean.
4.3/5.0
Vignetting

| | |
| --- | --- |
| Left: | Right: |
| | |

OL: 1.48%, OR: 1.36%
6/8.0
Prisms quality
High quality BaK-4.
8/8.0
Antireflection coatings
Green-yellow-orange on eyepieces and objectives. Green-blue on the prisms. Medium intensity.
4.5/5.0
Warranty [years]
lifetime
6/6.0
Final result

82.3%

156.4 / 190 pkt
Econo result
0pkt.
Summary
Pros:
solid and stylish casing made of magnesium composites,
significantly wide field of view,
excellent astigmatism correction,
low chromatic aberration in the centre of the field of view,
very good coma correction,
low brightness loss on the edge of the field,
slight distortion,
over 90% of the field is sharp,
sensible colour rendering,
high quality coatings,
good quality prisms made of BaK-4 glass,
sharp images up from 1.60 meters,
lifetime warranty,
very dark area near exit pupils,
problem-free performance against bright light,
very wide span between the tubes,
proper blackening and cleanliness inside the tubes.
Cons:
truncated exit pupils,
big dimensions for the 50 mm class.
The Vortex Razor UHD 12×50 is a top-of-the-range instrument with a quite high price point and we mean here not only the line-up of Vortex but generally the whole binoculars market. The price, as suggested by the producer, amounts to 2599 USD, making this pair of binoculars almost equally expensive as the devices produced by the big three – Leica, Swarovski and Zeiss.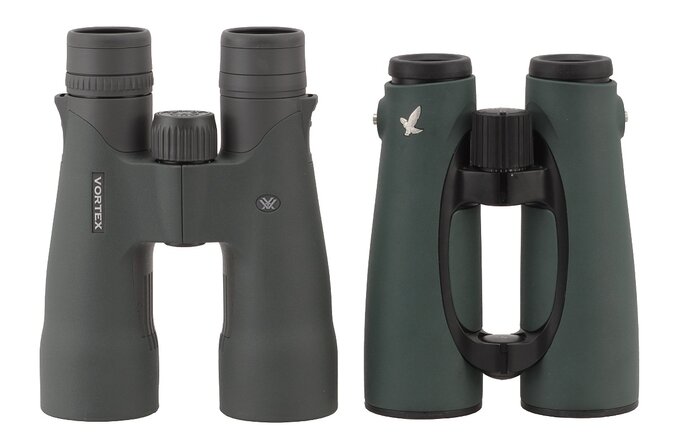 Vortex Razor UHD 12×50 and Swarovski EL Swarovision 12×50.
It's also worth mentioning that the Vortex Razor UHD is one of the biggest and heaviest instruments in its class. Of course its casing remains very stylish and it doesn't seem to be heavy at all – quite the opposite, it looks slender and shapely. Still, if you position it close to other such instruments the whole impression is gone. You find out how big the Vortex really is.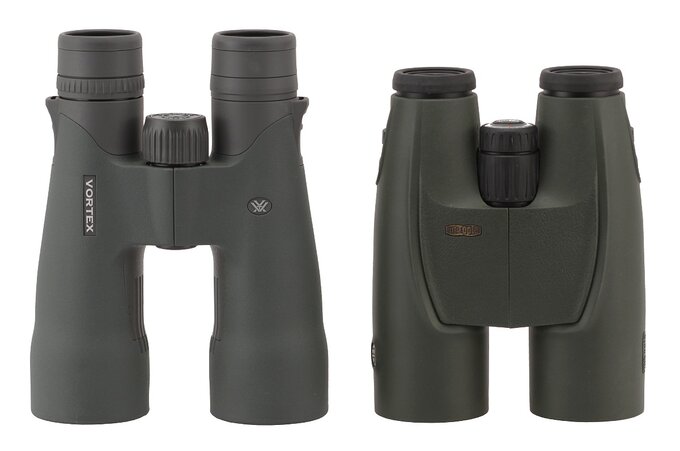 Vortex Razor UHD 12×50 and Meopta MeoStar B1 Plus 12×50 HD.
Significant physical dimensions and weight along with a high price mean the producers weren't limited practically at all. In such a situation you can expect an instrument without compromises, with outstanding optical and mechanical properties. Does the Vortex meet such expectations?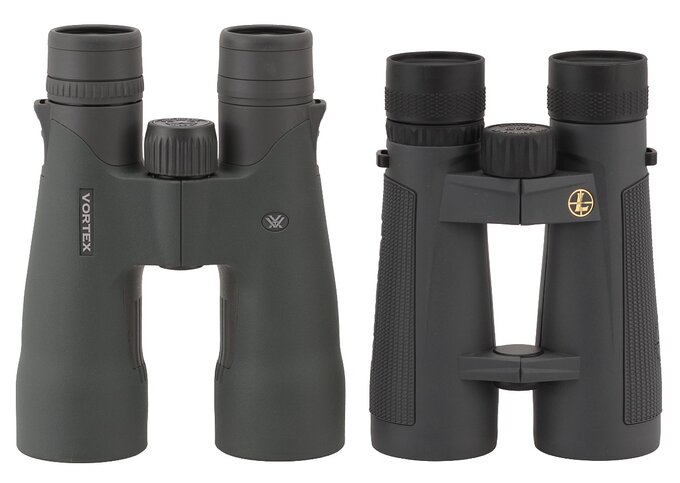 Vortex Razor UHD 12×50 and Leupold BX-5 Santiam HD 12×50.
The answer is not simple. On the one hand you get an excellent pair of binoculars with really great optics that was awarded in our test over 156 points. It's a result higher than that of e.g. The Leica Ultravid 12×50 HD and really something to be proud of.
On the other hand if you want to complain you don't have any problems with finding the reasons. One of them is the transmission graph that should have been more flat, with better colour rendering. Transmission, exceeding 90%, should have been available in the middle of the visible spectrum, not in the red part of it where our organ of sight is already losing its sensitivity. In order to achieve that much you have to have the highest technology at your disposal in a form of sensational antireflection coatings and high transmission index glass, especially efficient in the blue part of the visible spectrum. Vortex unfortunately failed in that area. Perhaps it's not a very serious problem but when it comes to the best and the most expensive brand names the requirements are huge.
Truncated exit pupils are a more serious issue, something that shouldn't have happened at this price point at all. After all you deal here with a big pair of binoculars so it would be easier to design a non-vignetting optical system. In fact I suppose it's the only serious slip-up of the tested Vortex you could find.
The Vortex Razor UHD 12×50 is still almost 400 USD cheaper than its biggest direct rival, the Swarovski EL Swarovision 12×50 but, after being able to enter such a high price point, many customers might prefer to add 10-15% to their spending budget and purchase a better pair of binoculars, produced by a more renowned company, which is also physically lighter, with a wider field of view and a more comfortable eye relief.
On the other hand Vortex should be congratulated on the mere fact that they managed to fit their product between such legendary devices as the Swarovski and the Leica in our ranking. Will future Vortex binoculars be equally good? Nobody knows but I keep my fingers crossed.