Olympus 10x42 PRO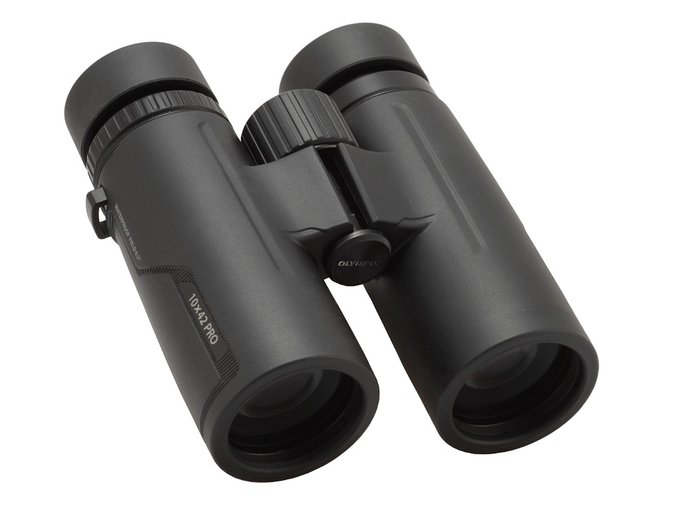 The Olympus company made us wait for their binoculars launches in the class of objectives bigger than 30 mm quite a long time. All fans of Olympus equipment finally had a reason to be happy when, by the end of October 2018, the company showed two new PRO models, the 8x42 and the 10x42.
Both are roof Schmidt-Pechan devices with phase-correcting and dielectric coatings on prisms. Additionally, the producer boasts of using low dispersion ED glass and ZERO coatings (Zuiko Extra-low Reflection Optical) so both models are supposed to be characterized by high light transmission, reaching 94%.
The casing of the binoculars is supposed to be waterproof, dirt-proof and resistant to internal foggig; the binoculars are submersible to 1 meter up to five minutes.
Buyers get a case, objective caps, a rainguard and a comfortable strap in the box. The models come with a 15-year warranty period. After registering the product on the special MyOlympus page you can extend that period to 25 years and, knowing the high quality of Olypus warranty services I think it is a very sensible move.
Manufacturer data
Magnification
Lens diameter
Angular field of view
Prisms
Eye relief
Weight
Price
10
42
108/100(6.2o)
BaK-4/roof
16 mm
665 g
1699 PLN
Results of the review
Real front lens diameter
Left: 42+/- 0.05 mm
Right: 42+/- 0.05 mm
8 / 8.0 pkt
Real magnification
10.25+/- 0.05x
3/3.0
Transmission
83.3+/- 1%
11/25.0
Chromatic aberration
Slight in te centre and a bit lower than medium on the edge
7.1/10.0
Astigmatism
Excellent correction. Practically point-like images of stars.
9/10.0
Distortion
Distance of the first curved line from the field centre compared to the field of view radius: 79.5% +\- 2%
9.5/10.0
Coma
Appears in a distance of 70% of the radius from the field centre and is medium on the very edge.
7.3/10.0
Blurring at the edge of the FOV
Blur occurs in a distance of 73% ± 5% from the field of view centre.
4/10.0
Darkening at the edge the FOV
Distinct.
2.7/5.0
Whiteness of the image
Quite flat transmission graph with a dip in the centre and some surplus on both ends. Images with slight green-blue hue.
3.9/5.0
Collimation
Perfect.
5/5.0
Internal reflections

| | |
| --- | --- |
| Left: | Right: |
| | |

Nice.
4.2/5.0
Housing
Quite shapely for the 42 mm class, comfortable to hold and to look through. Padded with dark, rubber armour which is matted, sticks to your hand sensibly well, andndoesn't stick out anywhere else. Rubberized twist-up eyecus with 3 stops but can be regulated smoothly as well. Produced in China.
8/8.0
Focusing
Big, ribbed central wheel which turns smoothly but with hardly any resistance. The focusing needs a lot of turning – going through the full scale takes as much as 1080 degrees, a huge value, definitely too big for our taste. Dioptre correction on the right eyepiece done through a comfortable, ribbed ring. It moves the outer lens.
4.3/5.0
Tripod
Comfortable tripod access.
3/3.0
Interpupilary distance
from 56.2 to 78.1mm
5/6.0
Closest focusing distance
1.20 meters.
2/2.0
Eyepieces FOV
Apparent field of view of 62.9 deg (according to simple formula) and 57.6 deg (according to tangent formula).
12.5/20.0
Field of view
Measured by us amounted to 6.14 +/- 0.04 degrees and was slightly narrower than stated in official specifications. A sensible field for this class of equipment.
6/8.0
Quality of the interior of the barrels
Black, ribbed interior of the tubes but they could have been more matted. Bottom and areas next to prisms are dark grey and matt. Very clean.
4.7/5.0
Vignetting

| | |
| --- | --- |
| Left: | Right: |
| | |

OL: 0.99%, OR: 1.90%
6.5/8.0
Prisms quality
Good quality BaK-4.
8/8.0
Antireflection coatings
Green on objectives and prisms. Green-pink on eyepieces. Medium intensity.
4.5/5.0
Warranty [years]
15
5/6.0
Final result

75.9%

144.2 / 190 pkt
Econo result
0pkt.
Summary
Pros:
solid casing,
good correction of chromatic aberration,
practically zero astigmatism,
invisible distortion,
properly corrected coma,
sensible colour rendering,
nicely looking areas around exit pupils,
good blackening inside the tubes,
good quality BaK-4 glass prisms,
sharp images already from 1.2 meters,
good warranty conditions.
Cons:
transmission distinctly lower than declared,
noticeable sharpness loss on the edge of the field of view,
distinct light fall-off on the edge of the field of view,
central wheel needs too many turns to cover the whole range.
Before we start to analyze the results of our test in greater detail let us ponder a while over the fact that the task of the Olympus 10x42 PRO was really difficult.
The following chart
presents a comparison between the basic properties of the tested pair of binoculars, its predecessor, and other rivals that have been launched on the market recently.
First, it should be reminded that the previous model, the Olympus 10x42 EXWP had an excellent score in our big 10x42 binoculars test, featuring over 60 models, as it managed to climb the podium in the Econo ranking. As you see, the standards were raised very high.
When a successor of a such a great pair of binoculars is launched on the market with a price tag very similar to that of the older model or just slightly higher, we should expect an improvement in practically all categories, starting from basic parameters and ending at optical and mechanical properties.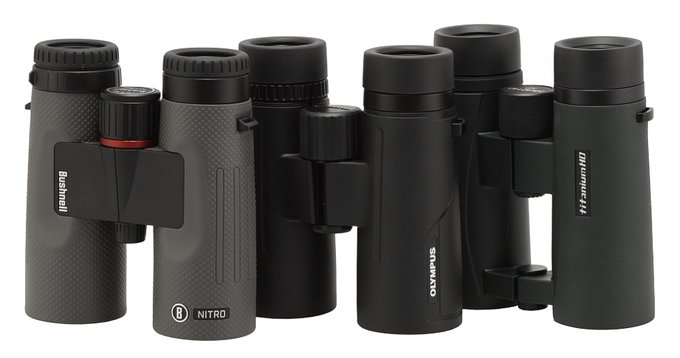 Bushnell Nitro 10x42, Olympus PRO 10x42 and Delta Optical Titanium ED 10x42 HD.
The Olympus 10x42 PRO preserved moderate physical dimensions and weight of its predecessor – it is an asset. It's hardly an achievement, to produce a heavy 10x42 pair of binoculars, weighing far over 800 grams. When it comes to basic parameters practically everything was improved. The eye relief changed from 15 to 16 mm – a small move but toward the right direction. The declared minimum focusing distance decreased from 3 meters to 1.5 meters and our measurements indicate actually it is closer to 1.20 meters, an impressive and praiseworthy result. Additionally, while preserving practically the same dimensions, the interpupilary distance increased significantly to a value of over 78 mm at the maixmum, making the tested model a rarity on the market.
The field of view is a separate topic. When compared to the predecessor it increased from 6.0 to 6.2 degrees. It is a good piece of news but one question remains: is it enough to defeat the rivals? One glance at the chart, presented at the beginning of this test, and you know that at this price point the competitors can reach even a level of 7.0 degrees, with values of 6.5 degrees being practically a standard. Olympus, providing a narrower field of view than the rivals, should correct it in a perfect way.
Let's start discussing the results of our test from the biggest slip-up of the tested lens, its transmission – an appropriate graph is presented below.
What's the point of declaring a transmission of 94% when in reality the binoculars reach just 85%? A lie has no legs and the difference of 10% is clearly visible to the naked eye, you don't even need a spectrophotometer. Additionally the graph is so untypical that images feature slight blue-green hue which I personally find less pleasing to the eye that warmer tones of green or yellow.
The second serious flaw is blur and light fall-off on the edge of the field of view. It's true the performance of the binoculars can hardly be called bad, with the results approaching medium values, but taking into account the field of view, smaller than in the case of many other serious rivals, I admit I expected something more.
Fortunately the list of flaws ends here and the instrument boasts a whole list of improtant assets. The casing, even if shapely and not so heavy, seems to be very solid, with proper finishing touches. Interiors of the tubes are properly blackened and clean so the binoculars don't experience any problems with the performance against bright light. The areas near exit pupils (unfortunately, a bit truncated) present themselves very well too.
Images in the frame centre should be praised as their quality is really good – it is a result of sensational correction of astigmatism and chromatic aberration as well as brilliant distortion correction and very good coma correction.
The final score, exceeding 137 points, is very good indeed, practically the same as the result of the predecessor and just a bit better than that of some rivals like the Kowa BD 10x42 XD Prominar or the Delta Optical Titanium HD 10x42 ED. Is it enough to convince prospective customers? Time will tell. One thing is sure: in the 42 mm class the competition has always been fierce so it's not easy to carve yourself a nice portion of the cake. Still the price might be a decisive factor – compared to the suggested 1990 PLN it has dropped recently to 1699 PLN, making the tested Olympus noticeably cheaper than the new Delta Titanium HD, the Vortex Viper or the Nikon Monarch 7.