Steiner Observer 8x56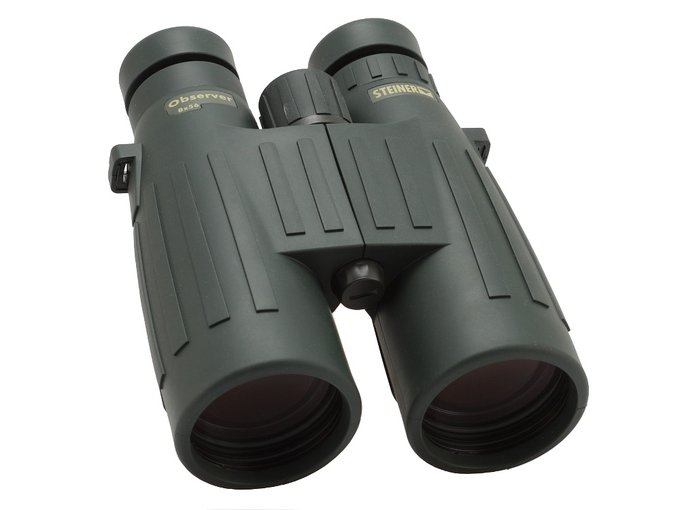 The Steiner Observer series consists of three roof prism models with the following parameters: 8×42, 10×42 and 8×56. In their optical construction the producers used Schmidt-Pechan system prisms but they don't inform precisely what coatings you can find on prisms and elements. We are given just a vague 'High-Contrast-Optics' term which is supposed to suggest high quality of coatings.
When it comes to the housing, you deal here with a synthetic, polycarbonate material called Makrolon which is supposed to ensure high durability of equipment while reducing its weight. The casing is additionally nitrogen-filled, waterproof, and able to work in temperatures ranging from −15°C to +55°C. The external coating of the binoculars (NBR-Longlife) is meant to make them grease- and acid-resistant, perfect for rugged conditions and adversed weather.
Buyers get in the box: a joined rain protection cap for eyepieces, objective covers, a strap, a case, and a cleaning cloth. The product comes with a 10-year warranty period.
Manufacturer data
Magnification
Lens diameter
Angular field of view
Prisms
Eye relief
Weight
Price
8
56
112/1000(6.4o)
BaK-4/roof
? mm
1130 g
1999 PLN
Results of the review
Real front lens diameter
Left: 56.25+/- 0.05 mm
Right: 56.22+/- 0.05 mm
8 / 8.0 pkt
Real magnification
8.15+/- 0.05x
3/3.0
Transmission
78.7+/- 1%
9/25.0
Chromatic aberration
Low in the centre, medium on the edge
7/10.0
Astigmatism
Slight.
7/10.0
Distortion
Distance of the first curved line from the field of view centre compared to the field of view radius: 45% ±4%.
5/10.0
Coma
Starts already near 75% of field of view radius and is approaching high values on the very edge.
6.4/10.0
Blurring at the edge of the FOV
Blur occurs in a distance of 67% ± 4% from the field of view centre.
2/10.0
Darkening at the edge the FOV
Slight.
4/5.0
Whiteness of the image
Untypical transmission curve with the highest value in purple. Images are slightly blueish.
4/5.0
Collimation
Perfect.
5/5.0
Internal reflections

| | |
| --- | --- |
| Left: | Right: |
| | |

Big, and bright area near the pupil. Additionally, the binoculars perform really weakly agianst bright light.
1.5/5.0
Housing
Huge, but still within a norm for the 8×56 class. Comfortable to hold and to look through. Green rubber armour, a bit slippery but it sticks to the casing really well and doesn't stick up, even near objective lenses. Rubberized eyecups with 4 detention stops are a bit difficult to move.
7.8/8.0
Focusing
Huge central wheel with distinct ribbing. It works not especially smoothly and squelches a bit. The full turn amounts to 380 degrees. Individual focusing positioned on the left eyepiece. It moves the outer element.
3.8/5.0
Tripod
There is an exit but not easy to access.
2.5/3.0
Interpupilary distance
from 59.6 to 74.5mm
4/6.0
Closest focusing distance
2.1 meters.
2/2.0
Eyepieces FOV
Apparent field of view of 51.8 deg (according to simple formula) and 48.7 deg (accordig to tangent formula).
4/20.0
Field of view
Measured by us amounted to 6.35 ±0.04 degrees and was slightly narrower than stated in official specifications. The field could have been a bit wider for this class of equipment.
5/8.0
Quality of the interior of the barrels
Dark, and ribbed interiors of the tubes but not especially well-matted. Bottom and the area near to it are dark-gray and matted. Some specks of dust on the prisms.
4/5.0
Vignetting

| | |
| --- | --- |
| Left: | Right: |
| | |

OL: 0.67%, OR: 2.39%
6/8.0
Prisms quality
Good quality BaK-4
8/8.0
Antireflection coatings
Green on objectives, green-pink on eyepieces, and greenish-yellow on prisms. Medium intensity.
4.5/5.0
Warranty [years]
10
4.5/6.0
Final result

62.1%

118 / 190 pkt
Econo result
0pkt.
Summary
Pros:
solid housing made of good quality material,
good control of chromatic aberration,
slight astigmatism,
moderate brightness loss on the edge of the field,
good quality prisms made of BaK-4 glass,
sensible blackening of the interior of the tubes.
Cons
low transmission,
weak sharpness on the edge of the field,
bright areas near exit pupils,
weak performance against bright light.
There's no beating aboutt the bush: such a test result ill befits a renowned producer like Steiner, especially at this price point.
Two most serious slip-ups are: quality of images on edges of a quite narrow field of view, and transmission.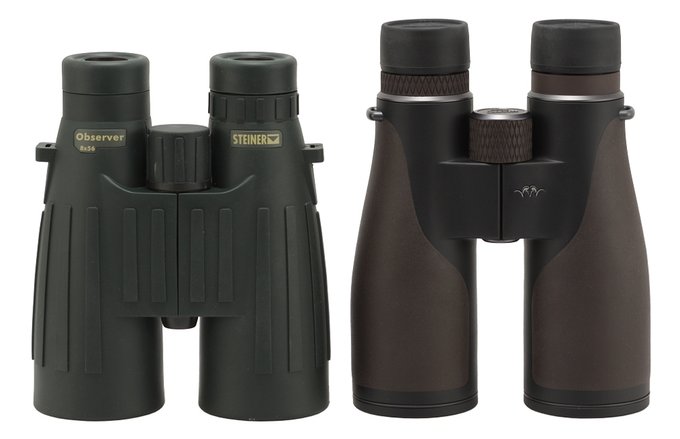 Steiner Observer 8×56 and Blaser Primus 8×56.
The 8×56 class binoculars had never featured especially wide fields of view; only recently we've seen launches of products which fields started to exceed 7 degrees. Still, nowadays you can choose from quite a large group of instruments so 6.4 degrees, declared by Steiner, is nothing to boast of.
That narrow field would be justified up to a point if only it was corrected in a perfect way. Meanwhile its edges are blurry, it features noticeable distortion and also a bit of coma. I admit we didn't expect that kind of problems...
The second serious flaw is transmission. The result for the centre of the visible spectrum amounts to less than 79% and it should be called weak, especially for a pair of binoculars with the 400-500 Euro price tag. It seems doubly weak if you take into account the fact that the Steiner is supposed to be a night instrument for which every photon should as precious as gold.
The strange transmission graph, climbing towards the shorter end of the wavelength spectrum, might be explained by the fact that the binoculars are supposed to be a night instrument. It is known that the retinal rods, wroking at night, are more sensitive to shorter wavelengths than cone cells, working during the day. Still the differences are hardly prominent, senstivity characteristics of both detectors are intermingling anyway and the maximum of rods sensitivity is not for purple and blue light, where the Steiner delivers the most of light, but near 500 nm, where the transmission of the tested instrument amounts to 79.2%, just a fraction of percent more than the averaged-out value for the centre of visible spectrum. As you see, it's bad either way...
After the change of the owner, I admit some launches of Steiner seem to me strange – the company acts as if they've just debuted on the market and they don't know what their target audience expect from 8×56 class instruments. It would be really difficult to recommend this pair of binoculars to anyone, especially that you can find a lot of noticeably better models for similar or even lower price.