Focus Nordic Handy-roof 8x42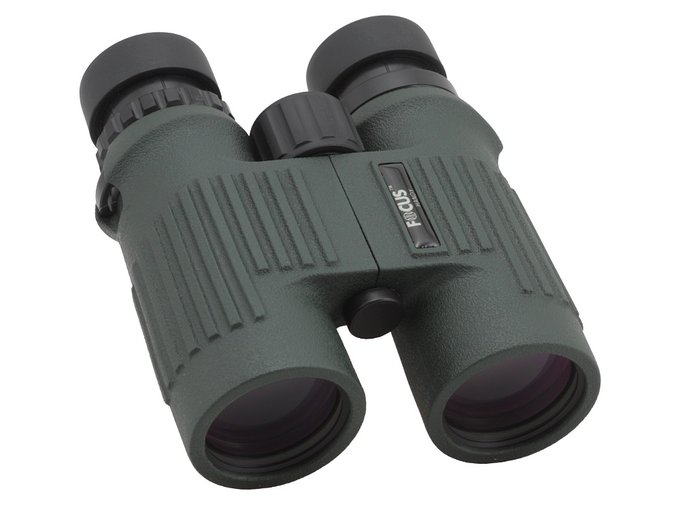 The Focus Nordic company is perhaps not especially known on the Polish market but their traditions are long - they've been selling their products in Scandinavia for several dozen years. Some time ago they started to advertise more intensively in Baltic countries and now they are trying to conquer other markets, Poland included.
Not so long ago we managed to obtain the Focus Nordic Handy 8x42, a pair of binoculars belonging to a roof prism series with the following models: 8x32, 10x32, 8x42 and 10x42. The series is aimed at customers who don't want to spend more than 200 Euro for a set of binoculars.
According to the producer some air-to-glass surfaces of these binoculars have been multi-coated but we are not told whether it concerns all of them; you also don't know anything about prism coatings. Still the binoculars are nitrogen-filled and waterproof.
Buyers get caps for objective lenses and eyepieces, a strap and a case in the box. The binoculars come with a 5-year warranty period.
Manufacturer data
Magnification
Lens diameter
Angular field of view
Prisms
Eye relief
Weight
Price
8
42
129/1000(7.4o)
BaK-4/roof
17.5 mm
670 g
789 PLN
Results of the review
Real front lens diameter
Left: 41.34+/- 0.05 mm
Right: 41.32+/- 0.05 mm
5 / 8.0 pkt
Real magnification
7.92+/- 0.1x
3/3.0
Transmission
68.1+/- 1%
5/25.0
Chromatic aberration
Visible in the centre but without any serious problems. High on the edge.
4/10.0
Astigmatism
Slight.
7.1/10.0
Distortion
Distance between the first curved line and the field centre compared to the field of view radius : 78% +\- 4%
9/10.0
Coma
Appears far from the centre, in a distance of 60% of the field of view radius and is medium on the edge.
5.5/10.0
Blurring at the edge of the FOV
Blur occurs in a distance of 74% ± 3% from the field of view centre.
4/10.0
Darkening at the edge the FOV
Distinct.
2/5.0
Whiteness of the image
Good; still images are grey with red colouring because of low transmission.
4.1/5.0
Collimation
Perfect.
5/5.0
Internal reflections

| | |
| --- | --- |
| Left: | Right: |
| | |

Semblance of false pupil.
3.4/5.0
Housing
Very handy for the 8x42 class. Green, matt rubber armour which sticks to your hands well. Rubber is a bit loose near the objective lenses and it can be deformed slightly on the tubes. Objectives hidden shallowly inside the casing. Rubberized eyecups with 4 detention stops. Made in China.
6.5/8.0
Focusing
Huge, comfortable and ribbed central wheel which moves properly well. Running through the whole distance scale takes a turn through an angle of as much as 750 degrees. Dioptre adjustment done through a ring on the right eyepiece. It moves the outer lens and offers significant resistance when turned; the ribs are a tad too sharp.
4/5.0
Tripod
Comfortable exit access.
3/3.0
Interpupilary distance
from 57 to 73.7mm
4/6.0
Closest focusing distance
2.2 meters.
2/2.0
Eyepieces FOV
Apparent field of view of 55.8 deg (according to simple formula) and 51.9 deg (according to tangent formula).
7/20.0
Field of view
Measured by us amounted to 7.04 ± 0.04 degrees and it was a bit narrower than stated in official specifications. A typical field for this class of equipment.
3/8.0
Quality of the interior of the barrels
Dark, quite well matted and ribbed tubes. Gray bottom, significantly scratched near the prisms. Clean.
3.9/5.0
Vignetting

| | |
| --- | --- |
| Left: | Right: |
| | |

OL: 11.43%, OR: 2.26%
2.5/8.0
Prisms quality
Good quality BaK-4.
8/8.0
Antireflection coatings
Greenish-purple on objective lenses, green on eyepieces. Very distinct, bright reflection from the prisms.
3.5/5.0
Warranty [years]
5
3.5/6.0
Final result

56.8%

108 / 190 pkt
Econo result
0pkt.
Summary
Pros:
sensible correction of astigmatism,
low distortion,
good whiteness rendering,
properly blackened interior of the binoculars,
good quality prisms made of BaK-4 glass.
Cons:
low transmission,
truncated exit pupils,
noticeable brightness loss on the edge of the field,
too high chromatic aberration on the edge of the field,
very bright reflections from the prisms suggesting the prisms are left uncoated,
narrower field of view than stated in specifications.
What can be written in a summary of a pair of binoculars which pros list is shorter than the cons list? Only the fact that in our test it got also a lot of results near medium mark or a bit higher so overall it managed to gather 107 points. 107 points don't look that bad.
Still the comparison with line-ups of other optics-producing companies is the Focus Nordic's real problem. It's enough you examine its most serious rival on our market, the Delta Optical Forest II. In our test it had roughly identical result (a difference of less than 2 points in favour of the DO is more or less within the margin of error) but the Forest II is cheaper and its field of view is better. If you are able to spend just a tad more money you can buy an even better instrument, the Vixen New Foresta HR 8x42 WP.
The Focus Nordic Handy 8x42 has one fatal flaw – the transmission. Its graph is presented below.
We haven't seen such a weak result for a long time. Because of low transmission, images provided by the binoculars are grayish and they lack proper contrast. It's due to not only using average antireflection coatings but also leaving prisms uncovered and we think so because they shine very brightly. In contemporary times such practices are simply below par, even if you speak about roof prism instruments with a price tag lower than 200 Euro.
To sum up, it would be difficult to recommend the Focus Nordic Handy 8x42 as its rivals are able to offer you more for the same or even lower price. If you are really looking for a roof prism instrument which costs less than 200 Euro you should get interested in, say, the Vixen New Foresta HR 8x42 WP or the Delta Optical Forest II 8x42. If you are willing to take into account also Porro binoculars our choice will enlarge by the Nikon Action EX 8x40, the Olympus EXPS-I 8x42 or the Levenhuk Sherman PRO 8x42.