Pentax ZD 8x43 ED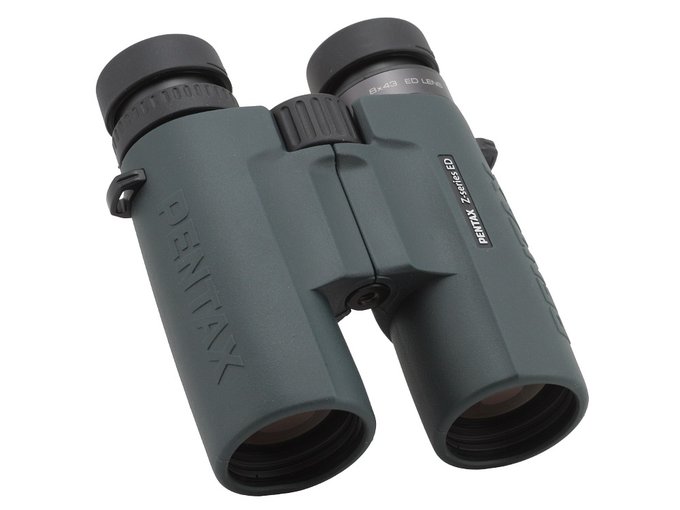 The ZD ED series consist of top-of-the-range, quite pricy binoculars produced by Pentax. They come with the following parameters: 8x43, 10x43 and 10x50. They all are Schmidt-Pechan constructions which roof prisms are phase correction coated and covered by silver reflective coatings. Apart from that they are equipped with low-dispersion glass in objective lenses and some aspherical elements as well. All air-to-glass surfaces are covered by multilayer antireflection coatings.
The metal barrel of the binoculars is padded with quality rubber armour. The interior is nitrogen filled and completely waterproof (up to 1 meter, JIS Class 6 rating). Buyers get both caps, a case and a strap. The binoculars come with 30-year guarantee period of the producer.
Manufacturer data
Magnification
Lens diameter
Angular field of view
Prisms
Eye relief
Weight
Price
8
43
110/1000(6.3o)
BaK-4/roof
22 mm
715 g
3799 PLN
Results of the review
Real front lens diameter
Left: 42.91+/- 0.05 mm
Right: 42.9+/- 0.05 mm
8 / 8.0 pkt
Real magnification
8.19+/- 0.1x
3/3.0
Transmission
87.9+/- 1%
15/25.0
Chromatic aberration
Negligible in the centre, near medium on the edge.
7.1/10.0
Astigmatism
Very low.
8.6/10.0
Distortion
Distance between the first curved line and the field centre compared to the field of view radius: 54% +\- 5%
6/10.0
Coma
Appears far from the centre because in a distance of about 75% of the radius and is a bit lower than medium on the edge.
8.4/10.0
Blurring at the edge of the FOV
Blur occurs in a distance of 91% +\- 3% from the field of vision centre.
8/10.0
Darkening at the edge the FOV
Almost imperceptible.
4.6/5.0
Whiteness of the image
Very nice, flat transmission graph. Compared to the predecessor the coatings are definitely better. Practically white images, without any hues.
4.6/5.0
Collimation
Perfect.
5/5.0
Internal reflections

| | |
| --- | --- |
| Left: | Right: |
| | |

Nice. Quite dark areas near exit pupils.
4/5.0
Housing
Small and shapely for a 43 mm class instrument. Good quality rubber armour but it sticks out significantly near objectives. Rubberized twist-up eyecups with 4 stops. Produced in Japan.
7/8.0
Focusing
Significantly big, ribbed and comfortable central wheel with a full turn range of 560 degrees. It is properly damped. Comfortable diopter adjustment ring on the right eyepiece which shifts but it moves the outer element.
4.5/5.0
Tripod
There is a comfortable exit.
3/3.0
Interpupilary distance
from 58.4 to 74.2mm
5/6.0
Closest focusing distance
1.65 metres.
2/2.0
Eyepieces FOV
Apparent field of view of 51.7 deg (according to simple formula) and 48.6 deg (according to tangent formula).
4/20.0
Field of view
Measured by us amounted to 6.31 +\- 0.04 degrees and it was in perfect agreement with the specifications. A narrow field for such class of equipment.
5/8.0
Quality of the interior of the barrels
Black but slightly shiny tubes. Grey bottom. Clean.
4/5.0
Vignetting

| | |
| --- | --- |
| Left: | Right: |
| | |

OL: 3.81%, OR: 2.86%
4.5/8.0
Prisms quality
Good quality BaK-4.
8/8.0
Antireflection coatings
Yellow-green-orange on objectives, greenish on prisms, green-purple on eyepieces. Low intensity.
5/5.0
Warranty [years]
30
5/6.0
Final result

73.3%

139.3 / 190 pkt
Econo result
0pkt.
Summary
Pros:
good transmission,
excellent whiteness rendering,
proper correction of chromatic aberration,
negligible astigmatism,
moderate coma,
sharp image in the majority of the field of view,
slight brightness loss on the edge of the field,
relatively small, shapely and solid casing for a 43 mm objective lens,
clear images already from 1.65 metres,
exit pupils against a nice, dark background,
good quality prisms and coatings,
proper darkening of the interior and cleanliness inside tubes,
long warranty period.
Cons:
not impressing field of view, distinctly truncated exit pupils.
What could be written in the summary? A very good pair of binoculars got an excellent result. If its field was wider we would be far more happy but, on the other hand, if you construct a device with a narrow field of view you should at least ensure, like Pentax, that the field is corrected in the best possible way.
Compared to the previous DCF ED series we didn't notice any serious changes apart from the coatings; the transmission graph, shown below, is the proof that it can make a difference.
Compared to the graph of its predecessor it is flatter and the values in the centre of the visible spectrum are higher. As a result images provided by this pair of binoculars are a bit brighter, with better colour rendering. It is an important advantage.
We didn't have any objections to voicing a very positive opinion about the predecessor of this one; small wonder our opinion about its better successor is even higher. If you are not put off by a limited field of view of this one, the Pentax ZD 8x43 will definitely be an excellent choice.