Steiner Nighthunter 8x56 (2016)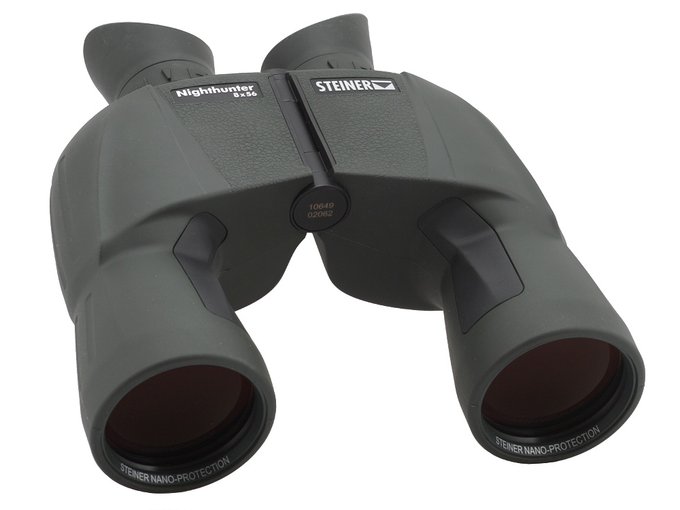 The Nighthunter is one of top-of-the-range series produced by German Steiner company and absolutely the best if you take into account products designed for hunters only. Over ten years ago it consisted of just Porro binoculars with the following parameters: 8x30, 9x40, 7x50 and 8x56. Then the 9x40 model was superseded by the 8.5x44 and the 10x44 roof prisms binoculars and, at the same time, they got the XP acronym in their names. In 2011 the series was renamed – it turned from Nighthunter XP to Nighthunter Xtreme and underwent light lifting too; as a result a very good 7x50 model disappeared from the market.
Compared to XP, the Xtreme series featured better antireflection coatings, rubber armour with different texture, and soft pads for thumbs. The standard accessories were reduced as well because buyers didn't get three different types of eyecups anymore.
In 2013 a new model was introduced - the Steiner Nighthunter 8x30 LRF with a rangefinder.
Near the end of 2016 we saw another change. Both the casing and optics of the 8x56 model were distinctly modified; apart from that any acronyms like XP or Xtreme disappeared from the name. The binoculars were also given one of the widest fields of view in their class.
If you decide to buy the Steiner Nighthunter 8x56 you get a pair of binoculars produced completely in Germany, waterproof up to 5 meters and nitrogen-filled (with a possibility of easy refill), which features a very solid, rubber armour, oil and acid-resistant. You can use it in an impressing range of temperatures, from -40 to +80 degrees Centigrade.
When it comes to the optics you deal here with a classic Porro construction without an ocular bridge but with an individual focusing system. All air-to-glass surfaces are covered by high-quality multilayer antireflection coatings. Outer elements are additionally equipped with hydrophobic coatings, easy to clean, which are supposed to prevent dirt and humidity from sticking to the glass.
Buyers, apart from 30-year warranty period, get also objective caps on solid straps, a rain protection cap, a hard case, a cleaning cloth and a comfortable Click-Lock strap made of neoprene.
Manufacturer data
Magnification
Lens diameter
Angular field of view
Prisms
Eye relief
Weight
Price
8
56
135/1000(7.7o)
BaK-4/Porro
? mm
1090 g
3999 PLN
Results of the review
Real front lens diameter
Left: 56.05+/- 0.05 mm
Right: 56.08+/- 0.05 mm
8 / 8.0 pkt
Real magnification
7.96+/- 0.1x
3/3.0
Transmission
95.2+/- 1%
23/25.0
Chromatic aberration
Slight in the centre and on the edge.
8.2/10.0
Astigmatism
Very low.
8.1/10.0
Distortion
Distance between the first curved line and the field centre compared to the field of view radius: 64% +\- 4%
7/10.0
Coma
Appears in a distance of 75% of the field of view radius and is medium on the very edge.
8.2/10.0
Blurring at the edge of the FOV
Blur occurs in a distance of 90% ± 4% from the field of view centre.
8/10.0
Darkening at the edge the FOV
Slight.
4/5.0
Whiteness of the image
Excellent.
4.8/5.0
Collimation
Perfect.
5/5.0
Internal reflections

| | |
| --- | --- |
| Left: | Right: |
| | |

Very nice for a Porro device with such a large exit pupil.
4/5.0
Housing
Solid, classic Porro in rubberized casing. To be honest I've seen nicer sets of binoculars – in my opinion the XP Nighthunter was the prettiest, the Xtreme version was a bit uglier and this one continues the downward trend. Green rubber is a bit rough, ribbed in places, but ensures a comfortable, firm grip. The binoculars are a joy to hold in big hands. Very solid workmanship. Rubber eyecups, which can be turned and folded, protect you from lateral light and wind.
8/8.0
Focusing
Each eyepiece features an individual focusing system which is stable and even but quite hard to turn. Comfortable rubberized rings. Appropriate focus setting allows you to observe an area from more than a dozen meters to infinity without moving the eyepieces. Profiled rubber eyecups move as you reset the focus but, fortunately, they can be put in the right position or fold easily. It's a pity, though, that Steiner didn't adopt a solution known from the Polish PZO 7x45 in which focusing doesn't cause any movements of profiled eyecups.
4.8/5.0
Tripod
No tripod exit. A bit strange choice; the 8x56 model has free area for a tripod thread so it could have been added to the binoculars.
0/3.0
Interpupilary distance
from 57.9 to 74.4mm
5/6.0
Closest focusing distance
6.45 meters.
1/2.0
Eyepieces FOV
Apparent field of view of 59.8 deg (according to simple formula) and 55.2 deg (according to tangent formula).
11/20.0
Field of view
Measured by us amounted to 7.51 +/- 0.04 degrees and it was by 0.19 of a degree narrower than stated in the specifications. A large field for this class of equipment.
6/8.0
Quality of the interior of the barrels
Beautifully matted and darkened tubes right up to the prisms. No ribs, just one small aperture. Several specks of dust on prisms.
4.5/5.0
Vignetting

| | |
| --- | --- |
| Left: | Right: |
| | |

OL: 0.91%, OR: 0.30%.
7.5/8.0
Prisms quality
Good quality BaK-4. Only if you look at them at a wide angle you see greyish area near the edge.
8/8.0
Antireflection coatings
Purple-pink on objective lenses. Orange-pink on prisms. Orange-pink-purple on eyepieces. Low intensity.
5/5.0
Warranty [years]
30
5/6.0
Final result

82.7%

157.1 / 190 pkt
Econo result
0pkt.
Summary
Pros:
very solid casing,
excellent transmission,
lack of problems with chromatic aberration,
very good colour rendering,
very low astigmatism level,
moderate distortion,
good coma correction,
sharp image in the majority of field of view,
low brightness loss on the edge of the field,
nice areas around exit pupils,
good quality prisms made of BaK-4 glass,
excellent antireflection coatings,
perfect darkening inside,
30-year warranty period.
Cons:
Looking at the parameters of the tested pair of binoculars and its result in our test you want to shout "Finally!". After several years of cosmetic changes consisting mainly in improving the casing and coatings the Nighthunter series finally got a real novelty, designed as a Porro system to boot. Steiner showed clearly that such binoculars are worth producing and if you make them well in many aspects they will be hard to defeat by even the best and the most expensive roof prisms instruments.
Transmission is one of such aspects and an appropriate graph showing the performance of the Steiner is presented below.
Its maximum value, reaching as much as 96% in the middle of the visual spectrum so in a place where our sight is at its most sensitive, is one thing that really sticks out. Additionally, the graph remains relatively flat so the binoculars render colours very well. Add to that excellent optics and it's hardly surprising the images from the new Nighthunter are simply crystal clear. It's also worth mentioning that the presented result is by 2-3% higher than that reached by the Nighthunter 8x56 Xtreme, a noticeable improvement.
This time Steiner also took proper care of glass in prisms. In previous models the glass refracted light near edges not very effectively so the rims of pupils contained noticeable grayish areas, noticeable even when you looked straight at them. We are happy to say the new model is free of that effect.
To be honest the Steiner Nighthunter 8x56 doesn't have any weaknesses. It didn't fare badly or even averagely well in any optical category, its results can be only called excellent or very good. Its field of view, one of the widest in this class of equipment (although a bit narrower than stated in specifications) makes these results even more impressive. If you add to that a very solid casing, a real trademark of Steiner, and very good workmanship you get a product as close to perfection as it is possible.
I would recommend the new Nighthunter 8x56 to everyone who needs a pair of binocular for nighttime observations. I suppose this piece of equipment will be especially popular, and rightly so, among hunters but Steiner is already a recognizable and renowned brand in that milieu anyway.