Steiner Ranger Xtreme 8x56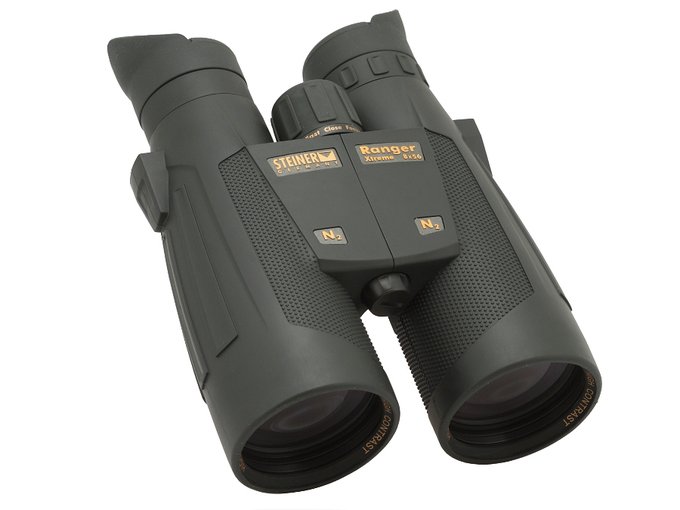 Even several years ago the Ranger series, produced by the German Steiner company, consisted of five porro prism binoculars which were a cheaper alternative to the top-of-the-range Night Hunter instruments. Rangers' quality was uneven. For example the 8x56 model we praised a lot by us but the 10x50 lost spectacularly in the big 10x50 binoculars test conducted by our editorial office staff. What's interesting, the 8x56 model can still be found and bought in Polish shops.
At the beginning of 2009 Steiner decided to substitute the Ranger series by new Ranger Pro binoculars. Not only the number of models was changed but also some of their basic parameters and the prism system as well. The Ranger Pro series included four devices with the following parameters: 8x32, 8x42, 10x42 and 8x56. All of these were roof prism Schmidt-Pechan instruments.
In 2013 the Rangers Pro were substituted by the Rangers Xtreme. Once again you deal here with four roof prism instruments: the 8×32, the 8×42, the 10×42 and the 8×56. However the new models feature wider fields of view than their predecessors; the physical dimensions and weight changed a bit as well.
All air-to-glass surfaces are multicoated and prisms – additionally phase corrected. The producer doesn't specify what reflection coatings are covering the Schmidt-Pechan prisms, though.
The buyer gets front caps, attached to the casing on special straps, a cloth hood for eyepieces, straps and a hard case.
The Ranger Xtreme binoculars have solid casings waterproof up to a depth of 3 meters and they can work in the temperature range from –20 to +80 degrees C. The binoculars come with a 10-year guarantee period and they are produced in Germany.
Manufacturer data
Magnification
Lens diameter
Angular field of view
Prisms
Eye relief
Weight
Price
8
56
125/1000(7.1o)
BaK-4/roof
? mm
1130 g
2750 PLN
Results of the review
Real front lens diameter
Left: 56.07+/- 0.05 mm
Right: 56.09+/- 0.05 mm
8 / 8.0 pkt
Real magnification
8.13+/- 0.1x
3/3.0
Transmission
87.5+/- 1%
15/25.0
Chromatic aberration
Not especially high but still noticeable in the centre; huge on the edge.
4.3/10.0
Astigmatism
Slight.
7.7/10.0
Distortion
Distance of the first curved line from the field centre compared to the field of vision radius: 32% ± 4%
3/10.0
Coma
Starts in a distance of about 70% of the field of view radius and is a bit higher than average on the very edge.
7.1/10.0
Blurring at the edge of the FOV
Blur occurs in a distance of 73% ± 3% from the field of vision centre.
4/10.0
Darkening at the edge the FOV
Slight.
4.3/5.0
Whiteness of the image
The transmission for red colour reaches 90.8%, for blue is the lowest. The slope of the transmission curve causes a visible yellowish hue of images.
3.8/5.0
Collimation
Perfect.
5/5.0
Internal reflections

| | |
| --- | --- |
| Left: | Right: |
| | |

A lot of glares near the exit pupils.
2.8/5.0
Housing
Very original and quite characteristic; solid and handy although not as big as other 8x56 instruments. Comfortable to hold and to look through with good, profiled indents for thumbs. Eyecups made of rubber, with smooth regulation; additionally they have folded shields as a protection against side light. Produced in Germany.
8/8.0
Focusing
Moderately big central wheel which is rubberized and covered by ribs. Its full working range amounts to 380 degrees. Individual focusing done through a comfortable, ribbed ring on the left eyepiece. It works very nicely with a small step. It moves the outer element.
4.5/5.0
Tripod
There is an accessible exit.
3/3.0
Interpupilary distance
from 59.5 to 74.3mm
4/6.0
Closest focusing distance
2.45 meters.
2/2.0
Eyepieces FOV
Apparent field of view of 56.3 deg (according to simple formula) and 52.4 deg (according to tangent formula).
8/20.0
Field of view
Measured by us amounted to 6.92 +\- 0.04 degrees and it was by 0.18 of a degree smaller than stated by the producer. A typical field of view for this kind of equipment.
4.5/8.0
Quality of the interior of the barrels
Dark, decently matted inner tubes with a lot of ribs. Dark bottom. Some very fine specks of dust on the prisms.
4.5/5.0
Vignetting

| | |
| --- | --- |
| Left: | Right: |
| | |

OL: 6.59%, OR: 4.48%
2/8.0
Prisms quality
Good quality BaK-4.
8/8.0
Antireflection coatings
Green-purple on objectives and eyepieces, greenish on the prisms. Low intensity.
5/5.0
Warranty [years]
10
4.5/6.0
Final result

66.3%

126 / 190 pkt
Econo result
0pkt.
Summary
Pros:
very solid and durable casing,
low astigmatism,
sensible coma correction,
slight brightness loss on the edge of the field,
proper darkening and good cleanliness of the interior of the tubes,
good quality glass BaK-4 prisms,
efficient coatings.
Cons:
distinctly egg-shaped exit pupils,
noticeable distortion,
high level of chromatic aberration on the edge of the field,
too light area next to exit pupils.

The result of this test proves clearly that nothing's changed when it comes to Steiner roof prism binoculars. Once again you deal here with an instrument which is mechanically excellent and very durable but features average optics. Of course we appreciate the wide field of view, bigger than that of its predecessor, but we are worried by the edges of that field, with high distortion, chromatic aberration and a sharpness level which is hardly impressive.
In such a night pair of binoculars the shape of exit pupils is a significant slip-up as they cause a loss of light amounting to 5-6%. Also while dealing with a high quality device from a German producer you would like to see a bit better transmission – a good Schmidt-Pechan instrument should reach 90% or even higher without any problems.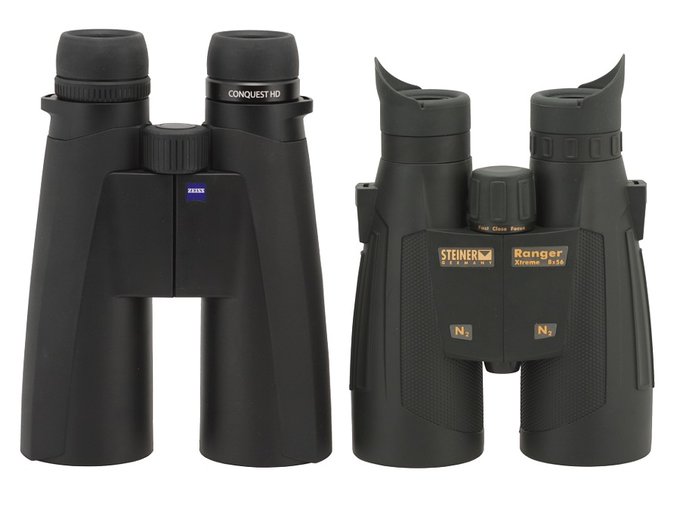 Zeiss Conquest HD 8x56 and Steiner Ranger Xtreme 8x56

To sum up the Steiner Ranger Xtreme 8x56 is undoubtedly a very solid set of binoculars with decent optics but for a price of 2750 PLN you would expect a better than decent performance. I suppose it is actually the biggest problem the new Ranger faces.

Attention! In this test the transmission value has been measured only for two wavelengths: 532 nm (green) and 657 nm (red) with a margin of error never exceeding 1%. Four measurements have been taken for each optical path and the results have been averaged out.