Nikon 7x50IF SP WP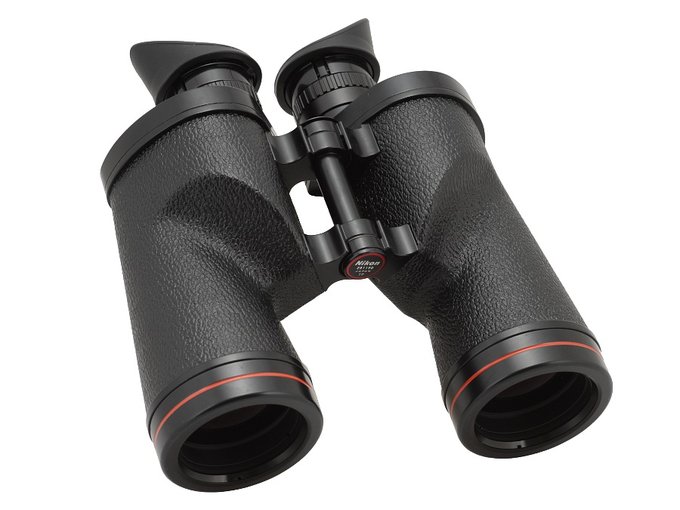 Big and renowned producers of binoculars often aim their offer at a very precise market segment, informing that a given series is designed especially e.g. for hunters, bird watchers, tourists or can be used near/on water. When it comes to astronomy uses such a segmentation concerns usually big pairs of binoculars with objective lenses bigger than 60 mm. Nikon is an exception here, with the 7x50IF SP WP instrument and its bigger brother, the 10x70.
There are several 7x50 Porro instruments in the Nikon's line-up which are dedicated to be used near or on water. The 7x50 IF HP WP Tropical model, tested by us not so long ago, is a very classic example of such devices. The appearance of the Nikon 7x50IF SP WP is very similar to that of the Tropical; the only difference which sticks up at once is a red stripe on objectives of the SW WP. There are more differences in the optical system though, as it was optimized for astronomical observations. As a result such aberrations as coma or astigmatism are supposed to be corrected in a perfect way and the field curvature is to be reduced to minimum.

The optical system of the Nikon 7x50IF SP WP consists of an achromatic objective (2 elements in one group), Porro prisms behind which there is an element flattening the field and an eyepiece system with 5 elements positioned in 4 groups. Despite a high number of air-to-glass surfaces the set of binoculars is supposed to be characterized by high transmission - undoubtedly a result of employing multi-coatings of the highest quality.
The body of the binoculars has a very classic design; it is made of metal, completely waterproof and submersible up to 5 meters. It is also nitrogen-filled.
Buyers get objective caps, eyepiece caps, two kinds of eyecups (small, rubberized and stiff, profiled), a strap and a hard case in the box. Both the pair of binoculars and all its accessories are made in Japan.
Manufacturer data
Magnification
Lens diameter
Angular field of view
Prisms
Eye relief
Weight
Price
7
50
128/1000(7.3o)
BaK-4/porro
16.2 mm
1485 g
3799 PLN
Results of the review
Real front lens diameter
Left: 49.95+/- 0.05 mm
Right: 49.95+/- 0.05 mm
8 / 8.0 pkt
Real magnification
6.9+/- 0.1x
3/3.0
Transmission
93+/- 1%
14/15.0
Chromatic aberration
Practically no aberration in the centre, medium on the edge.
8/10.0
Astigmatism
Slight.
7.7/10.0
Distortion
The distance between the first curved line and the field centre compared to the field of vision radius: 72.5% ± 5%
8.5/10.0
Coma
Appears only in a distance of 85-90% of the field of vision radius and is low on the very edge.
9.5/10.0
Blurring at the edge of the FOV
The blur occurs in a distance of 89% ± 3% from the field of vision centre.
8/10.0
Darkening at the edge the FOV
Slight.
4.2/5.0
Whiteness of the image
Very delicate greenish-yellow hue. Only 2% of difference between red and green light transmission.
4.6/5.0
Collimation
Perfect.
5/5.0
Internal reflections

| | |
| --- | --- |
| Left: | Right: |
| | |

Noticeable but without any serious reasons to complain.
3.3/5.0
Housing
A very classic Porro construction. Looks like something armoured – additionally it is nitro gen-filled and completely waterproof. Very comfortable to handle in big hands. In the box there are detachable but not regulated eyecups along with short, ordinary eyecups. Made in Japan.
8/8.0
Focusing
Individually on every eyepiece. Comfortable rings and their performance is perfect. A scale from -4 to+4 dpt but you can exceed it by two units.
5/5.0
Tripod
A pipe in the middle; additionally you can buy an original tripod adapter.
2/3.0
Interpupilary distance
from 53.8 to 78.5mm
5/6.0
Closest focusing distance
3.95 meter.
1.5/2.0
Eyepieces FOV
5-element, with an aparent field of view of 50.0 degrees.
5/10.0
Field of view
Measured by us amounted to 7.24 +\- 0.04 degrees and it was slightly narrower than stated by the producer. Typical field for this class of equipment.
5.5/8.0
Quality of the interior of the barrels
Black, nicely matted tubes. Gray bottom and white glue near the prisms. Metal fastenings of the prisms not darkened well. Clean.
3.3/5.0
Vignetting

| | |
| --- | --- |
| Left: | Right: |
| | |

OL: 0.72%, OR: 3.92%
4.5/8.0
Prisms quality
High quality BaK-4.
8/8.0
Antireflection coatings
Greenish on objectives, purple-green on eyepieces and purple on prisms. Low intensity.
5/5.0
Warranty [years]
10
4.5/6.0
Final result

83%

141.1 / 170 pkt
Econo result
0pkt.
Summary
Pros:
a classic casing which is solid and waterproof at the same time,
high transmission,
very low astigmatism,
brilliant coma control,
low distortion,
lack of problems with chromatic aberration,
sharp image across the almost whole field of view,
slight brightness loss on the edge of the field,
good colour rendering,
high quality prisms made of BaK-4 glass,
very good antireflection coatings,
clean and relatively well-darkened interior of tubes,
the pair of binoculars and all the accessories included in the box are produced in Japan.
Cons:
noticeably truncated exit pupils.

Testing a pair of binoculars like the Nikon 7x50IF SP WP is a true pleasure. Not only you deal here with a classic, timeless design which looks great and is of very high build quality but also its optical properties make you want to clap and cheer. There is in fact one slip-up connected with the appearance of exit pupils; apart from that there are simply no reasons to complain.
For a device constructed and dedicated to astronomical observations you get an excellent coma correction, low astigmatism, high transmission, slight chromatic aberration and a flat field of view. When you join these features with a significant surface brightness resulting from the 7x50 parameters you get a perfect tool for astronomical surveying. Take these binoculars, a deckchair, find some really dark sky and you need nothing more to be perfectly happy.
The tested Nikon might have a problem with one rival: the brilliant Fujinon FMT-SX 7x50. It is cheaper, comes with a wider field of view and had a better result in our test. Despite that fact I would recommend the purchase of the Nikon 7x50IF SP WP. Its functional value is nothing to sneeze at but it will be also a great investment and a collector's item. In 20-30 years' time, when there are only plastic roof prism instruments available on the market, a solid, timeless pair of binoculars with Porro prisms will sell like hot cakes.

Attention! In this test the transmission value has been measured only for two wavelengths: 532 nm (green) and 657 nm (red) with a margin of error never exceeding 1%. Four measurements have been taken for each optical path and the results have been averaged out.