Steiner Commander 7x50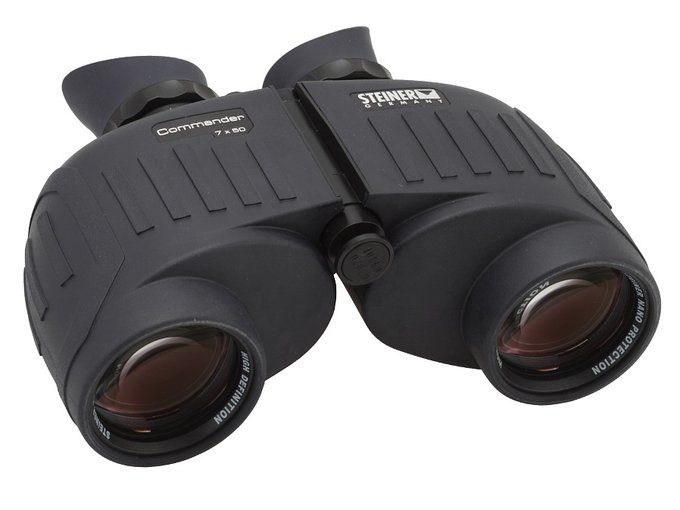 The German Steiner company produces pairs of binoculars aimed at four different consumer groups: wildlife watchers, hunters, tourists, yachtsmen and/or sailors. Two series of new products have been designed with exactly these last two groups in mind: the cheaper Navigators and more expensive Commanders. In the case of both usually you deal with two Porro devices, the 7x30and the 7x50, with or without built-in compass.
Still the Commander series has been developing very fast and has a lot of possible variations. In 2011 we tested the Commander XP model and meanwhile the Race Edition instruments have been launched on the market as well. Now that line-up features three models: the Commander 7x50, the Commander 7x50 C and the Commander Global 7x50 C (the C letter meaning there is a compass included). However we tested a model without a compass.
It is the most expensive Porro series offered by that renowned German manufacturer. It is supposed to feature optics of excellent quality, with every air-to-glass surface covered by high quality multilayer antireflection coatings. Everything is closed in a solid casing, submersible up to a depth of 10 meters and able to work in a temperature range from -40 to +80 degrees C.
Of course the binoculars are also nitrogen purged with a possibility of a refill. It is sold in a package including a hard case (but the very stylish case added to the Commander XP is unfortunately already unavailable), caps and a special floating strap. The binoculars is completely produced in Germany and it comes with an impressive, 30-year guarantee period.
Manufacturer data
Magnification
Lens diameter
Angular field of view
Prisms
Eye relief
Weight
Price
7
50
145/1000(8.3o)
BaK-4/Porro
? mm
1090 g
4900 PLN
Results of the review
Real front lens diameter
Left: 49.95+/- 0.05 mm
Right: 50.02+/- 0.05 mm
8 / 8.0 pkt
Real magnification
6.94+/- 0.1x
3/3.0
Transmission
94.4+/- 1%
22/25.0
Chromatic aberration
Negligible in the centre, lower than medium on the edge.
8/10.0
Astigmatism
Slight.
8/10.0
Distortion
The distance of the first curved line from the field centre compared to the field of view radius : 62% ± 4%
7/10.0
Coma
Starts quite late, near a dsitance of 75-80% of the field of view rads but on the very edge is close to high.
7.8/10.0
Blurring at the edge of the FOV
Blur occurs in a distance of 77% ± 5% from the field of view centre.
5/10.0
Darkening at the edge the FOV
Noticeable but still slight.
3.9/5.0
Whiteness of the image
Very delicate greenish hue. 91.2% of transmission for red colour. Overall very good colour rendition.
4.6/5.0
Collimation
Perfect.
5/5.0
Internal reflections

| | |
| --- | --- |
| Left: | Right: |
| | |

Visible.
2.6/5.0
Housing
Short, very solid Porro device with rubber armour. Comfortable to hold in large hands. A bit rough rubber ensures a safe grip and it doesn't stick out anywhere. Soft, profiled and folded eyecups. Produced in Germany. It has valves for nitrogen refill.
8/8.0
Focusing
Individual focusing on every eyepiece from -5 to +5 dpt but you can go almost two units outside the scale. Comfortable, retractable rings with indents for fingertips with yellowish position markers.
5/5.0
Tripod
No. In that place there are straps for attaching the objective caps
0/3.0
Interpupilary distance
from 56.2 to 74mm
5/6.0
Closest focusing distance
3.95 metra
1.5/2.0
Eyepieces FOV
Apparent field of view of 56.1 deg (according to simple formula) and 52.2 deg (according to tangent formula).
8/20.0
Field of view
Measured by us amounted to 8.08 +\- 0.04 degrees and it was by 0.22 of a degree narrower than stated in the specifications. A good field for this class of equipment
5/8.0
Quality of the interior of the barrels
Tubes dark and matt but not completely black. There are some specks of dust on the prisms. On the left prisms some dried-up traces of water. Cannot see the bottom.
2.6/5.0
Vignetting

| | |
| --- | --- |
| Left: | Right: |
| | |

OL: 1.37%, OR: 0.0%
7/8.0
Prisms quality
Good quality BaK-4. Diamonds visible only when you look at the exit pupils at a significant angle. When you look straight at them you still notice the truncations - OL: 1.68% i OR: 0.49%.
6.5/8.0
Antireflection coatings
Purple-pink on the objectives, purple-yellow on eyepieces, purple on prisms. Low intensity.
5/5.0
Warranty [years]
30
5/6.0
Final result

75.5%

143.5 / 190 pkt
Econo result
0pkt.
Summary
Pros :
very high transmission,
excellent whiteness rendition,
good correction of chromatic aberration,
very good correction of coma,
moderate distortion,
slight brightness loss on the edge of the field,
excellent quality of anti-reflection coatings,
long guarantee period,
good accessory kit,
angle of view wider than that of the rivals.
Cons:
slightly vignetting prisms,
a bit too light area near exit pupils,
traces of dried-up water (?) on one of the prisms.

On the one hand the new Steiner Commander 7x50 is a really good piece of equipment which will be a joy to use. It won't slip out of even bigger hands and the profiled eyecups will enhance the observation comfort significantly. If you add to that excellent transmission results, very good colour rendition and the proper correction of most optical aberrations then you have to admit the tested Steiner has a lot of advantages and the view it can provide will be impressive.
We are very pleased by the increase of the field of view. Most top-of-the-range 7x50 binoculars feature a field of view amounting to 7.0-7.5 degrees; meanwhile the Steiner can offer over 8 degrees and it is a serious selling point, making it to stand out in a positive way against the rivals. Still it's a pity that field in reality is narrower than declared.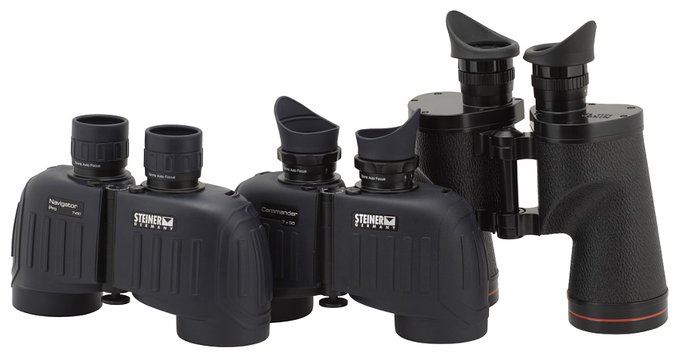 Steiner Navigator Pro 7x50, Steiner Commander 7x50 and Nikon 7x50IF WP SP.

Still there are things we feel obliged to complain about. The increase of the field of view had to be paid for by a distortion level higher than that of its predecessor, a bit higher chromatic aberration and a worse resolution on the edge.
One more thing makes us a bit sad – the strange economizing done by Steiner. The new pair of binoculars is more expensive than the previous model but it comes with a worse accessory kit (the stylish wooden case disappeared without a trace…). What's more, you can notice saving on the quality control and such a thing simply shouldn't happen in a top-of-the-range instrument. Strange traces of dried-up water on one of the prisms are definitely out of place here – such a pair of binoculars should have never left the factory or been sent for testing for that matter…
Steiner have always produced binoculars optically good but not outstanding - they've never managed to conquer their rivals, the solidity of workmanship beeing their chief asset. If the quality worsens now, letting slip such instruments like the one we tested, I'm afraid the customers might go shopping elsewhere.
I wish Steiner all the best as they are one of few companies still producing good quality Porro binoculars. However I am very saddened by bungles which prevent a good piece of equipment to be placed at the very top in their respective class…