Nikon ACULON A211 10x50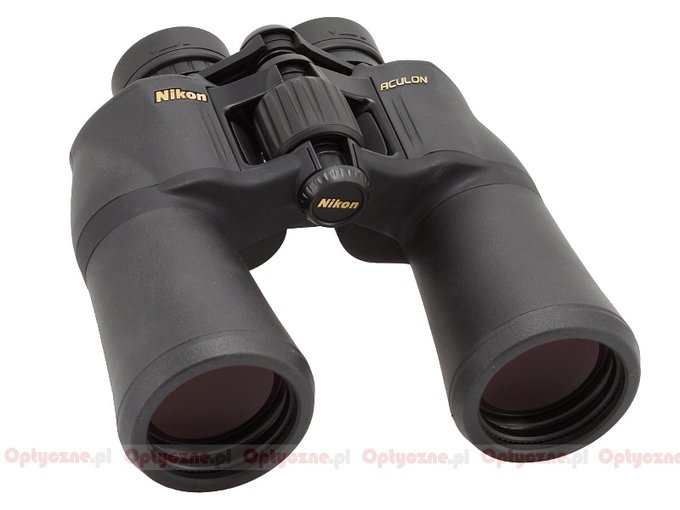 In 2013 the ACULON A211 series replaced the Action VII models. The producer presented at once nine porro binoculars with the following parameters: 7x35, 8x42, 10x42, 7x50, 10x50, 12x50, 16x50 and two zooms: 8–16×40 and 10–22×50.
The producer boasts of multilayer coating but they never state whether it covers all air-to-glass surfaces. They mention additionally some aspherical elements and very good distortion correction. The binoculars come with 10-year warranty period are sold with objective caps, a rainguard, a strap, a case and a cleaning cloth for the optical elements in the box.
Manufacturer data
Magnification
Lens diameter
Angular field of view
Prisms
Eye relief
Weight
Price
10
50
114(6.5o)
BaK-4/Porro
11.8 mm
900 g
347 PLN
Results of the review
Real front lens diameter
Left: 49.8+/- 0.05 mm
Right: 49.92+/- 0.05 mm
7.5 / 8.0 pkt
Real magnification
10.74+/- 0.05x
2/3.0
Transmission
78.2+/- 1.5%
9/25.0
Chromatic aberration
Average in center, very high on the edge.
2/10.0
Astigmatism
Surprisingly nice result.
7.3/10.0
Distortion
The distance between the first curved line and the field centre compared to the field of vision radius: 86% ± 2%
10/10.0
Coma
Starts already in a distance of 55% of the vision radius and is very high on the very edge.
3.8/10.0
Blurring at the edge of the FOV
The blur occurs in a distance of 70% +\- 5% from the field of view centre.
3/10.0
Darkening at the edge the FOV
Noticeable.
3/5.0
Whiteness of the image
Distinct loss of blue and purple light compared to red light. Cream-yellow cast.
2.3/5.0
Collimation
Perfect.
5/5.0
Internal reflections

| | |
| --- | --- |
| Left: | Right: |
| | |

Moderate.
3/5.0
Housing
A solid, classic Porro construction. A bit rough but otherwise very pleasant rubber armour – distinctly ribbed fragments are situated under your thumbs. The rubber sticks out a bit near the objective lenses but otherwise it is beyond reproach. No grease visible, no squelching. Rubberized and regulated eyecups with 4 stops. Made in China.
7/8.0
Focusing
Big, comfortable and ribbed central wheel joined with a classic ocular bridge. The wheel moves smoothly and is well-damped. Running through the whole distance scale takes a turn through 450 degrees. The eyepieces have a lot of side play but you can't defocus the instrument by applying some pressure. The bridge moves quite evenly.
3/5.0
Tripod
There is comfortable exit.
3/3.0
Interpupilary distance
from 55.2 to 72.7mm
3/6.0
Closest focusing distance
4.70 metres.
2/2.0
Eyepieces FOV
Apparent field of view of 69.2 deg (according to simple formula) and 62.3 deg (according to tangent formula).
15.5/20.0
Field of view
Measured by us amounted to 6.44 +\- 0.04 degrees and it was almost in full accordance with the specifications. A good field of view for this class of equipment.
6/8.0
Quality of the interior of the barrels
Black, well-matted tubes. Grey bottom, quite light. Light-grey glue. Surprisingly clean!
3.4/5.0
Vignetting

| | |
| --- | --- |
| Left: | Right: |
| | |

OL: 0.79%, OR: 0.29%
7.5/8.0
Prisms quality
Good quality BaK-4.
8/8.0
Antireflection coatings
Greenish on objectives but only on one side – the other is not covered by anything. The prisms are very shiny. Green on eyepieces and 1-2 air-to-glass surfaces are left not covered. Medium intensity.
2.5/5.0
Warranty [years]
10
4.5/6.0
Final result

64.9%

123.3 / 190 pkt
Econo result
0pkt.
Summary
Pros:
olid casing at this price point,
sensible astigmatism correction,
very low distortion,
large apparent field of view of eyepieces,
low vignetting of BaK-4 prisms,
more or less round exit pupils situated against a quite dark background,
sensible price/quality ratio.
Cons:
weak correction of chromatic aberration,
distinct coma,
weak image quality on the edge of the field,
the ocular bridge could have been more stable.

The Nikon Action VII and Action EX are among some of the most recommendable pairs of binoculars. Making the most of Porro prisms they can combine a decent image quality with a low price. Are Aculons A211 going to repeat the success of the Action VII series? What are their good and bad points? We hope our test answers those questions at least partially.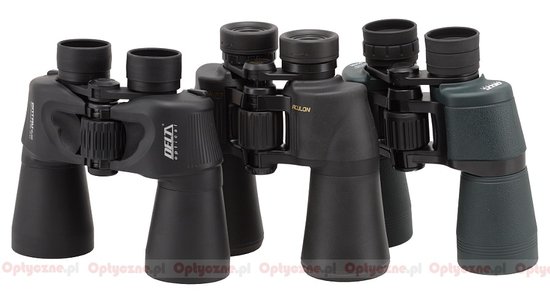 Delta Optical Entry 10x50, Nikon Aculon A211 10x50 and Delta Optical Discovery 10x50.

While looking at its result you have to admit the Nikon fares better than its Polish rivals such as the Delta Optical Entry or Discovery. Still it should be kept in mind that there is a difference in price – for the Nikon you have to pay around 350 PLN so 100-150 PLN more than for the Deltas. If you are looking for a low cost instrument such a difference might be crucial.
The lower end of the market is a demanding, competitive segment; after all for just 550 PLN you can get the Nikon Action EX 10X50 CF which is optically better, featuring a superior build quality and much more comfortable eye relief.

On the other hand you can notice a quite distinct division there. If you look for a really cheap pair of binoculars and anything more expensive than 200 PLN is simply out of question then you might get interested in the Delta Discovery. Still those who can afford it really should consider spending a bit more in order to buy the Aculon. The difference consists not only in employing better prisms (BaK-4 vs. Bk7). Even the casing and the Aculon's build quality show that you deal with a better piece of equipment; a bit better optics properties confirm it as well.
From the Aculon to the Action EX is just a small leap. In my personal opinion 500 PLN is a borderline below which you simply cannot find anything optically sensible, with mechanical parts guaranteeing you at least several years of hassle-free operation.
To sum up I don't doubt that the ACULON A211 10x50 will be as highly recommendable as its predecessor, the Action VII 10x50.