Nikon SE 12x50 CF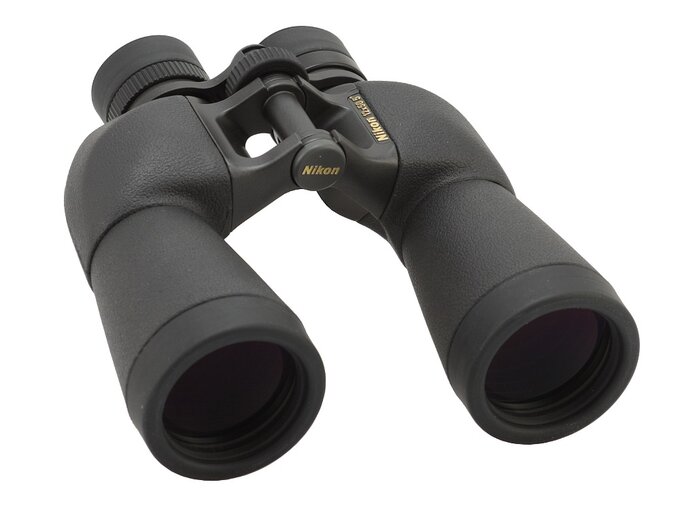 The SE series produced by the Japanese Nikon company consisted of three porroprismatic binoculars with the following parameters: 8x32, 10x2, and 12x50. They were supposed to be top-of-the-rank, classic, efficient constructions, offering you premium optics for a price still acceptable for most of potential customers.
Buying the SE series instruments means you get a pair of binoculars with all elements and prisms covered by antireflection multi-coatings that ensure especially bright images across the whole field of view. They perform in such a way because of field flatteners that enhance clarity, and a unique design of the eyepieces. Additionally, you can enjoy a significantly long eye relief, along with a lightweight, die-cast body, made of magnesium composites, so, overall, it's a very solid construction. The casing is protected by rubber armour that makes the instrument shockproof and provides a comfortable, reliable hold.
The binoculars came with a 10-year warranty period and inside the box you also found a soft case, a strap and a set of caps.
Manufacturer data
Magnification
Lens diameter
Angular field of view
Prisms
Eye relief
Weight
Price
12
50
87/1000(5o)
BaK-4/Porro
17.4 mm
900 g
3990 PLN
Results of the review
Real front lens diameter
Left: 49.98+/- 0.05 mm
Right: 49.99+/- 0.05 mm
8 / 8.0 pkt
Real magnification
12.09+/- 0.05x
3/3.0
Transmission
89.3+/- 1%
17/25.0
Chromatic aberration
Low in the centre and on the edges.
8.3/10.0
Astigmatism
Very low.
8.2/10.0
Distortion
The distance of the first curved line from the field centre compared to the field of view radius: 61% ± 3%
7/10.0
Coma
Appears in a distance of 75% of the field of view and is between low and medium on the very edge.
8.3/10.0
Blurring at the edge of the FOV
The blur occurs in the distance of 95% +\- 3% from the field of view centre.
9/10.0
Darkening at the edge the FOV
Noticeable but still not especially bothersome.
3.8/5.0
Whiteness of the image
Slight hue of red.
4.3/5.0
Collimation
Perfect.
5/5.0
Internal reflections

| | |
| --- | --- |
| Left: | Right: |
| | |

Light-gray area around exit pupils.
3.5/5.0
Housing
Classic, stylish Porro construction in a magnesium body partially covered by rubber armour. Very comfortable to hold and to look through. The armour rubber comes with such a texture that it sticks to your hands very well and it fits the body very well, never sticking out, not even near objective lenses. Rubber eyecups can be folded. Made in Japan.
7.8/8.0
Focusing
Quite comfortable central wheel but a tad too narrow. Its focus throw amounts to about 520 deg. Individual focusing on the right eyepiece is very comfortable but it moves the whole part. A classic ocular bridge; it is stable and moves evenly. The binoculars don't become defocused under pressure.
4.5/5.0
Tripod
No tripod exit because you get a hoop in the middle. Of course, after purchasing an optional tripod adapter you can use that hoop as a tripod mount.
2/3.0
Interpupilary distance
from 52.5 to 73.3mm
4/6.0
Closest focusing distance
5.45 meters.
1/2.0
Eyepieces FOV
Apparent field of view of 60.1 deg. (according to the simplified formula) and 55.4 deg (according to the tangent formula).
11/20.0
Field of view
Measured by us amounted to 4.97 +\- 0.04 degrees and was in perfect accordance with the specifications. A wide field for this class of equipment.
6/8.0
Quality of the interior of the barrels
Inner tubes are dark and matted beautifully. There are a lot of baffles and apertures. Bottom is gray near the prisms, with small splashes of gray glue. Very clean.
4/5.0
Vignetting

| | |
| --- | --- |
| Left: | Right: |
| | |

OL: 2.84%, OP: 0.80%
5.5/8.0
Prisms quality
High quality BaK-4.
8/8.0
Antireflection coatings
Green-dark blue on objective lenses, purple-green on the prisms, green-yellow-purple on the eyepieces. Medium intensity.
4.5/5.0
Warranty [years]
10
4.5/6.0
Final result

78%

148.2 / 190 pkt
Econo result
0pkt.
Summary
Pros:
solid, handy casing, very comfortable to hold,
sensible transmission,
good white balance,
low chromatic aberration,
slight coma,
very low astigmatism,
proper distortion correction,
sharp images practically to the very edges of the field,
moderate brightness loss on the edge of the field,
high quality prisms and coatings.
Cons:
lack of fully waterproof casing and no nitrogen purging inside,
truncated exit pupils.
This review in a sence can be qualified as a move back to the past. Why? The SE series was discontinued by Nikon; still, during our big 12x50 instruments test we had one specimen of the Nikon SE 12x50 CF available and decided to check the quality of these Porro binoculars, stacking it up against contemporary roof-prism devices with the same parameters.
The tested specimen, even if older than ten years, hasn't been used extensively because it is a part of a private collection. You can even say it is in mint condition. Of course it doesn't change the fact that its technology is definitely outdated, being more than a dozen years old.
Despite that fact the Nikon SE 12x50 CF performs exceedingly well in such categories as transmission and colour balance. Its graph is quite characteristic for older devices – a bit slanted, with the highest transmission, amounting to 92%, for red colour. In the centre of the visible spectrum it drops a bit, with a result near 89-90%. More contemporary coatings along with newer kind of glass, with higher transmission in the blue part of the spectrum, most likely would allow this pair of binoculars to exceed 90% in the wider part of the spectrum but still, as it is, we shouldn't complain too much.
When it comes to other categories there are practically no flaws at all. A visible truncation of one of the exit pupils is the only noticeable slip-up. Contemporary standards also demand a waterproof, nitrogen-filled casing and the Nikon SE lacks it.
It doesn't change the fact that the final score the binoculars got in our test, exceeding 148 points, is able to position the Nikon SE 12x50 CF on the same level as many contemporary roof prism models with price tags of around 1500 Euro. What's more, this score is just slightly lower than the score of the Leica Ultravid HD 12x50.
To sum up we do regret Nikon discontinued the SE series. If only they applied a bit better, contemporary antireflection coatings this particular set of binoculars would fare even better in our test, with 1-2 points more. We feel such a device would be an excellent complementation of different roof-prism models, prevailing currently on the market.