Delta Optical Extreme 7x50 ED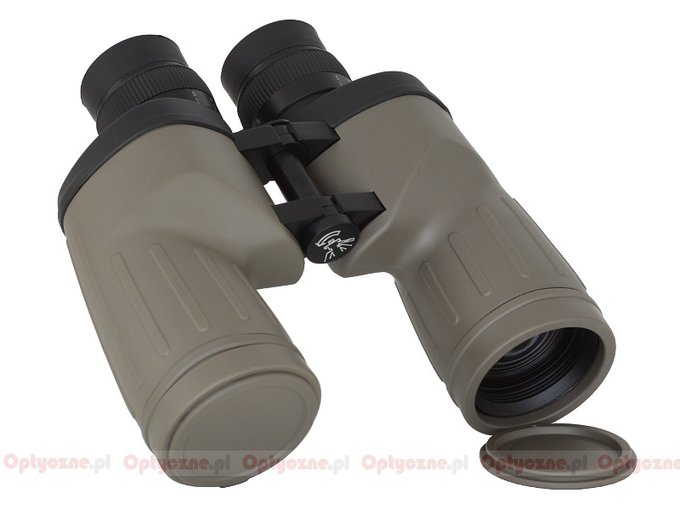 In 2005 William Optics presented huge porro prism 7x50 and 10x50 binoculars, deceptively similar to well-known and sought-after Fujinons FMTR-SX, valued for their excellent image quality. It soon became clear that WO binoculars are produced by a Chinese factory, United Optics. As those binoculars fared well in all tests soon a lot of copycats have appeared on the market; the result was such that plenty of WO clones have been offered under different brand names.
Already in 2006 the Oberwerk company launched 70 mm models, belonging to the same series, 10.5x70 and 15x70; that time they didn't look like exactly copies of Fujinons, which had different parameters: 10x70 and 16x70.
At the end of 2012 also the Polish Delta Optical company decided to make a move in this class of equipment and announced a launch of four models with the following parameters: 7x50 ,10x50, 10.5x70 and 15x70.
As we already mentioned, the Extreme ED binoculars, when it comes to their appearance, parameters and properties, resemble a lot well-known and very appreciated Fujinons FMTR-SX. These are completely waterproof devices, equipped with individual focusing and nitrogen-filled so often recommended for use on or around water. They will perform well in astronomical observations too. Their big objective lenses gather a lot of light, huge prisms don't cause any vignetting and an efficient Porro construction is supposed to guarantee high transmission.
Delta Optical is well-known for their knack of improving things, introducing small but handy changes to ordinary constructions, offered at the same time by other companies. That's why we were very curious what differences you can find between DO Extreme and other William Optics and Fujinon binoculars, tested by us.
Buyers get caps, a strap, a hard case, a tripod adapter and a cleaning cloth in the box. The product comes with a 5-year guarantee.
Manufacturer data
Magnification
Lens diameter
Angular field of view
Prisms
Eye relief
Weight
Price
7
50
131/1000(7.5o)
BaK-4/Porro
23 mm
1620 g
1090 PLN
Results of the review
Real front lens diameter
Left: 50.05+/- 0.05 mm
Right: 50.05+/- 0.05 mm
8 / 8.0 pkt
Real magnification
6.99+/- 0.05x
3/3.0
Transmission
83.3+/- 1.5%
11/25.0
Chromatic aberration
Zero in the centre. Low on the edge.
9.5/10.0
Astigmatism
Medium.
5.5/10.0
Distortion
The distance of the first curved line from the field centre compared to the field of vision radius: 77% +/- 3%
9/10.0
Coma
Appears in the distance of about 70% of the field and is on the borderline of low and medium values on the very edge
7.3/10.0
Blurring at the edge of the FOV
The blur occurs in a distance of 89% +/- 3% from the field of view centre.
8/10.0
Darkening at the edge the FOV
Slight.
4.2/5.0
Whiteness of the image
Slightly cream image because of a noticeable difference between the transmission of orange-red and blue-purple light
3.6/5.0
Collimation
Perfect.
5/5.0
Internal reflections

| | |
| --- | --- |
| Left: | Right: |
| | |

Distinct "milk" near the exit pupils.
2/5.0
Housing
Huge, metal and padded with good quality rubber. Comfortable to hold in big hands. Rubberized eyecups which can be folded but the edges are a bit too sharp. Black rubber padding on the rear parts of prisms (with the inscriptions 'Delta Optical' and 'Extreme 7x50 ED) doesn't stick to the body well.
6.7/8.0
Focusing
Individual on huge eyepieces. Works evenly and reliably in the range from -5 to +5 dpt.
5/5.0
Tripod
There is a comfortable tripod exit. Additionally you get an adapter in the box.
3/3.0
Interpupilary distance
from 56.6 to 74.7mm
5/6.0
Closest focusing distance
4.5 m
1/2.0
Eyepieces FOV
Apparent field of view of 52.7 deg (according to simple formula) and 49.5 deg (according to tangent formula).
5/20.0
Field of view
Measured by us amounted to 7.54 +\- 0.04 degrees and it was in a perfect accordance with the specifications. Quite a good field for this class of equipment.
6/8.0
Quality of the interior of the barrels
Tubes and bottoms black and almost matt (slightly shiny). White glue near the prisms. Further on, behind the prism chamber, there are some elements which aren't blackened. Some specks of dust and tiny scratches on one of the prisms.
2.5/5.0
Vignetting

| | |
| --- | --- |
| Left: | Right: |
| | |

OL: 1.30%, OR: 0.81%.
6.5/8.0
Prisms quality
Good quality BaK-4.
8/8.0
Antireflection coatings
Green-purple on the objectives. Green on the prisms and eyepieces. Medium intensity.
4.5/5.0
Warranty [years]
5
3.5/6.0
Final result

69.9%

132.8 / 190 pkt
Econo result
0pkt.
Summary
Pros:
huge, solid casing,
good transmission,
excellent correction of chromatic aberration,
imperceptible distortion,
slight coma,
sharp image almost cross the whole field of view,
low brightness loss on the edge of the field,
big prisms made of BaK-4 glass,
good price/quality ratio.
Cons:
truncated exit pupils,
bit too light area near the exit pupils.
The result of the Delta Optical Extreme 7x50 ED prove that these instruments are definitely worth your attention. Of course they are not as good as a Fujinon but their price tag is almost three times lower. The differences between it and the Fujinon are most distinct when it comes to the transmission – its graph is presented below.
Here you deal with a graph characteristic for typical MC coatings produced in China. The transmission is good, reaching near 90% for red light, but nothing more. It definitely lags far behind the brilliant result of the Fujinon.
The next difference easy to perceive is the shape of exit pupils.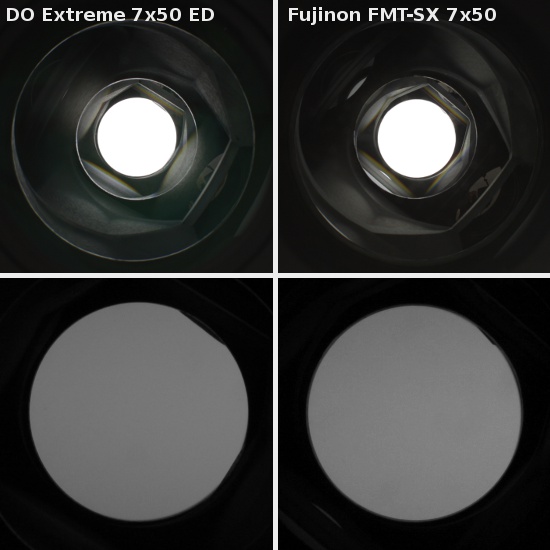 Exit pupils in Delta Optical Extreme 7x50 ED and Fujinon FMT-SX 7x50 binoculars.
In the case of DO the pupils were more truncated and the area close to them – more 'milky'. The light reflected in worse coatings is noticeably dispersed and that effect is worsened by less diligent darkening of the tubes.
The build quality is another issue. A lower price means much worse quality control –and it can be felt in the case of the DO Extreme. In a good factory the left prism, which has noticeable micro scratches (as if somebody dragged it across a table before putting it inside) wouldn't have been used.
We complain here and perhaps we are a bit unjust because in fact every pair of binoculars compares unfavourably with the brilliant Fujinon FMT-SX 7X50. If you forget about the Fujinon and try to assess the performance of the Delta Extreme 7x50 ED independently you can only praise it. The ED glass, used in the objectives, deals with the chromatic aberration very well; the coma, distortion, blur and brightness loss on the edges are controlled very well. Astigmatism causes the most problems here; still the result is not bad but medium. Truncated exit pupils limit the amount of light that passes through but not as much as in many roof prism binoculars, often 2-3 times more expensive. As a result the binoculars managed to get more than 130 points in our test and deserves the "Excellent" badge without any question.