Nikon 7x50IF HP WP Tropical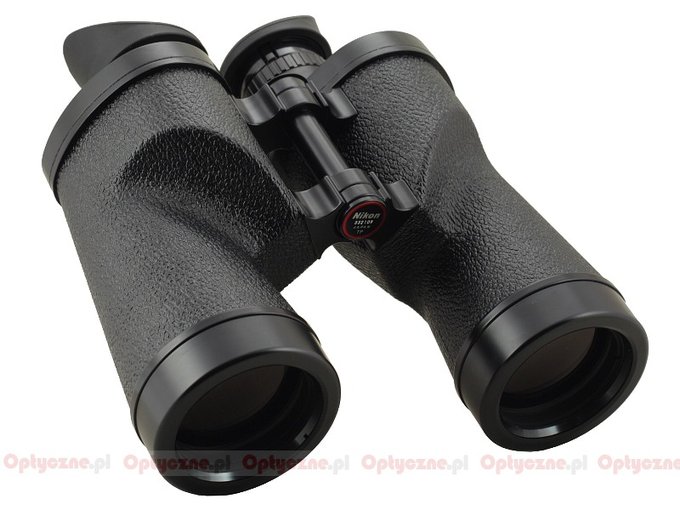 The Nikon 7x50 IF HP WP binoculars were launched in 1987 and to this day its parameters and appearance haven't changed. More than a dozen years later, in 1999, they added 'Tropical' their name and a scale in one of the eyepieces. The price of this instrument exceeded 2000 PLN for many years and small wonder- it is better than the classic products from Carl Zeiss Jena, still remaining equally classic and solid.
We deal here with a huge Porro device. The binoculars feature an individual focusing system which ensures it is fully waterproof down to 5 meters for 5 minutes. It is also nitrogen filled. The production of these binoculars has just ceased and currently it is being sold off on discount. That's why the Tropical is now the cheapest pair of Nikon binoculars produced completely in Japan. Nowadays, when companies look for savings everywhere, even the most expensive Japanese binoculars have some accessories produced in China. The Nikon 7x50 IF HP Tropical is an exception here – in its case everything, the binoculars themselves and caps, straps and a stylish hard case have been produced in Japan and it can be felt immediately when you take the instrument into your hand. The solidity and high build quality is really noticeable. It is an instrument which, if treated well, will serve you several dozen years without any problems.
It comes with a 10-year guarantee and buyers get a hard case, case and binoculars straps, objective caps and profiled eyecups.
Manufacturer data
Magnification
Lens diameter
Angular field of view
Prisms
Eye relief
Weight
Price
7
50
128/1000(7.3o)
BaK-4/Porro
15 mm
1360 g
2099 PLN
Results of the review
Real front lens diameter
Left: 50+/- 0.05 mm
Right: 50+/- 0.05 mm
8 / 8.0 pkt
Real magnification
6.96+/- 0.05x
3/3.0
Transmission
85.4+/- 1.5%
13/25.0
Chromatic aberration
Low in the centre, quite huge on the edge.
5/10.0
Astigmatism
Very low.
8.5/10.0
Distortion
The distance of the first curved line from the field centre compared to the field of vision radius: 73% +/- 3%
9/10.0
Coma
Starts quite late because in the distance of 75% from the field centre but on the edge reaches a border between medium and high values.
7.5/10.0
Blurring at the edge of the FOV
The blurr occurs in the distance of 83% +/- 3% from the field of vision centre.
6/10.0
Darkening at the edge the FOV
Not very high but noticeable.
4/5.0
Whiteness of the image
Single layer coatings mean there is loss in blue and purple light so the image has a noticeably yellow hue.
3/5.0
Collimation
Perfect.
5/5.0
Internal reflections

| | |
| --- | --- |
| Left: | Right: |
| | |

The lighter area around exit pupils is clerly visible when you point it at a strong source of light. Over all a quite decent result.
3.5/5.0
Housing
Very classic Porro construction. It looks like an armoured thing – nitrogen filled and waterproof. Profiled eyecups can be removed but are not regulated.
7.5/8.0
Focusing
Individual on every eyepiece. Comfortable rings work perfectly well.
5/5.0
Tripod
A pipe inside plus you can always buy an original tripod adapter.
2/3.0
Interpupilary distance
from 54.3 to 78.4mm
5/6.0
Closest focusing distance
4.30 metres
1/2.0
Eyepieces FOV
Apparent field of view of 50.0 deg (according to simple formula) and 47.2 deg (according to tangent formula).
4/20.0
Field of view
Measured by us amounted to 7.19 +\- 0.04 and it was a bit narrower than stated in specifications. A typical field of view for this class of equipment.
5/8.0
Quality of the interior of the barrels
Black and nicely matt inner tubes. A gray bottom and white glue near prisms. Clean inside.
4/5.0
Vignetting

| | |
| --- | --- |
| Left: | Right: |
| | |

OL: 0.86%, OR: 3.08%
5.5/8.0
Prisms quality
High quality BaK-4.
8/8.0
Antireflection coatings
Single layer purple everywhere. Prisms are quite shiny. Average intensity.
4/5.0
Warranty [years]
10
4.5/6.0
Final result

68.9%

131 / 190 pkt
Econo result
0pkt.
Summary
Pros:
classic, solid and simultaneously waterproof casing,
very low astigmatism,
well-controlled coma,
very low distortion,
slight brightness loss on the edge of the field,
high quality of prisms,
clean and relatively well darkened inner tubes,
the binoculars and all its accessories have been produced in Japan.
Cons:
transmission difference between right and left optical paths,
antireflection coatings obsolete when compared to contemporary standards,
the image on the edge of the field could have been sharper,
noticeably truncated right exit pupil,
pronounced chromatic aberration on the very edge of the field of view.

The discussion about the results of the Nikon 7x50 IF HP WP Tropical binoculars should be started with its appearance and build quality. Every fan of old, classic devices will be charmed by them. It is a piece of equipment similar to the items produced by many renowned manufacturers from the beginning of the 20th century to the 80s of the 20th century. As you can see in a photo below it looks a bit like the popular Zeiss binoculars from Jena.
Carl Zeiss Jenoptem 7x50 and Nikon 7x50 IF HP WP Tropical

The Tropical is a bit bigger than the binoculars from Jena but, in our opinion, definitely nicer, more stylish and more solid at the same time. The Nikon device is completely waterproof and nitrogen filled – that much cannot be said about the old 7x50 Jena products.
One glance at a photo below is enough to know that the Nikon 7x50IF HP WP Tropical shouldn't be ashamed of its appearance when compared to newer instruments, produced nowadays. With its dimensions and style it is a bit like the Fujinon FMT-SX but different than the Docter, which is rubber padded and comes with an ocular-lens bridge.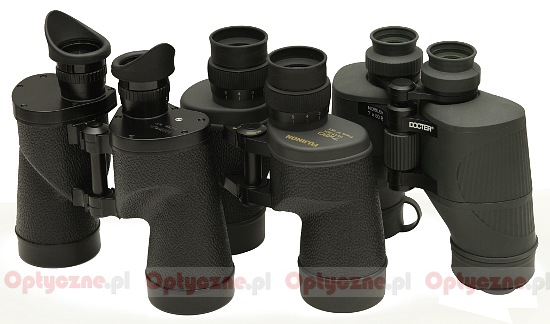 Nikon 7x50IF HP WP Tropical, Fujinon FMT-SX 7x50 and Docter Nobilem 7x50 B/GA
When you look at the final score the Nikon got in our test you can find out that it is actually worse than its rivals, shown in that picture. First of all it is a result of weak performance of single layer antireflection coatings which were standard half a century ago and nowadays they are simply obsolete. Additionally a part put with the reticle on the right eyepiece contributes to the decrease of transmission in one of the optical paths. It might be also responsible for one slightly truncated exit pupil.
All those factors made the Nikon lose a bit of points in such categories as transmission, colour rendition or central vignetting and those points exactly constitute the difference between the tested device and its top-of-the-range high quality rivals.
We cannot finish this test in a pessimistic way because the tested binoculars don't deserve it. It is, after all, a very solid device with excellent and equally solid standard accessories which in many categories get good or outstanding results.
If you had to spend over 2,000 PLN (500 Euro) for this pair of binoculars I would suggest thinking the purchase over and look at rival products as well. A bargain means that the Tropical can be bought for a sum of money not higher than or similar to the best preserved Carl Zeiss Jena binoculars on the secondary market. Mind you the Tropical is still available on the primary market so with the benefits of full guarantee and the test results show that old Jena Zeiss devices are definitely worse than the Tropical, tested here.