Zen-Ray Optics ZEN ED2 8x43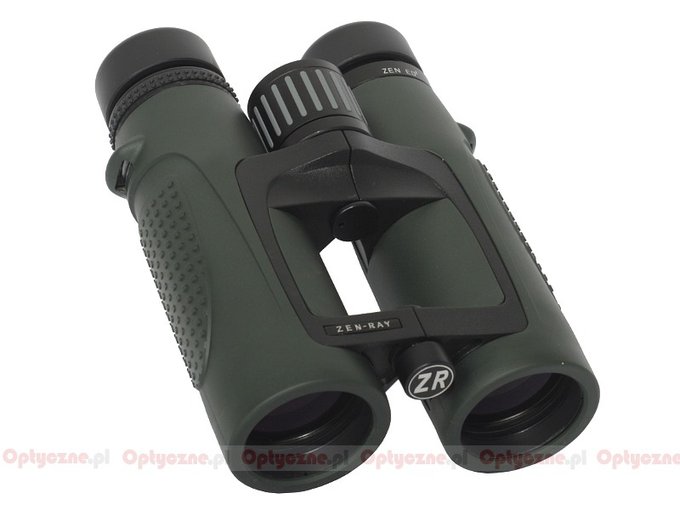 Zen-Ray Optics is a relatively young player on the binoculars market. So far their offer hasn't been exactly wide but their products are interesting, with unique parameters and often very wide angles of view which set them apart. The ZEN ED2 series consists of four roof prism binoculars with the following parameters: : 7x36, 9x36, 8x43 and 10x43. A comparison of their basic properties can be seen in
this chart
.
The description of this series on the site of the producer looks impressive. The objectives are supposed to include ED low dispersion glass. Schmidt-Pechan prisms, made of BaK-4 glass are to be phase correction coated and covered by a dielectric layer VividBriteTM Ultra High Reflectivity (UHR). The body is made of magnesium composites, nitrogen-filled and waterproof.
In the accessory kit buyers get objective caps, a rainguard, a strap, a case with another strap and a cleaning cloth. In Poland this pair of binoculars comes with a 5-year guarantee period.
Manufacturer data
Magnification
Lens diameter
Angular field of view
Prisms
Eye relief
Weight
Price
8
43
142/1000(8.1o)
BaK-4/roof
16.8 mm
768 g
1799 PLN
Results of the review
Real front lens diameter
Left: 42+/- 0.05 mm
Right: 42+/- 0.05 mm
3 / 8.0 pkt
Real magnification
8.05+/- 0.05x
3/3.0
Transmission
85.6+/- 1.5%
13/25.0
Chromatic aberration
Low in the centre and low on the very edge of the field of view.
8.7/10.0
Astigmatism
Negligible.
9.1/10.0
Distortion
The distance of the first curved line from the field centre compared to the field of view radius: 34% +\- 5%
3/10.0
Coma
Appears already in the middle of the field of view and is high (!) on the edge.
2.6/10.0
Blurring at the edge of the FOV
The blur occurs in the distance of 74% +\- 3% from the field centre.
4/10.0
Darkening at the edge the FOV
Medium.
3.5/5.0
Whiteness of the image
Very good red light transmission, a bit lower in the middle of the visible spectrum. A hole for green light.
3.7/5.0
Collimation
Perfect.
5/5.0
Internal reflections

| | |
| --- | --- |
| Left: | Right: |
| | |

Slight.
4/5.0
Housing
Significantly big and solid 'open hinge' construction. Good quality rubber padding and comfortable thumb grooves makes it nice to handle. Rubberized eyecups with three detention stops. The rubber sticks out near the objectives.
7.5/8.0
Focusing
Big, ribbed central wheel with a working range of 670 degrees. It moves evenly and smoothly and it is well-damped. Individual focusing done by a ring on the right eyepiece. It moves with high resistance and has sharp, uncomfortable projections. It moves the outer lens.
4/5.0
Tripod
On the very front, far from the centre of gravity.
2.5/3.0
Interpupilary distance
from 54.4 to 72.9mm
3/6.0
Closest focusing distance
1.6 metra
2/2.0
Eyepieces FOV
Apparent field of view of 64.3 deg (according to simple formula) and 58.6 deg (according to tangent formula).
13/20.0
Field of view
Measured by us amounted to 7.98 +\- 0.04 degree and it was slightly narrower than stated in the specifications. A wide field of view for this class of equipment.
7/8.0
Quality of the interior of the barrels
Bottom and tubes dark, slightly shiny. A bit of dust on the prisms.
3.4/5.0
Vignetting

| | |
| --- | --- |
| Left: | Right: |
| | |

OL: 1.47%, OR: 5.27%.
4/8.0
Prisms quality
High quality BaK-4.
8/8.0
Antireflection coatings
Greenish- purple on objectives, greenish on prisms, green-yellow on eyepieces. Medium intensity.
4.5/5.0
Warranty [years]
5
3.5/6.0
Final result

65.8%

125 / 190 pkt
Econo result
0pkt.
Summary
Pros:
quite solid casing, comfortable to hold,
significant field of view,
excellent astigmatism correction,
negligible chromatic aberration,
high quality prisms and coatings,
decent transmission,
good colour rendering,
exit pupils on a dark background.
Cons:
objectives are 42 not 43 mm in diameter,
truncated exit pupils,
high coma,
huge distortion,
too narrow maximum spacing of eyepieces.
I admit I have mixed feelings and I am not sure what to write in this summary. Zen-Ray binoculars often get enthusiastic reviews on different English-speaking internet sites. I was really looking forward to testing one of these on my own. The first cold shower I got at the very beginning when I measured the diameter of their objective lenses. Producers often are economical with the truth when it comes to parameters, stated in the specification – most often those differences concern the field of view, sometimes the magnification ratio. Such values are difficult to check by an amateur user so small cheating usually goes unnoticed. That's why I cannot understand at all why Zen-Ray decided to cheat at the easiest parameter to measure and check - the objective's diameter. What's more they did it in a very stupid way. Most of pairs of binoculars in this class are 8x42 instruments. I would be more willing to connive at the cheating if the Zen-Ray had a 41 mm objective lens. Stating that your product is 8x41 while all other devices in this segment are 8x42 indeed doesn't present it in a favourable light. However, as the Zen-Ray is an 8x42 device, like every other instrument from this segment, why lie to your potential buyers that the binoculars' objectives are actually 43 mm in diameter? To annoy the reviewer? Well, here they succeeded without any problem.
To balance things a bit now we are going to praise the tested binoculars. In an era when narrow fields of view are a norm the Zen-Ray instruments stick out in a very positive way offering fields as good as those of classic devices, produced 50 years ago. It is really a praiseworthy practice, drawing more conscious users. The tested 8x42 model is not an exception to that rule, offering one of wider fields of view in this equipment class.
Is that field corrected properly, though? You can say so-so. The binoculars deal with astigmatism and chromatic aberration exceedingly well but the device fails to correct the coma, features noticeable distortion and doesn't impress when it comes to the sharpness on the edge of such a wide angle of view.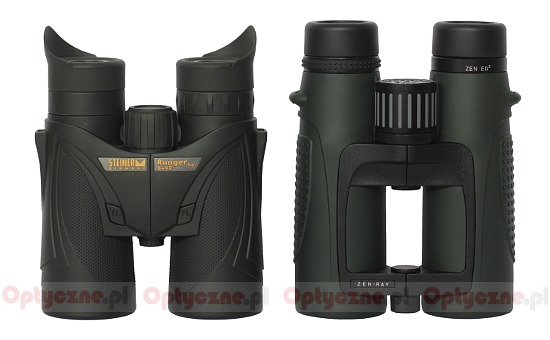 Steiner Ranger Pro 8x42 and Zen Ray ED2 8x43
Mechanically speaking there are similar discrepancies. A big and solid-looking body is comfortable to hold but pray, explain me why, with such significant dimensions, the maximum IPD is just 73 mm? The exit pupils are situated on a nice, black background but are, unfortunately, truncated. You can find many other features that can be assessed in such extreme manner – what the binoculars gain in one category, they immediately lose in the other.
In the moment of beginning our 8x42 class test the ED3 series models weren't available yet so we featured their predecessor, the ED2. Now the ED3 series is already present on the market and let's hope some basic slip-ups of the ED2, easy to eliminate, have been removed.
To sum up the final score is not bad. I have to admit, though, that reading favourable opinions on different sites and looking at the price of the binoculars I'd expected something better.