Vixen New Foresta HR 8x42 WP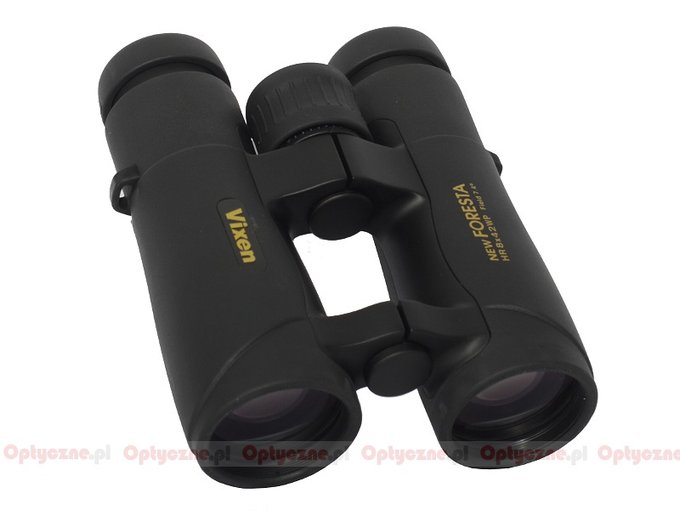 In October 2009 the Vixen company announced the launch of the new series of binoculars called New Foresta. Soon afterwards the following models were launched: 8x32, 8x42 and 10x42 . In March 2010 during IWA fairs two next devices, with the parameters of 10x50 and 8x56, were added to the line-up.
As the name itself indicates, the new series is supposed to supersede the old Foresta binoculars. The change is serious because the old binoculars were classic Porro instruments. Now Vixed follows a trend very popular recently, launching only roof prism devices and, accordingly, its new binoculars have prisms changed into roof prism designs. Fortunately the parameters of the new models didn't suffer as a result of that operation because their fields of view are supposed to remain the same as in the old instruments.
All New Foresta binoculars are waterproof and nitrogen-filled. All air-to-glass surfaces are covered by antireflection coatings. Roof prisms made of BaK-4 glass are phase-correction coated and covered by a layer with high reflection coefficient. Each New Foresta pair of binoculars comes with a 5-year guarantee period.
Manufacturer data
Magnification
Lens diameter
Angular field of view
Prisms
Eye relief
Weight
Price
8
42
130/1000(7.4o)
BaK-4/roof
18 mm
655 g
799 PLN
Results of the review
Real front lens diameter
Left: 42+/- 0.05 mm
Right: 42.03+/- 0.05 mm
8 / 8.0 pkt
Real magnification
8.03+/- 0.05x
3/3.0
Transmission
87.3+/- 1.5%
15/25.0
Chromatic aberration
Not very high in the centre, medium on the edge.
5.5/10.0
Astigmatism
Moderate.
6.5/10.0
Distortion
The distance of the first curved line from the field centre compared to the field of vision radius: 58% +/- 4%
6.5/10.0
Coma
Appears in the distance of 75-80% from the field centre and is on the borderline between medium and high values on the edge.
7.5/10.0
Blurring at the edge of the FOV
The blur occurs in the distance of 76% +/- 3% from the field of vision centre.
4.5/10.0
Darkening at the edge the FOV
Noticeable but still slight.
3.9/5.0
Whiteness of the image
Very good. Slight surplus of red light.
4.4/5.0
Collimation
Perfect.
5/5.0
Internal reflections

| | |
| --- | --- |
| Left: | Right: |
| | |

Not very pronounced.
3.8/5.0
Housing
Interesting and not very big for the 42 mm class. Comfortable to hold and to look through. Good quality rubber padding, perhaps a bit too slippery. Rubberized eyecups with four detention stops. The rubber next to objectives comes off very slightly.
7.8/8.0
Focusing
Very big, ribbed and comfortable central wheel which moves smoothly and is well-damped (its full turn – 440 degrees). Individual focusing through the click-stop system on the central wheel. Nothing moves outside.
4.8/5.0
Tripod
There is an exit but far from the centre of mass.
2.5/3.0
Interpupilary distance
from 57.1 to 77.7mm
5/6.0
Closest focusing distance
2.6 m
1.5/2.0
Eyepieces FOV
Apparent field of view of 57.8 deg (according to simple formula) and 53.6 deg (according t tangent formula).
9/20.0
Field of view
Measured by us amounted to 7.20 ± 0.04 degrees and it was a bit narrower than the field stated in the specifications. A typical field for this class of equipment.
4.5/8.0
Quality of the interior of the barrels
Black and matt inner tubes. The bottom is gray but quite shiny. Some specks of dust on the prisms.
3.8/5.0
Vignetting

| | |
| --- | --- |
| Left: | Right: |
| | |

OL: 8.16%, OR: 1.28%.
The left pupil very significantly truncated. The lost of over 8% of light on the pupil itself is a huge blunder.
3/8.0
Prisms quality
Good quality BaK-4.
8/8.0
Antireflection coatings
Greenish everywhere. Medium intensity.
4.5/5.0
Warranty [years]
5
3.5/6.0
Final result

69.2%

131.5 / 190 pkt
Econo result
0pkt.
Summary
Pros:
solid device closed in a handy and not very heavy casing,
good transmission,
moderate astigmatism,
good distortion correction,
slight coma,
very good colour rendering,
low brightness loss on the edge of the field of view,
wide maximum IPD,
good quality of prisms and coatings.
Cons:
ignificantly truncated left pupil,
image on the edge of the field should have been sharper.

The Vixen New Foresta HR 8x32 WP was one of the dark horses of our 8x32 binoculars' test. Small, handy, with good optical properties and an affordable price. We look for such unique devices in our tests that's why we were so curious about the performance of the Vixen New Foresta HR 8x42 WP.
Looking at the list of pros and cons and its final score, very similar to that of its smaller brother, you might say we weren't disappointed. The 8x42 model is as recommendable as the 8x32 instrument, tested by us before.
Like previously we can praise the transmission graph, which looks really well for a pair of moderately priced roof prism binoculars.
A lot of light gets to your eyes and the image is free of any colour hue. It is a pity, though, that the excellent coatings performance is eliminated partially by very truncated exit pupils. The left pupil is so deformed that we lose over 8% of light there. It is the biggest and the only serious flaw of the tested binoculars.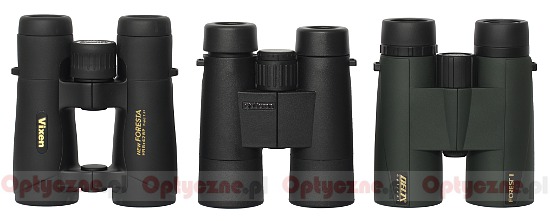 Vixen New Foresta HR 8x42 WP, Opticron Countryman 8x42 BGA T and Delta Optical Forest II 8x42
One big blunder and a slip-up (connected with the image resolution on the edge of the field) versus a quite long list of advantages – it is still a good result for a lightweight, handy roof prism instrument with a price tag of less than 250 Euro. You can say that the New Foresta series is on a winning streak in our tests as, after a good result of the 8x32 model, the 8x42 device performs equally well.