Swarovski EL 8.5x42 Swarovision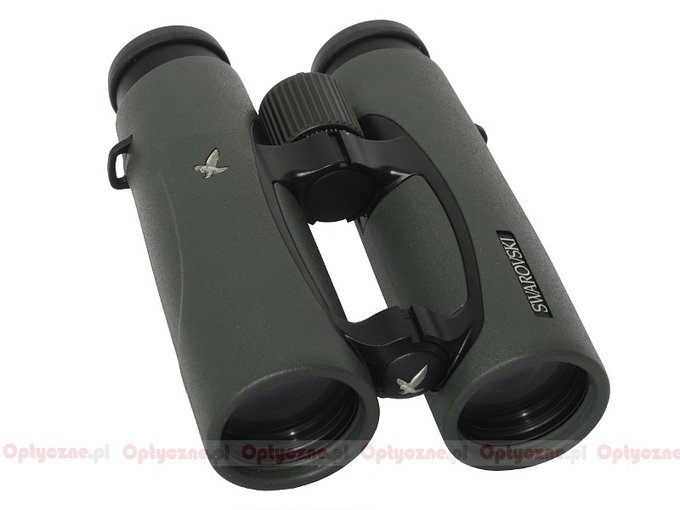 In 2009 the most expensive series of Swarovski binoculars, marked by the EL symbol, was present on the market for ten years. It consisted of four roof prism models with the following parameters: 8×32, 10×32, 8.5×42 and 10×42. The Swarovski company decided to celebrate such a round anniversary with releasing refreshed versions of those well-known binoculars. In October 2009 they informed about the launch of two new Swarovski EL Swarovision models – the 8.5×42 and the 10×42. What's interesting, refreshing the line of 32 mm binoculars wasn't the next move. They introduced completely new 50 mm instruments instead. In January 2011 two models of Swarovski EL Swarovision, the 10x50 and the 12x50, appeared on the market. Only at the very end, in January 2012, we saw the 8x32 and 10x32 models.
The company boasts of using objective lenses with fluorite glass, wide angle eyepieces with a flat field of view which, additionally, is bigger than that of the predecessors and SWAROBRIGHT, SWAROTOP and SWARODUR coatings which are supposed to maximize the achievements of that instrument. SWAROCLEAN coating on the outer surface of objectives and eyepieces make the instrument dirt proof.
The producer adds that the new binoculars feature a better focusing system, with the minimum focus distance of 1.5 meters (in the older models it was 2,5 meters). Buyers get a case, a strap, caps and a digiscoping adapter. The binoculars comes with 10-year warranty period.
Manufacturer data
Magnification
Lens diameter
Angular field of view
Prisms
Eye relief
Weight
Price
8.5
42
133/1000(7.6o)
BaK-4/roof
20 mm
795 g
9699 PLN
Results of the review
Real front lens diameter
Left: 42.05+/- 0.05 mm
Right: 42.05+/- 0.05 mm
8 / 8.0 pkt
Real magnification
8.44+/- 0.05x
3/3.0
Transmission
87.8+/- 1.5%
15/25.0
Chromatic aberration
Almost invisible in the cenre, a bit higher than medium on the very edge of the field.
7.2/10.0
Astigmatism
Practically zero.Images of stars almost perfectly point-like.
9.7/10.0
Distortion
The distance of the first curved line from the field centre compared to the field of view radius: 91% +\- 3%
10/10.0
Coma
Appears near 80% of the field of vision radius and is low on the very edge.
8.3/10.0
Blurring at the edge of the FOV
Perfectly sharp field till the very edge. An example to be followed.
10/10.0
Darkening at the edge the FOV
Imperceptible.
4.9/5.0
Whiteness of the image
Perfect.
4.9/5.0
Collimation
Exemplary.
5/5.0
Internal reflections

| | |
| --- | --- |
| Left: | Right: |
| | |

Weak result for this class of equipment. A lot of flares and small false pupils.
2.2/5.0
Housing
Solid and very stylish. A great design. Very comfortable to hold and to look through (great thumb grooves). Slightly rough rubber padding, ensuring a safe grip; it come off a bit near objectives. Regulated eyecups.
7.7/8.0
Focusing
Comfortable and big central wheel with a full turn amounting to 920 degrees! It moves with slight resistance, a bit too slight in fact. Individual focusing is done through a click-stop system on the central wheel. Nothing moves outside.
4.7/5.0
Tripod
You can buy an optional brand name adapter.
2/3.0
Interpupilary distance
from 54.1 to 74mm
5/6.0
Closest focusing distance
1.4 m
2/2.0
Eyepieces FOV
Apparent field of view of 64.2 deg (according to simple formula) and 58.6 deg (according to tangent formula).
13/20.0
Field of view
Measured by us amounted to 7.61 +\- 0.04 degrees and it was completely in accordance with the specifications. A huge field for this class of equipment.
6.5/8.0
Quality of the interior of the barrels
Black, matt, clean. An ideal!
5/5.0
Vignetting

| | |
| --- | --- |
| Left: | Right: |
| | |

OL: 0.0%, OR: 0.0%.
Perfectly circular exit pupils.
8/8.0
Prisms quality
High quality BaK-4.
8/8.0
Antireflection coatings
Pink-yellow on the objectives. Yellowish-green on the prisms. Green-yellow-pink on the eyepieces. Low intensity.
5/5.0
Warranty [years]
10
4.5/6.0
Final result

84%

159.6 / 190 pkt
Econo result
0pkt.
Summary
Pros:
solid, high quality casing which is also very stylish at the same time,
good transmission,
excellent astigmatism correction,
negligible distortion,
very low coma,
sharp images practically to the very edge of the field,
negligible brightness loss on the edge of the field of view,
very good colours rendering,
sharp images already from 1.4 metres,
perfectly circular exit pupils,
perfect darkening inside the tubes,
high quality prisms and coatings.
Cons:
a bit too light area near the exit pupil.
There is really no need to be overly descriptive in our summary – everybody can see the final score and the position of the tested binoculars in our 8x42 binoculars ranking. This device won hands down with even the most dangerous opponents. If you can afford spending 10,000 PLN for such an instrument you will be satisfied for sure. We tested this pair of binoculars with real pleasure – undoubtedly it is one of the best optical instruments we've ever dealt with.