Pentax DCF ED 8x43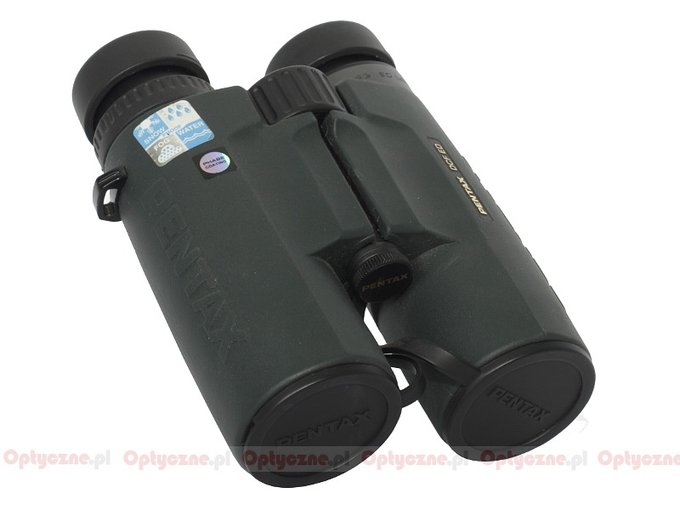 The DCF ED series consists of top-of-the-range Pentax pairs of binoculars, including 8x32, 8x43, 10x43 and 10x50 models. All these instruments feature low dispersion glass in objective lenses, aspherical elements and Schmidt-Pechan roof prisms which are phase correction coated and silver coated as well.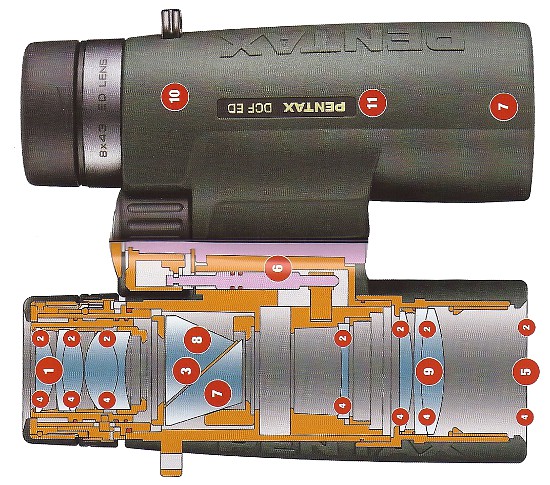 Oprical construction of Pentax 8x43 DCF ED binoculars. Source: Pentax.
All air-to-glass surfaces are covered by multilayer antireflection coatings. A casing, made of metal, is padded with high quality rubber; it is also nitrogen filled and completely waterproof. Buyers gets both caps, a case and a strap. The binoculars come with a 25-year guarantee period.
Manufacturer data
Magnification
Lens diameter
Angular field of view
Prisms
Eye relief
Weight
Price
8
43
110/1000(6.3o)
BaK4
22 mm
715 g
3489 PLN
Results of the review
Real front lens diameter
Left: 43+/- 0.05 mm
Right: 43+/- 0.05 mm
8 / 8.0 pkt
Real magnification
8.38+/- 0.1x
3/3.0
Transmission
85.7+/- 1.5%
13/25.0
Chromatic aberration
Slight in the centre, a bit lower than average on the edge.
7/10.0
Astigmatism
Excellent! Almost point-like images of stars. Virtually no reservations.
9/10.0
Distortion
The distance of the first curved line from the field centre compared to the field of vision radius: 46% +\- 5%
5/10.0
Coma
Appears far from the centre because in the distance of about 85% of the radius and is low on the edge.
9.3/10.0
Blurring at the edge of the FOV
The blur occurs in the distance of 88.5% +\- 4% from the field of vision centre.
7.5/10.0
Darkening at the edge the FOV
Negligible.
4.5/5.0
Whiteness of the image
What's interesting, the slant of the transmission curve is much more pronounced than in the 10x43 ED model. Here we have over 10% of difference between red and blue light.
3.3/5.0
Collimation
Perfect.
5/5.0
Internal reflections

| | |
| --- | --- |
| Left: | Right: |
| | |

Slight.
4/5.0
Housing
Small and shapely for 43 mm objectives. Good quality rubber padding but it sticks out a bit near the objectives. Rubberized eyecups with 4 detention stops. Produced in Japan.
7.4/8.0
Focusing
Huge, ribbed and comfortable central wheel with a full turn of 560 degrees. It is well-damped. A comfortable dioptre adjusting ring on the right eyepiece which can be shifted and moves the outer element.
4.5/5.0
Tripod
There is a comfortable exit.
3/3.0
Interpupilary distance
from 58.5 to 74.1mm
5/6.0
Closest focusing distance
1.55 meters.
2/2.0
Eyepieces FOV
Apparent field of view of 53.1 deg (according to simple formula) and 49.8 deg (according to tangent formula).
5/20.0
Field of view
Measured by us amounted to 6.34 +\- 0.04 degree and it was in accordance with the specifications. A small field of view for this class of equipment.
5/8.0
Quality of the interior of the barrels
Black inner tubes but slightly shiny. Gray bottom. Isolated specks of dust and one bigger scratch (dirt?) on the left prism.
3.1/5.0
Vignetting

| | |
| --- | --- |
| Left: | Right: |
| | |

OL: 1.16%, OR: 8.80% Very distinctly truncated right pupil.
3/8.0
Prisms quality
High quality BaK-4.
8/8.0
Antireflection coatings
Pink-orange on objectives, greenish on prisms, green-purple on eyepieces. Low intensity.
5/5.0
Warranty [years]
25
5/6.0
Final result

70.8%

134.6 / 190 pkt
Econo result
0pkt.
Summary
Pros:
good transmission,
well-corrected chromatic aberration,
negligible astigmatism,
practically invisible coma,
sharp image in most of the field of view,
slight brightness loss on the edge of the field of view,
relatively small, shapely and solid casing for a 43 mm objective,
minimum focus from 1.55 metres,
exit pupils visible on a nice, dark background,
good class of prisms and coatings,
long warranty period.
Cons:
not impressive field of view,
significantly truncated exit pupils.
Perhaps let's start with the cons - a narrow field of view, amounting to just 6.3 degrees, should be undoubtedly counted among them. In the 8x42 class of binoculars a field of view of about 6.9-7.0 degrees we consider a comfortable minimum size - then the apparent field of eyepieces is bigger than 55 degrees and you don't have an impression as if you were looking through a keyhole. Fortunately the Pentax is close to that result because the apparent field of view of its eyepieces is 53 degrees. It is mainly due to the magnification which is closer to the value of 8.4x than the declared 8.0x. That's why, despite a not very wide total field of view, you can look through these eyepieces and forget about the 'keyhole' effect at least for a moment or two.
The second slip-up concerns truncated exit pupils. Whereas the left pupil still fits the norm, because the loss of 1% of light doesn't hurt a lot, the right pupil, in which you lose almost 9% of light, does a serious damage here. It is a pity – if only the producers took care of a correct shape of exit pupils the Pentax result would get really close to the level presented by such pairs of binoculars as the Leica Ultravid HD.
Let's stop the carping, though, because you shouldn't complain too much in the case of an instrument which in our test got a score of over 132 points so very high indeed, at least according to our scale. A smaller field of view is a flaw but it also allows you to correct the said field in a very good or even perfect way. The Pentax took advantage of that opportunity, correcting such aberrations as astigmatism or coma in an exemplary manner. What's more, the brightness loss or the sharpness on the edge should be praised as well; the chromatic aberration is corrected very well and you shouldn't have any reservations about the distortion level either. The performance of coatings is good, providing a high transmission level and dampening down flares effectively.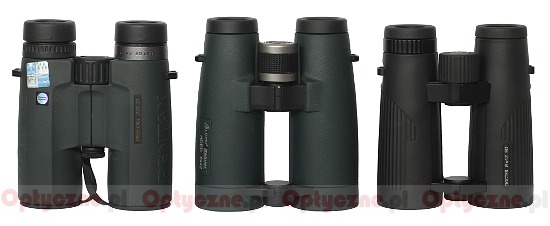 Pentax DCF 8x43 ED, Alpen Rainier HD ED 8x42 and Docter 8x42 ED.
If you add to that the fact that this pair of binoculars, for its class of objective lenses, is put into a solid, shapely casing, is made in Japan and comes with really good warranty conditions all complaints are nothing more than picking holes.