Leica Geovid 8x42 HD-M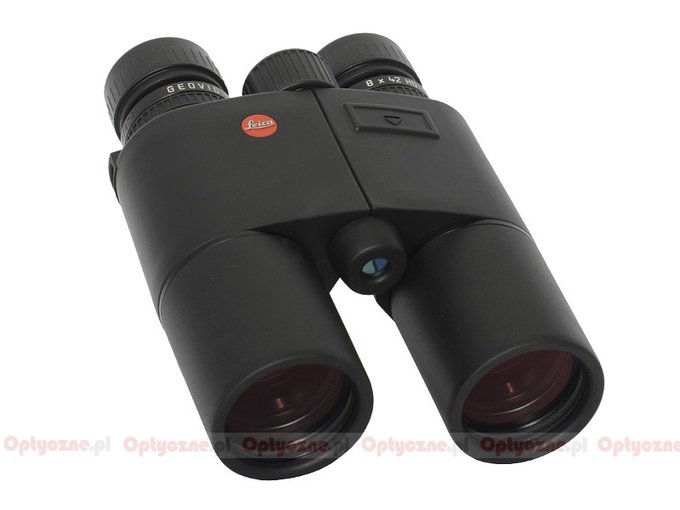 The history of rangefinder-equipped Geovid series of binoculars goes back to 1992 when at the Photokina fairs Leica launched the Geovid 7x42 BDA model. That pair of binoculars was equipped with an infrared laser, measuring the distance in the range from 25 to 1500 metres (with precision of about 1 meter) and with an electronic compass. Soon enough they also showed a BD version, without the compass, and its variation, displaying the distance in yards.
Currently the Geovid HD series of binoculars consists of four roof prism models with the following parameters: 8x42, 10x42, 8x56 and 15x56. According to the producer they are equipped with a modern optical system in HD technology (High Definition Optics). In all pairs of binoculars of this new series the main elements are made of fluorite glass, containing crystal calcium fluorite - a mineral with very low dispersion coefficient and negligible susceptibility to aberration . The usage of such a glass is supposed to enhance the contrast of images across the whole field of view and improve the colour rendering.
The Geovid 8x42 features the AquaDura technology – a system of hydrophobic layers which reduce significantly the surface tension. They allow water droplets and dirt to simply roll off of the front element of the binoculars so the device is easy to keep clean.
The housings of Geovid devices are always made of hard, die-cast aluminum covered by shock-absorbing rubber, which ensures steady grip even when your hands are wet or gloved. Eyecups are constructed in such a way that guarantees comfort of observation also for spectacle-wearing people. They can be easily removed to make keeping the eyepieces clean easier. What's interesting, these binoculars, apart from the central focusing wheel, also feature individual rings to correct dioptre in every eyepiece individually. It differs them from most of other pairs of binoculars, available on the market.
All Geovid HD binoculars are nitrogen-filled which reduces fogging during sudden changed of temperature. They are also supposed to be completely waterproof – submersible up to a depth of 5 m – and they can be used in the temperature range from minus 25 to plus 60 ░C.
The Leica Geovid 8x42 HD-M model is equipped with a laser rangefinder powered by a CR2 (3V) battery. The rangefinder works in the range from 10 to 1300 metres, showing results in the eyepiece on a 4-digit LED display with an automatic brightness regulation.
The binoculars come with 5-year warranty period and buyers get in the box a neoprene strap, a Cordura case, eyepiece and protective front lens covers and a CR2 battery.
Manufacturer data
Magnification
Lens diameter
Angular field of view
Prisms
Eye relief
Weight
Price
8
42
125/1000(7o)
BaK-4/roof
18 mm
950 g
8400 PLN
Results of the review
Real front lens diameter
Left: 42+/- 0.05 mm
Right: 42+/- 0.05 mm
8 / 8.0 pkt
Real magnification
8.26+/- 0.05x
3/3.0
Transmission
81+/- 1.5%
10/25.0
Chromatic aberration
Slight in the centre, a bit higher than medium on the edge.
5.5/10.0
Astigmatism
Corrected in a perfect way.
9.7/10.0
Distortion
The distance of the first curved line from the field centre compared to the field of view radius: 63% ± 5%
7/10.0
Coma
Starts in a distance of about 70% of the field of view radius and on the very edge it is right between moderate and high values.
6.4/10.0
Blurring at the edge of the FOV
The blur occurs in a distance of 96.5% ± 3% from the field of view centre.
9.5/10.0
Darkening at the edge the FOV
Imperceptible.
5/5.0
Whiteness of the image
Huge (about 15%) transmission level difference between red and blue-purple light.
3.1/5.0
Collimation
Perfect.
5/5.0
Internal reflections

| | |
| --- | --- |
| Left: | Right: |
| | |

The areas near exit pupils very dark. Some slight reflexes near the rim of the eyeepieces.
4.5/5.0
Housing
As the 8x56 model was one of the smallest binoculars in that class of equipment the 8x42 model is one of the biggest ones – it has advantages and disadvantages. There are no problems with too small prisms here but the dimensions and the weight of this instrument are significant for the 42 mm class. The binoculars is very comfortable to hold and look through. It has rubberized and regulated eyecups. The solidity and the build quality is beyond reproach.
8/8.0
Focusing
Big, comfortable central wheel with full working range amounting to 630 degrees. It has a projection which makes it possible to feel the position of the wheel without looking. It works perfectly well. The individual focusing on both eyepieces. It doesn't move the outside elements – an ideal instrument!
5/5.0
Tripod
In the place of tripod exit there is a rangefinder. You must have an optional tripod adapter which, at such a price, should have been added free of charge.
2/3.0
Interpupilary distance
from 56.6 to 73.5mm
4/6.0
Closest focusing distance
3 meters
1/2.0
Eyepieces FOV
Apparent field of view of 57.2 deg (according to simple formula) and 53.1 deg (according to tangent formula).
9/20.0
Field of view
Measured by us amounted to 6.92 ± 0.04 degrees and it was a tad narrower than stated in the specifications. A typical field for this class of equippment.
5/8.0
Quality of the interior of the barrels
Perfectly clean and dark. Unfortunately you can see bright rangefinder electronics and colourful leads.
3.3/5.0
Vignetting

| | |
| --- | --- |
| Left: | Right: |
| | |

OL: 0.8%, OR: 0.7%
7/8.0
Prisms quality
High quality BaK-4. Here the prisms are of the appropriate size, not like in the 8x56.
8/8.0
Antireflection coatings
Green-purple on objectives, green-pink on the eyepieces, reddish on the prisms. Medium intensity.
4.5/5.0
Warranty [years]
5
3.5/6.0
Final result

72.1%

137 / 190 pkt
Econo result
0pkt.
Summary
Pros:
solid housing, comfortable to hold,
perfect correction of astigmatism,
low distortion,
sharp image almost to the very edge of the field of view,
imperceptible light fall-off on the edge of the field of view,
good quality of prisms and coatings,
circular exit pupils on black background,
impeccably clean and darkened inside of the tubes,
functional laser rangefinder,
the same transmission for both optical paths.
Cons:
maximum transmission value should have been higher at this price point,
not blackened rangefinder electronic elements, clearly visible in the inner tube.

Let's start with the casing. The Leica Geovid 8x42 is an instrument with significant dimensions and weight for the 42 mm class. In the two photos below you can see how the tested instrument compares with the Ultravid HD and other top-of-the-range 8x42 pairs of binoculars.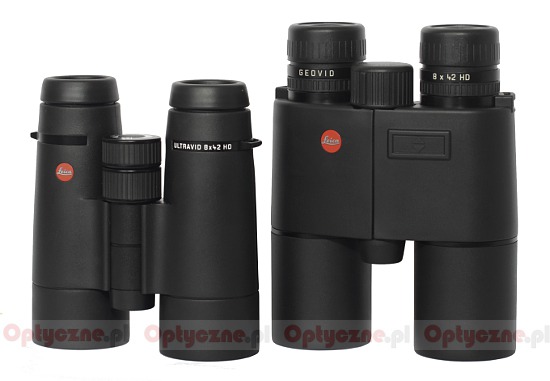 Leica Ultravid 8x42 HD and Leica Geovid 8x42 HD-M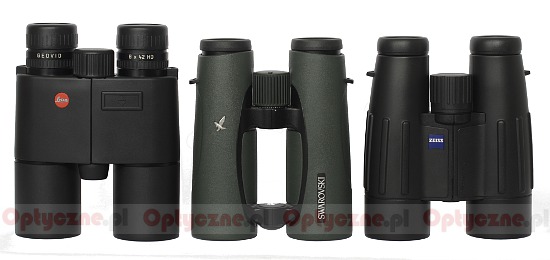 Leica Geovid 8x42 HD-M, Swarovski EL 8.5x42 Swarovisonandi Zeiss Victory 8x42 T*
It would be difficult to blame Leica for its dimensions, though. An optical system and its electronics which enable you to use a rangefinder have to weigh a lot and be placed somewhere inside. If you are interested in a small and handy pair of binoculars you can always buy the Ultravid which belongs to the smalles 42 mm devices. The unique demands of the rangefinder also make themselves felt when it comes to the transmission of the binoculars – a graph below presents it well.
We must admit this function graph is characteristic for Leica constructions with a rangefinder – a part of red and near infrared light is designated for the work of rangefinder and it doesn't reach our eyes. It is a price you must pay if you want to have a functional rangefinder, efficient even at night. Still we like this solution more than the model pushed through by Zeiss, which consists of inserting a translucent mirror into one of optical paths - not only we lose 30% of light there but also we get different transmission for two paths. You can't see it in the case of the Leica so, in its case a weaker transmission for wavelengths over 600 nm is understandable and forgivable.
It's a pity, though, that in the middle of the visible spectrum the transmission of the instrument is not higher. In an expensive pair of binoculars, produced by a very renowned manufacturer, the level of 90% should be obligatory.
The Leica Geovid 8x42 HD-M is really a well made construction – all its flaws are the result of featuring a rangefinder. That's why it would be difficult to really carp about lower transmission over 600 nm, visible electronic parts in the inner tubes or significant dimensions and weight. Comparing it to other devices without a rangefinder simply wouldn't be fair. If you look at the rest of properties, almost all your reservations will disappear. The astigmatism is corrected in a simply brilliant way, the sharpness is very good practically across the field, the distortion and brightness loss are low and the coma and the chromatic aberration – acceptable.
When it comes to the rangefinder and its efficiency, it works beyond reproach. We measured the same distances like in the case of other rangefinder pairs of binoculars and we got results in perfect accordance with those obtained previously. When we tried to measure distances of more than several hundred meters, the differences reached just 1-2 meters, which is perfectly within the declared margin of measurement error. It is worth emphasizing that the rangefinder work is problem-free during the day and also at night.
When it comes to the price of Leica products it is always a delicate subject; often good mechanical and optical properties are overshadowed by the sum of money you have to pay for them. However here we get a small exception. The 42 mm class Geovids are not significantly more expensive than ordinary Ultravid instruments and they are noticeably cheaper than rival Zeiss and Swarovski products with rangefinders. Of course you can hardly call them cheap but you would be hard-pressed to find something with similar parameters and optical properties and a functional laser rangefinder as well. I suppose it is a good ending of our test.