Fujinon 8x42 MF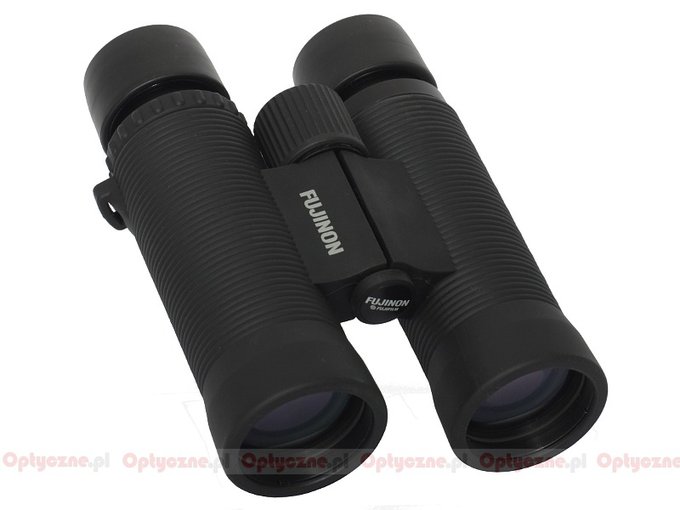 The MF Fujinon series consists of two roof prism devices with the following parameters: 8x42 and 10x42. BaK-4 glass prisms, used in them, are phase coated and set in the Schmidt-Pechan system. The producer emphasizes that all air-to-glass surfaces are multicoated by antireflection layers. Buyers get a set of caps, a strap and a case in the accessory box. The binoculars come with a 5-year guarantee period.
Manufacturer data
Magnification
Lens diameter
Angular field of view
Prisms
Eye relief
Weight
Price
8
42
114/1000(6.5o)
BaK-4/roof
21.4 mm
680 g
1499 PLN
Results of the review
Real front lens diameter
Left: 42.12+/- 0.05 mm
Right: 42.13+/- 0.05 mm
8 / 8.0 pkt
Real magnification
7.96+/- 0.05x
3/3.0
Transmission
75.6+/- 1.5%
8/25.0
Chromatic aberration
Noticeable in the centre, high on the edge.
2.5/10.0
Astigmatism
Slight.
7/10.0
Distortion
The distance of the first curved line from the field centre compared to the field of vision radius: 50% ± 3%
5/10.0
Coma
A very good result. It starts late because in the distance of about 80% of the radius and is low on the very edge.
9/10.0
Blurring at the edge of the FOV
The blur occurs in the distance of 82% ± 4% from the field of view centre.
6/10.0
Darkening at the edge the FOV
Visible but not especially high.
3.5/5.0
Whiteness of the image
Untypical transmission curve with a surplus of blue light and poor red light transmittance.
3/5.0
Collimation
Perfect.
5/5.0
Internal reflections

| | |
| --- | --- |
| Left: | Right: |
| | |

Not bothersome but noticeable.
3.5/5.0
Housing
Quite long and not very stylish. Padded with black rubber with an unpleasant smell. Quite comfortable to hold. The rubber sticks out near objectives. Rubberized and regulated eyecups with three stops. Produced in China.
6.5/8.0
Focusing
Huge, ribbed and comfortable central wheel. It moves easily but smoothly. The full turn of the scale takes as much as 760 degrees so you have to work it a bit. Individual focusing on the right eyepiece through a comfortable ring with projections. It works properly but it moves the outer lens.
4.5/5.0
Tripod
There is a stopper at the front which we didn't manage to twist off.
0/3.0
Interpupilary distance
from 54 to 75.3mm
5/6.0
Closest focusing distance
1.30 metres.
2/2.0
Eyepieces FOV
Apparent field of view of 53.2 deg (according to simple formula) and 49.9 deg (according to tangent formula).
5/20.0
Field of view
Measured by us amounted to 6.69 ± 0.04 degrees and it was a bit wider than stated in the specifications. A small field for this class of equipment.
5/8.0
Quality of the interior of the barrels
Dark and quite matt. Small gray bottom near the prisms. Some specks of dust inside.
3.9/5.0
Vignetting

| | |
| --- | --- |
| Left: | Right: |
| | |

OL: 3.25%, OR: 0.95%
5.5/8.0
Prisms quality
Good quality BaK-4.
8/8.0
Antireflection coatings
Greenish everywhere. Medium intensity.
4.5/5.0
Warranty [years]
5
3.5/6.0
Final result

61.5%

116.9 / 190 pkt
Econo result
0pkt.
Summary
Pros:
slight astigmatism,
excellent coma correction,
quite good darkening inside the binoculars' tubes,
minimum focus already from 1.3 metres,
good quality prisms made of BaK-4 glass.
Cons:
high chromatic aberration,
not especially impressing field of view,
weak transmission,
truncated exit pupils,
not very esthetic, smelly casing.

I admit that taking into the account the renown of the brand name, looking at the price and a not very impressing field of view I thought this pair of binoculars would have many good and excellent results in our test. Unfortunately it wasn't the case. Only coma is corrected in a brilliant way; you can also say some positive things about the astigmatism, darkening inside and a good quality of the prisms. The slip-ups are far more numerous, though, and it is hardly understandable…
The field of view is narrow for this class of equipment so it should have been sharp till the very edge and distortion-free. It is not. The binoculars are relatively long which might suggest a significant focal length of the objectives and easier correction of the chromatic aberration. Unfortunately that aberration is corrected badly. The presence of multilayer coatings should indicate good transmission results; however, the transmission's graph is untypical and the performance – simply weak, which can be clearly seen below.
To sum up these binoculars' results would be acceptable perhaps for a roof prism instrument with a price tag below 200 Euro. As currently the Fujinon 8x42 MF costs about 350 Euro we can't recommend it.