Steiner Night Hunter Xtreme 8x56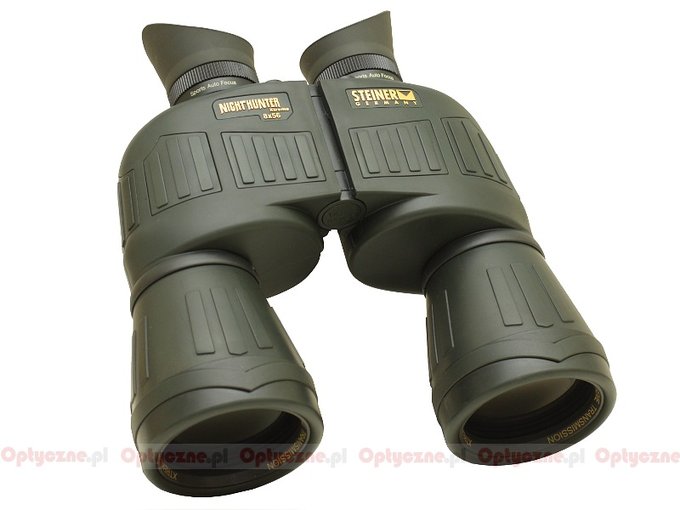 The Night Hunter top-of-the-range series is produced by the German Steiner company and definitely the best when we take into account devices aimed at hunters only. Even several years ago the series consisted solely of porro prism binoculars with the following parameters: 8x30, 9x40, 7x50 and 8x56. Then the 9x40 model was substituted by 8.5x44 and 10x44 roof prism instruments. In 2011 the series changed its name from Night Hunter XP to Night Hunter Xtreme and underwent a slight lifting – as a result a very well done 7x50 model disappeared from the line-up.
Compared to the XP, the Xtreme series devices feature better antireflection coatings; the producer also changed the texture of the padding rubber and added some soft padding in the place for thumb groves; however, at the same time they reduced the standard accessory kit– now you don't get three types of eyecups in the box anymore.
If you buy any of the Night Hunter Xtreme devices you get a product manufactured completely in Germany which is not only waterproof up to a depth of 5 meters but also nitrogen filled (with a possibility of easy refill). Everything in packed into a very sold, rubber casing, oil and acid-resistant, which can be used in an impressing temperature range from –40 to +80 deg C.
When it comes to the optics we deal here with a classic Porro construction without an ocular bridge but with an individual focusing system. All air-to-glass surfaces are covered by high quality antireflection coatings. Additionally, the outer lenses feature hydrophobic coatings - they make the device easier to clean, preventing the dirt and humidity to stick.
The buyer, apart from a 30-year warranty , gets also objective caps fixed on solid straps, a rainguard, a stylish hard case and a comfortable strap made of neoprene, with a clasp.
Manufacturer data
Magnification
Lens diameter
Angular field of view
Prisms
Eye relief
Weight
Price
8
56
112/1000(6.4o)
BaK-4/Porro
? mm
1090 g
3499 PLN
Results of the review
Real front lens diameter
Left: 55.97+/- 0.05 mm
Right: 56.01+/- 0.05 mm
8 / 8.0 pkt
Real magnification
8.02+/- 0.05x
3/3.0
Transmission
93.2+/- 1.5%
21/25.0
Chromatic aberration
Negligible in the centre but higher than average on the edge of the field.
7.2/10.0
Astigmatism
Very low, simply negligible.
9/10.0
Distortion
The distance of the first curved line from the field centre compared to the field of vision radius: 66% +\- 4%.
8/10.0
Coma
Appears in the distance of 65% from the field centre and is high on the edge.
5.6/10.0
Blurring at the edge of the FOV
The blur occurs in the distance of 85% +\- 4% from the field centre.
7/10.0
Darkening at the edge the FOV
Slight.
4.3/5.0
Whiteness of the image
Very good.
4.5/5.0
Collimation
Perfect.
5/5.0
Internal reflections

| | |
| --- | --- |
| Left: | Right: |
| | |

There are low internal flares. The area near exit pupils a bit too light.
3.7/5.0
Housing
Very solid and comfortable to use. Great to hold. Eyecups profiled very well, they fit your eye sockets seamlessly. Objective caps solidly attached so they don't fall down by accident. You can refill the nitrogen. The texture of padding rubber is different, compared to the XP series – now it is more smooth and you can notice dirt and fingerprints easier so we consider it less stylish. Everything fits perfectly and nothing sticks anywhere. Very high build quality. Rubberized eyecups with a possibility of folding.
7.7/8.0
Focusing
Individual focusing on every eyepiece in the range from –5 to+5 dioptres. They move quite heavily. A right focus setting makes moving the eyepieces redundant and you can enjoy comfortable observation from some several meters to infinity. Profiled eyecups move during focusing but fortunately they can be easily set into the right position again or folded. It's a pity Steiner didn't use a solution from the Polish PZO 7X45 in which focusing doesn't cause the change of position of eyecups.
4.5/5.0
Tripod
No. It is not a fully understandable move because in the case of the 8x56 model we get free space for a tripod exit and it could have been added without any problems.
0/3.0
Interpupilary distance
from 56.9 to 72.4mm
3/6.0
Closest focusing distance
4.2 m
2/2.0
Eyepieces FOV
Apparent field of view of 51.6 deg (according to simple formula) and 48.5 deg (according to tangent formula).
4/20.0
Field of view
Measured by us 6.43 +\- 0.05 degrees was in perfect accordance with that stated in the specifications.
5/8.0
Quality of the interior of the barrels
Inner tubes and bottom perfectly black and matt. Dark splinters are coming from one tube, obscuring the field of view Several specks of dust on the prisms.
4/5.0
Vignetting

| | |
| --- | --- |
| Left: | Right: |
| | |

OL: 1.85%, OR: 2.88%
5.5/8.0
Prisms quality
Good quality BaK-4 glas but the prisms are too small. Because of that you can notice gray, little "diamonds", like in cheap binoculars with Bk7 glass. The gray area occupies respectively: OL: 3.44%, OR: 0.94%.
5.5/8.0
Antireflection coatings
Yelow-greenish on objectives, pinkish on eyepieces and prisms. Low intensity.
5/5.0
Warranty [years]
30
5/6.0
Final result

72.4%

137.5 / 190 pkt
Econo result
0pkt.
Summary
Pros:
very solid and stylish casing, which seems to be armoured and completely sealed,
relatively low weight for the 8x56 class,
high transmission,
perfect colour rendering,
low distortion,
negligible astigmatism,
very good darkening inside inner tubes,
small brightness loss on the edge of the field of vision,
high quality anti-reflection coatings,
long warranty.
Cons:
too small prisms, causing vignetting,
the maximum IPD of eyepieces a bit too narrow.
Let's start with a comparison of the tested Steiner and other 8x56 sets of binoculars with Porro prisms. The following chart will make it easier. As you can notice the Steiner is a relatively light and handy device, definitely smaller than its rivals. It is especially visible when you put it side by side with the Docter Nobilem 8x56, its most serious competitor. The photo below shows it very well.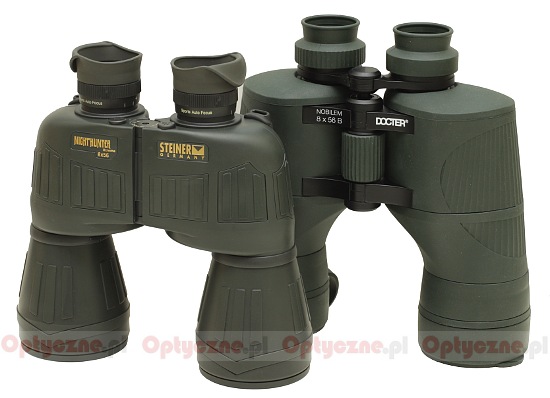 Steiner Nighthunter Xtreme 8x56 (left) and Docter Nobilem 8x56 B/GA (right)

When we start comparing the Steiner and roof prism binoculars you can buy at a similar price point (the next chart) you can find out their weights are very similar. The huge Docter 8x58 is the only exception to that rule.
A relatively low weight and a handy casing the Steiner owes to its prisms. Unfortunately, what is an asset in one category, in other can be a liability. If you take a closer look to the casing of the Night Hunters 8x30 and 8x56 you can see their prism cell is exactly the same which might suggest the same prisms' size. That size is more than enough in the 8x30 model and it was sufficient in the case of the 7x50 instrument, which is not produced anymore and which fared sensationally well in our big binoculars' test, conducted ten years ago. However, what is good for the 8x30 and the 7x50 binoculars doesn't necessarily has to be good in the case of 8x56 parameters. And it isn't. The prisms of the Night Hunter Xtreme 8x56 are really too small so its exit pupils are noticeably truncated, showing, at the same time, the characteristical "diamonds", due to not efficient light refraction on the very edge of the prisms. It is a serious slip-up when it comes to a piece of equipment from such price-quality segment.
The Steiner Night Hunter Xtreme 8x56 has undoubtedly many advantages; the excellent transmission can be considered one of the most significant; its graph is presented below.
High quality coatings perform really well, delivering over 90 of light to your eyes and ensuring good colour rendition at the same time. Compared to the 8x30 model the transmission is a bit lower for the shortest wavelengths; it is most probably connected with a bit different construction of eyepieces and thicker glass in a larger model.
The next serious advantages of the Steiner are its excellent build quality, a great solid casing and a long warranty period. After all it is a device produced in Germany by a very renowned manufacturer. You can feel that quality at once and you can be sure this pair of binoculars will have a long life of even intensive usage.
The Night Hunter Xtreme 8x56 is a bit better than its predecessor, the Night Hunter XP, but not better than the Docter Nobilem, so praised by us. When we summarized our big 56-63 mm class binoculars' test seven years ago, we didn't recommend the Steiner because its XP model was noticeably more expensive than the Docter then. Now the situation changed. The Xtreme model got a tad better coatings and it costs more or less the same as the Docter. If you add to that smaller dimensions, lower weight and a bit wider field of view you can find even more arguments for the Steiner. If you think the weight is important to you, the Steiner can be, in fact, a very serious competitor of the Docter now.
Although the Night Hunter Xtreme 8x56 is undoubtedly a very solid piece of equipment its test left us rather unsatisfied. During several years the Steiner company gave it two lifting treatments – first the XP symbol appeared and in 2011 it was changed into Xtreme. A slight improvement of already great transmission is a nice change but not a significant one. Other novelties like the change of the rubber padding and the limited choice of eyecups are rather one stop backwards than forwards. Personally I liked the matt XP series casing better than the shiny and more soft casing of the Xtreme devices.
In my humble opinion the 2011 lifting was too superficial. The 8x56 model needs a more thorough optical system modification, perhaps along with the increase of the size of the prisms. I don't know when such a modification will be possible but I do hope it will be soon and it will entail swapping the Porro prisms for roof prisms. I don't have the slightest doubts that the Steiner company is able to modify this instrument in such a way that the new model will still remain one of the best, if not actually the best 8x56 pair of binoculars available on the market.