Docter Nobilem 7x50 B/GA
At the beginning of the 90s of the twentieth century the Analytik Jena company took over the Carl Zeiss Jena factory. First they continued the production of binoculars which were exactly the same as those produced by Zeiss previously but they were sold under a new name. As the time passed by they started to introduce more and more changes concerning both the mechanical and optical construction. As a result currently there are classic-looking but completely modern models available on the market from the porro prism Nobilem series. It consists of four huge pairs of binoculars with the following parameters: 7x50, 10x50, 8x56 and 15x60. Three last instruments have already been tested by us and got very positive scores showing excellent optical and mechanical properties along with brilliant transmission.
Bodies of the Nobilem series of binoculars are made of magnesium alloys and padded with high quality rubber. They belong to those few and far between Porro devices with the central focus wheel which are also completely waterproof and nitrogen filled. The buyer gets caps and a strap in the box but there is no case of any kind. The Docter Nobilem binoculars come with a 30-year guarantee.
Manufacturer data
Magnification
Lens diameter
Angular field of view
Prisms
Eye relief
Weight
Price
7
50
128/1000(7.3o)
BaK-4/Porro
17.3 mm
1250 g
2970 PLN
Results of the review
Real front lens diameter
Left: 50.01+/- 0.05 mm
Right: 50.04+/- 0.05 mm
8 / 8.0 pkt
Real magnification
7.03+/- 0.05x
3/3.0
Transmission
90.6+/- 1.5%
18/25.0
Chromatic aberration
Very low in the centre and noticeably lower than medium on the edge.
8/10.0
Astigmatism
Very low.
8.5/10.0
Distortion
The distance of the first curved line from the field centre compared to the field of view radius: 75% +/- 4%
9/10.0
Coma
Starts quite late because in the distance of 75% from the field centre, but on the edge is on the borderline of medium and high.
7.5/10.0
Blurring at the edge of the FOV
The blur occurs in the distance of 91% +/- 3% from the field of view centre.
8/10.0
Darkening at the edge the FOV
Practically invisible.
4.8/5.0
Whiteness of the image
A bit too big loss of purple and blue light which makes the image slightly warmer – the effect is noticeable, though.
3.7/5.0
Collimation
Perfect.
5/5.0
Internal reflections

| | |
| --- | --- |
| Left: | Right: |
| | |

A lot of flares near prisms. When you look at the light area you can notice a gleam on the border of eyepiece diaphragm. An unnerving effect.
2/5.0
Housing
Big and solid Porro construction. Green, matt rubber on the padding which sticks to your hand very well but has a tendency to getting dirty. Very stable and comfortable to hold and look through. Rubber eyecups, small and folded. Caps on straps, fixed to the tube. They have a tendency of falling out.
7/8.0
Focusing
Medium central wheel, rubberized and ribbed, with the turning range of 380 degrees. It moves smoothly and is well-damped. Classic ocular bridge which works evenly and without any lateral play. Only a really strong pressure on eyepieces can make them defocused. Individual focusing on the right eyepiece – comfortable but moves the outer lens.
4.2/5.0
Tripod
There is a comfortable exit but situated on the side, far from the centre of gravity.
2/3.0
Interpupilary distance
from 54.2 to 74.9mm
5/6.0
Closest focusing distance
3.40 m
1.5/2.0
Eyepieces FOV
Apparent field of view of 50.7 deg (according to simple formula) and 47.8 deg (according to tangent formula).
4/20.0
Field of view
Measured by us amounted to 7.21 +/- 0.04 degrees and it was a bit narrower than stated in specifications. Typical field of view for this class of equipment.
5.5/8.0
Quality of the interior of the barrels
Beautiful, black and very matt inside of inner tubes and the bottom as well. Literally a black well. An example worth following – perfect!
5/5.0
Vignetting

| | |
| --- | --- |
| Left: | Right: |
| | |

OL: 0.93%, OR: 0.20%
7.5/8.0
Prisms quality
Wysokiej klasy BaK-4.
8/8.0
Antireflection coatings
Purple on objective lenses, green-purple on eyepieces. Prisms are shiny, definitely too shiny for this class of equipment.
4/5.0
Warranty [years]
30
5/6.0
Final result

75.9%

144.2 / 190 pkt
Econo result
0pkt.
Summary
Pros:
huge and solid casing,
high transmission,
low chromatic aberration,
negligible astigmatism,
splendidly corrected distortion,
sharp image almost from the edge of the field,
slight coma,
good colour rendering,
negligible brightness loss, perfect blackening of inner tubes
high quality of prisms and coatings,
long guarantee period.
Cons:
strange place for a tripod adaptor,
falling out objective caps.
Porro prism Docters Nobilem are a class of their own – our test confirms is completely. Excellent optics, brilliant mechanics, a long warranty period and a renowned German producer – these are assets difficult to ignore. If you are not afraid of the significant dimensions of the tested equipment and you can accept the price there should be no hesitation whatsoever.
Of course the Docters must face competition. It's enough to mention here the great Fujinon FMTR-SX, the Steiner Commander XP, tested by us not so long ago, the Nikon 7x50IF SP WP or the significantly cheaper but also definitely heavier WO 7x50 ED. All of these instruments are optically very good and their build quality is faultless. However, the Docter has a certain advantage over them. One look at the following chart can tell you immediately which one. First the weight – the Docter and the Steiner are noticeably lighter than their competitors. Secondly, and more importantly, the Docter features the central focusing regulation which is rare in the class of waterproof porro prism 7x50 binoculars.
So far Docters impressed us by their transmission performance. The Docter Nobilem 8x56 B/GA had brilliant results in that category, reaching as high as 98-99%. What's interesting, in the case of the 7x50 model the performance is not so sensational anymore and you can see it clearly consulting the graph below.
Everything is perfect as long as you look at the wavelengths higher than 500 nm. The transmission is very high there and keeps to the level of 93-94%. The problem is what happens for blue and purple light. It is visible to the naked eye – you should only glance at purple shimmering coatings of the objective lenses and notice strong glares from the prisms to know something was neglected here. Pity. To keep our summary balanced we must add that the Docter's Nobilem 7x50 transmission is still better than that of the majority of roof prism binoculars available on the market. Our regret stems only from the fact that the Docter company proved with the 8x56 model they can afford a better performance.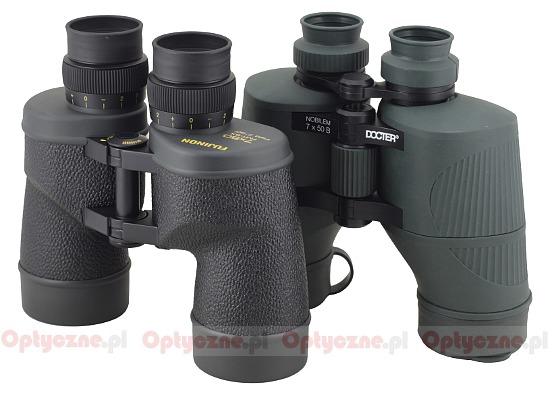 Fujinon FMT-SX 7x50 (left) and Docter Nobilem 7x50 B/GA (right)
The second minor slip-up concerns the standard accessory kit. In the case of a pair of binoculars of this class we would like to be given also a case; unfortunately there is no such a thing in the box. Instead there is a rubberized eyepiece cover which looks…well…it doesn't look good. The producer apparently assumed that only men would buy this set of binoculars; after all men are characterized by a slightly lower sense of aesthetics than women. Bad luck – during our test my wife had a look at the Docter. Seeing the rubberized cover didn't fit the eyepieces well and additionally, as new, was covered by a whitish layer, couldn't believed that such a "mangy thing" was added to a piece of equipment produced in Germany and costing almost 1000 EURO.
My summary had a rather disparaging overtone in those last paragraphs but, to keep things balanced, I must state clearly that those slip-ups are minor flaws and it's a bit like picking holes in a perfectly good instrument. The Docter Nobilem 7x50 B/GA is really a well-done pair of binoculars and such is the overall picture of the situation.