Fujinon KF 10x42W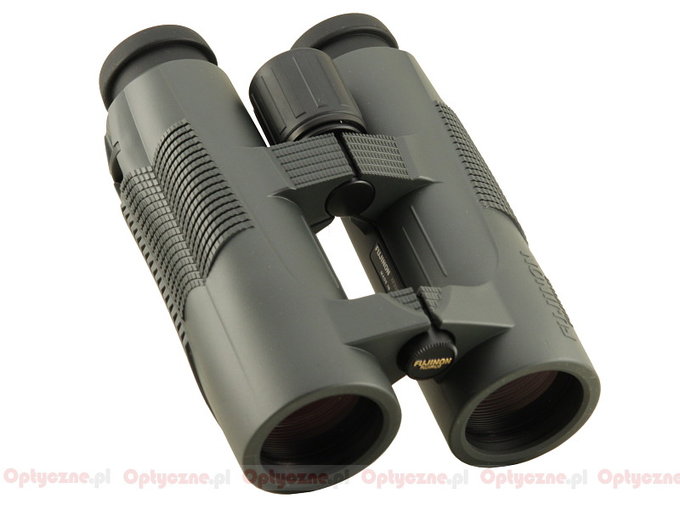 The KF series of the Japanese Fujinon company, launched on the marked in March 2010, consists of three roof prism models with the following parameters: 7x28, 8x42 and 10x42. They feature Schmidt – Pechan prisms which reflecting surface is supposed to be phase correction coated and covered by enhanced silver as well.
All air-to-glass surfaces are to be covered by high quality MC coatings which guarantee a high transmission level of the whole instrument and good colour rendering.
The body of the binoculars is made of aluminum padded with anti-skidding, reinforced rubber which will guarantee a firmer grip. The binoculars are waterproof and nitrogen- filled.
In the standard accessory kit you get: protective caps for objective lenses, a strap and a case with another strap. The binoculars of this series come with a 10-year long guarantee.
Manufacturer data
Magnification
Lens diameter
Angular field of view
Prisms
Eye relief
Weight
Price
10
42
105/1000(6o)
BaK-4/roof
15 mm
850 g
2499 PLN
Results of the review
Real front lens diameter
Left: 41.9+/- 0.05 mm
Right: 41.86+/- 0.05 mm
7.5 / 8.0 pkt
Real magnification
10.41+/- 0.05x
3/3.0
Transmission
81.9+/- 1.5%
10/15.0
Chromatic aberration
Noticeable in the centre but not very bothersome. Huge on the edge.
3.8/10.0
Astigmatism
A bit lower than average.
6.5/10.0
Distortion
The distance of the first curved line from the field centre compared to the field of view radius: 47% ± 4%
5/10.0
Coma
It appears in the distance of 60% from the centre of the field and reaches high level on the very edge.
4/10.0
Blurring at the edge of the FOV
The blur occurs in the distance of 80% +\- 4% from the field of vision's centre.
5.5/10.0
Darkening at the edge the FOV
Slight
3.9/5.0
Whiteness of the image
Deep transimssion hollow for green light. The highest transmission level for red light.
3.3/5.0
Collimation
Perfect.
5/5.0
Internal reflections

| | |
| --- | --- |
| Left: | Right: |
| | |

A bit lower than average.
3.6/5.0
Housing
Big and heavy for a 42 mm class instrument but very solid. Padded with high-quality rubber which sticks out a bit near objectives. Comfortable to hold and to look through. Twist-lock eyecups with fluid regulation.
7.5/8.0
Focusing
Big and comfortable central wheel which moves smoothly. Full turn through 570 degrees. Individual focusing through click-stop on the central wheel, nothing moves outside. In outermost positions the click-stop is sometimes jammed in.
4.5/5.0
Tripod
There is a comfortable exit but at the front of the binoculars, far from the centre of mass.
2/3.0
Interpupilary distance
from 55.1 to 75.4mm
5/6.0
Closest focusing distance
2.2 m
1.5/2.0
Eyepieces FOV
Apparent field of view of 61.6 degrees.
7/10.0
Field of view
Measured by us amounted to 5.92 +\- 0.04 degrees and it was a bit narrower than stated in specifications. Typical field of view for this class of equipment.
5/8.0
Quality of the interior of the barrels
Black and matt inner tubes, dark bottom. Clean.
4.8/5.0
Vignetting

| | |
| --- | --- |
| Left: | Right: |
| | |

OL: 1.8%, OR: 0.0%
6.5/8.0
Prisms quality
Good quality BaK-4.
8/8.0
Antireflection coatings
Greenish everywhere. Medium intensity.
4.5/5.0
Warranty [years]
10
4.5/6.0
Final result

71.7%

121.9 / 170 pkt
Econo result
0pkt.
Summary
Pros:
solid casing,
good quality coatings and BaK – 4 prisms,
good blackening and cleanliness inside inner tubes,
slight light fall-off on the edge of the field,
well-corrected astigmatism.
Cons:
too high chromatic aberration on the edge of the field of view,
sharp transmission decrease in the middle of the visible spectrum – for such a price segment it is a slip-up,
significant coma,
average price/quality ratio.
Japanese Fujinon have proven they can produce big and heavy but optically sensational binoculars, which can compete successfully with much more expensive rivals, produced by the biggest market players. The instruments from the FMTR-SX series are a perfect example here. When I consulted the weight and the dimensions of the Fujinon KF 10x42 I thought its performance would be equally good. Unfortunately it wasn't. The binoculars got many average results, they had a small slip-up in the category of chromatic aberration and, what's more important, didn't exactly shine in any other testing category either. Its field of view is not especially wide. Overall, although the score of 120 points is nothing to be ashamed of, for 600 Euro you can buy many better 10x42 instruments, which can be sometimes even cheaper than the Fujinon, tested here. If you can buy a better and a cheaper instrument why should you pay more after all?