Nikon 10x42 EDG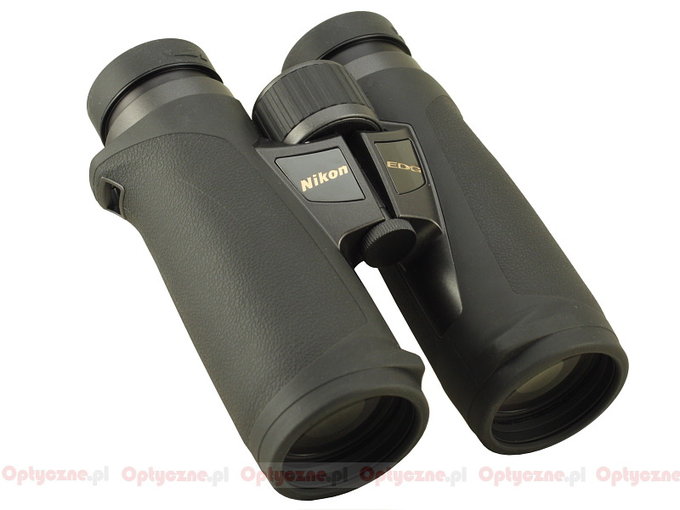 Binoculars from the Nikon EDG series had officially two launches. The first one was in April 2008, when the company introduced five new models, marked by the EDG symbol, into the market. They were supposed to feature low-dispersion glass in objectives and their casing was designed as "open hinge" – a style so fashionable lately. After several months these binoculars indeed started to be sold in the USA but you wouldn't find any official distribution channel which could sell them in Europe. Such a situation lasted a dozen months or so and in March 2010 Nikon officially informed about…the launch of five pairs of EDG series binoculars. These devices looked different than those presented two years ago. No explanation was offered. We don't know whether the older EDG were intended for the American market only or the new EDG instruments substituted the older ones. Anyway new EDG models are already available in Europe and nothing stands in our way of testing them.
In the new EDG series we have five models of binoculars at our disposal with the following parameters: 8x32, 10x32, 7x42, 8x42 and 10x42. They boast low-dispersion ED glass in objectives and high quality eyepieces with a flat field – because of these features the image is supposed to be very sharp in the whole field of view. The binoculars have the Schmidt-Pechan roof prism system with phase correction coating and dielectric coating, featuring ultra-high reflectivity - as much as 99% of light ranging from 400 to 700 nm is reflected by them. The casing is very durable, waterproof up to a depth of 5 meters (for 10 minutes) and nitrogen-filled.
The buyer gets a neck strap, a soft case, joined eyepiece caps, objective caps attached to the tubes and additional, horn-shaped eyecups which can be simply put on those permanently fixed to the eyepiece. The binoculars come with ten-year consumer warranty.
Manufacturer data
Magnification
Lens diameter
Angular field of view
Prisms
Eye relief
Weight
Price
10
42
114/1000(6.5o)
BaK-4/roof
18 mm
790 g
8999 PLN
Results of the review
Real front lens diameter
Left: 42.01+/- 0.05 mm
Right: 42.02+/- 0.05 mm
8 / 8.0 pkt
Real magnification
9.98+/- 0.05x
3/3.0
Transmission
88.5+/- 1.5%
16/25.0
Chromatic aberration
Practically invisible in the centre and slight on the edge.
8.6/10.0
Astigmatism
Almost imperceptible.
9/10.0
Distortion
The distance of the first curved line from the field centre compared to the field of view radius: 88% +\- 3%
10/10.0
Coma
Starts in the distance of about 75% from the centre; low on the edge.
8.2/10.0
Blurring at the edge of the FOV
Perfect sharpness throughout the whole field of view – to the very edge!
10/10.0
Darkening at the edge the FOV
Negligible
4.5/5.0
Whiteness of the image
High transmission values in the wide range of spectrum. The curve a bit inclined with the highest values for the red part of the spectrum.
4.5/5.0
Collimation
Perfect.
5/5.0
Internal reflections

| | |
| --- | --- |
| Left: | Right: |
| | |

Very good performance. Almost no flares visible. Drak background around pupils.
4.4/5.0
Housing
Solid, very comfortable to hold and to look through. Coarse texture on the padding. Metal eyecups finished with rubber with 5 regulation stops. You can put on them additional horn-shaped eyecups, included in the set. Rubber sticks out a bit near objectives.
7.5/8.0
Focusing
Big and comfortable central wheel with the working range of 400 degrees. Moves smoothly and it is well-damped. Individual focusing through the click-stop system on the central wheel. Nothing moves outside.
5/5.0
Tripod
There is a comfortable tripod exit.
3/3.0
Interpupilary distance
from 54.3 to 78.8mm
5/6.0
Closest focusing distance
2.1 m.
2/2.0
Eyepieces FOV
Aparent field of view of 64.5 deg (according to simple formula) and 58.8 deg (according to tangent formula).
13/20.0
Field of view
Measured by us amounted to 6.46 +\- 0.04 degrees and it was in accordance with specifications. Wide field for this class of equipment.
7.5/8.0
Quality of the interior of the barrels
Beautiful blackening and matting of inner tubes and the bottom. Perfect blackening. Some tiny specks of dust.
4.6/5.0
Vignetting

| | |
| --- | --- |
| Left: | Right: |
| | |

OL: 0.9%, OR: 0.0%
7.5/8.0
Prisms quality
High quality BaK-4.
8/8.0
Antireflection coatings
Dark-green everywhere. Low intensity.
5/5.0
Warranty [years]
10
4.5/6.0
Final result

86.2%

163.8 / 190 pkt
Econo result
0pkt.
Summary
Pros:
very solid and sealed casing,
high transmission,
perfectly sharp image throughout the whole field of view,
chromatic aberration splendidly corrected,
very low astigmatism,
slight coma,
negligible distortion,
low brightness loss on the edge of the field,
nice exit pupils on black background,
good whiteness rendition,
perfect blackening inside inner tubes,
wide IPD range,
high quality of prisms and coatings.
Cons:
A record-breaking score in our test (no other pair of binoculars, tested by us so far, has reached a result over 150 points) and the lack of flaws that could be put in the 'cons' section are an explicit proof what kind of equipment we deal with here. If you don't want to compromise on anything this set of binoculars is definitely for you.
Of course you get nothing for nothing – the EDG series, not taking into account stabilized binoculars or those featuring laser rangefinders, is the most expensive series of binoculars, available on the market. The 10x42 model, for instance, is significantly more expensive than its top-of-the-range (price and quality wise) rivals, manufactured by such companies as Zeiss or Leica. What's interesting, it is also more expensive than the newest Swarovski EL and SLC HD binoculars. We get a nearly perfect product but such a high quality costs a lot.
You can gush over optical and mechanical properties of the tested Nikon EDG for a very long time. In order to make it less boring we would like to mention only these features which impressed us the most. Nikon's from the top-of-the-range series (HG and SE) have been always known from the fact that they remain sharp to the very edge of the field. We didn't think you could improve that but the EDG device proved we were wrong. In the case of this pair of binoculars it would be really difficult to find any difference between crops taken from the centre of the field and its edge. It is even more remarkable that the field of view of the 10x42 model belongs to the widest in this class of binoculars. Hats off!