Nikon SE 8x32 CF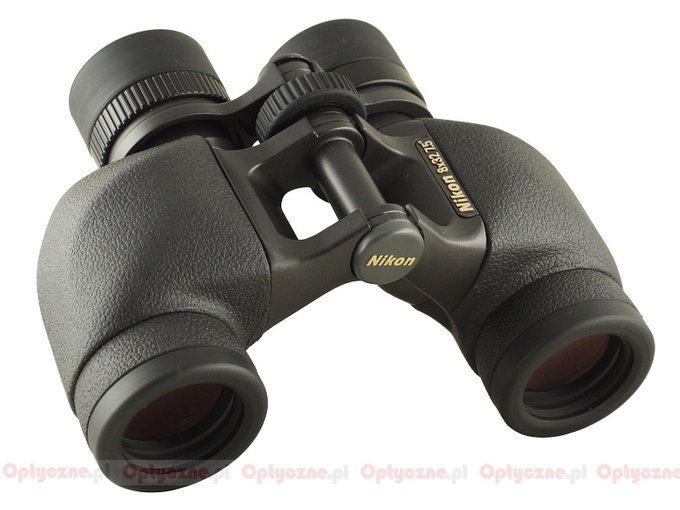 The SE series of the Japanese Nikon company consists of three porro prismatic pairs of binoculars with the following parameters: 8x32, 10x42 and 12x50. They are supposed to be classic and efficient construction of the highest quality, offering top-of-the-range optics for price which can be still called affordable.
If you buy any of SE series instruments you have all elements and prisms multi-coated so they can give you an exceptionally light, crisp image, remaining sharp across the whole field of view; it is possible because the instruments feature elements correcting the curvature of the field and a special construction of the eyepieces. Additionally you get a significant eye relief distance, low weight and solid build as the barrel is pressure-cast and made of a magnesium composite; the casing is also covered by a rubber coating which makes it shatterproof and comfortable to hold.
Manufacturer data
Magnification
Lens diameter
Angular field of view
Prisms
Eye relief
Weight
Price
8
32
131/1000(7.5o)
BaK-4/porro
17.4 mm
630 g
2999 PLN
Results of the review
Real front lens diameter
Left: 32.05+/- 0.05 mm
Right: 32.03+/- 0.05 mm
8 / 8.0 pkt
Real magnification
7.96+/- 0.05x
3/3.0
Transmission
89.1+/- 1.5%
17/25.0
Chromatic aberration
Negligible in the centre, medium on the edge.
7/10.0
Astigmatism
Low.
8/10.0
Distortion
The distance of the first curved line from the field centre compared to the field of view radius: 71% +/- 2%
8/10.0
Coma
Starts near 75-80% from the field centre and is between low and medium on the edge.
8.5/10.0
Blurring at the edge of the FOV
The blur occurs in the distance of 96.5% +/- 2% from the field of view centre.
9.5/10.0
Darkening at the edge the FOV
Slight.
4/5.0
Whiteness of the image
Quite flat transmission graph with slight dip in the centre of the visible spectrum.
4.5/5.0
Collimation
Perfect.
5/5.0
Internal reflections

| | |
| --- | --- |
| Left: | Right: |
| | |

A bit of flares in the area nearest to prisms.
2.9/5.0
Housing
Classic small Porro in a magnesium, partially rubberized casing. Very comfortable to hold and to look through. Rubber eyecups which can be folded..
7/8.0
Focusing
Quite confortable central wheel but a bit narrow. 530-degree working range. Individual focusing on the right eyepiece, convenient but moves the whole eyepiece. Classic ocular bridge is stable and moves smoothly; it doesn't defocus under pressure.
4.3/5.0
Tripod
No. Bow-shaped handle in the middle. In the 8x32 test all pairs of binoculars were granted an average mark of 1.5 points as a tripod exit is rarely used in this class of equipment.
1.5/3.0
Interpupilary distance
from 52.4 to 74.1mm
5/6.0
Closest focusing distance
2.05 m.
1.5/2.0
Eyepieces FOV
Apparent field of view of 58.6 deg (according to simple formula) and 54.2 deg (according to tangent formula).
10/20.0
Field of view
Measured by us amounted to 7.36 +/- 0.04 degrees and it was by 0.14 of a degree smaller than stated in the specifications. Typical field for this class of equipment.
5.5/8.0
Quality of the interior of the barrels
Inner tubes black and matt, the bottom gray. White glue near prisms and not blackened casing of the prisms. Small specks of dust inside.
3.5/5.0
Vignetting

| | |
| --- | --- |
| Left: | Right: |
| | |

OL: 0.0%, OP: 0.0%
Beautiful circular pupils.
8/8.0
Prisms quality
High quality BaK-4.
8/8.0
Antireflection coatings
Green- dark blue on objectives, pink on prisms, green-yellow-purple on eyepieces. Low intensity.
5/5.0
Warranty [years]
10
4.5/6.0
Final result

78.5%

149.2 / 190 pkt
Econo result
0pkt.
Summary
Pros:
solid, handy casing, very comfortable to hold,
good transmission,
excellent whiteness rendition,
low chromatic aberration,
very low coma,
slight astigmatism,
sharp image practically to the very edge of the field of view,
low brightness loss on the edge of the field,
high quality of prisms and coatings.
Cons:
the instrument is not waterproof and it is not nitrogen-filled,
too many flares near prisms.
The comparison of the tested lens's pros and cons, one glance at its price tag, the results it got in our tests and the performance and prices of its rivals – all these show clearly what kind of instrument you deal with here. The Nikon 8x32 SE corrects all optical aberrations well or very well. Additionally, as most of top-of- the- range Nikons, it provides a very flat field of view which is almost perfectly sharp to the very edge. Everything is closed in a classic casing, made of magnesium composites with prisms set in the efficient Porro system.
I will repeat here what I wrote in the test of the Nikon's SE 8x32 CF bigger brother with the parameters of 10x42: it is a pity the SE series consists of only three models. I would like it to include such sets of binoculars as 10x32, 7x42, 8x42, 7x50, 10x50, 8x56 or 10x56 – I would love to test them too. Every such a model would have a chance to be a very good instrument – as successful as the 8x32 and the 10x42, tested by us so far,.
Does the Nikon SE 8x32 CF have any disadvantages or slip-ups? Yes it does, but only some minor ones. The first issue is the transmission graph, presented below.
The Steiner Night Hunter 8x30 XP, which is, after all, a bit cheaper than the Nikon, showed that if you possess the efficient Porro system, you can get a better transmission concerning the flatness of the graph and its height as well. We don't like the dip in the centre of the visible spectrum which would be perhaps acceptable in the case of cheaper roof prism instruments but when it comes to an expensive Porro set of binoculars is definitely out of place. The second problem is the blackening inside – it causes such an image of areas near the exit pupil as we see here. Shiny prism fixing elements, white "heaps" of glue are once again something acceptable in the cheapest devices, not in the quality product of a reputable producer.
The third problem is the lack of waterproof quality and nitrogen filling. As most of the Nikon's 8x32 rivals are waterproof and nitrogen-filled, the Nikon lags behind a bit here. However, even despite those small slip-ups the Nikon SE 8x32 CF is an instrument which you can recommend to anybody. It would be really difficult to find anything better for such a price. What's more, most of similarly priced, or even much more expensive roof prism binoculars wouldn't win the performance competition with the Nikon tested here. If you like the Porro system and you are not prejudiced against it you can buy this pair of binoculars on spec. Personally I recommend it honestly and openly.