Carl Zeiss Victory 8x56 T* RF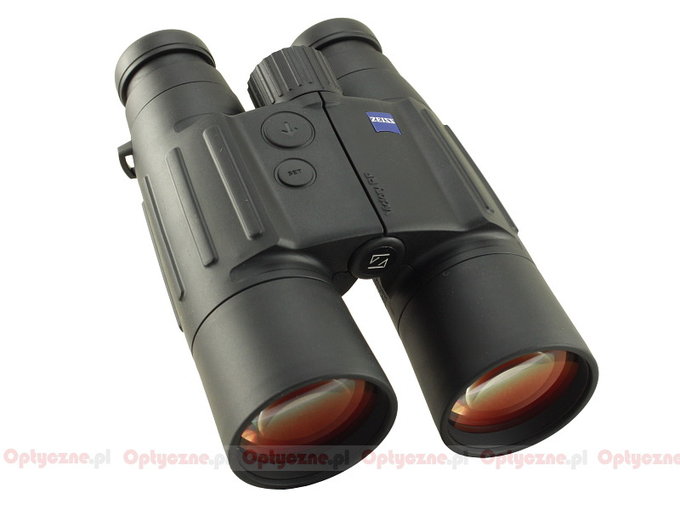 At the beginning of 2008 the Zeiss company launched their first rangefinder binoculars: Victory 8x45 T* RF and 10x45 T* RF. In August 2009 that series was enlarged by two night models: Carl Zeiss Victory 8x56 T* RF and Carl Zeiss Victory 10x56 T* RF.
As it befits the Victory series, we deal here with a four-element objective, Abbe-Koenig roof prisms and a five-element eyepiece. All air-to-glass surfaces are multilayer coated by T* coatings, prisms are additionally phase correction coated and the outer elements are covered by LotuTec coatings which function is to keep the elements clean.
The binoculars are equipped with laser rangefinders which can work in the range from 10 to 1200 meters. Their accuracy depends on the distance. It might amount to 1 meter for shorter distances and from 600 meters and about 0.5% for longer distances than that value. The laser works on 904 nm wavelength and is powered by a lithium 3 V CR2 type battery.
Buyers get a Cordura carrying bag, a neoprene strap, caps for objectives and eyepieces and a battery. The product comes with a 10-year guarantee.
Manufacturer data
Magnification
Lens diameter
Angular field of view
Prisms
Eye relief
Weight
Price
8
56
115/1000(6.6o)
BaK-4/roof
17 mm
1150 g
10699 PLN
Results of the review
Real front lens diameter
Left: 55.52+/- 0.05 mm
Right: 55.51+/- 0.05 mm
6 / 8.0 pkt
Real magnification
8.04+/- 0.05x
3/3.0
Transmission
78.8+/- 1%
9/25.0
Chromatic aberration
Near medium values in the centre, quite huge on the edge.
4.4/10.0
Astigmatism
Low.
8/10.0
Distortion
The distance of the first curved line from the field centre compared to the field of view radius: 50% ± 3%
5/10.0
Coma
Appears more or less in the distance of 75% from the field centre. A bit higher than average on the very edge.
8/10.0
Blurring at the edge of the FOV
The blur occurs in the distance of 92% ± 2% from the field of vision centre.
8.5/10.0
Darkening at the edge the FOV
Very low.
4.7/5.0
Whiteness of the image
The difference of about 15% between the transmisson of red and blue part of the spectrum.
3.2/5.0
Collimation
Perfect.
5/5.0
Internal reflections

| | |
| --- | --- |
| Left: | Right: |
| | |

Very low. Pupils visible on almost black, uniform background.
4.8/5.0
Housing
Quite big and solid. Good, matt padding rubber, sticks well to your hands. Very comfortable to look through. Rubberixed eyecups with 3 regulation stops. The rubber doesn't stick out anywhere. No reservations.
8/8.0
Focusing
Big, comfortable central wheel which moves correctly and has a range of 450 degrees. Individual focusing on every eyepiece through rings with stopping movements (they click silently). Individual focusing moves away eyepieces but it doesn't turn the elements. Everything works correctly.
5/5.0
Tripod
No. There is a possibility of buying an optional tripod holder.
2/3.0
Interpupilary distance
from 57.3 to 77.4mm
5/6.0
Closest focusing distance
2.9 m
2/2.0
Eyepieces FOV
Apparent field of view 53.4 deg (according to simple formula) and 50.0 deg (according to tangent formula).
6/20.0
Field of view
Measured by us amounted to 6.64± 0.03 degrees and it was in accordance with that stated in the specifications. A typical field for this class of equipment.
5/8.0
Quality of the interior of the barrels
Dark and matt. No electonics visible, unlike the rival Leica. A semitranslucent mirror. Some tiny specks of dust.
4/5.0
Vignetting

| | |
| --- | --- |
| Left: | Right: |
| | |

OL: 0.0%, OR: 0.5%
7.5/8.0
Prisms quality
High quality BaK-4.
8/8.0
Antireflection coatings
Purple on opjectives, purple-ornage on eyepieces, greenish on prisms. High intensity of coatings – higher than in the Leica.
4/5.0
Warranty [years]
10
4.5/6.0
Final result

68.7%

130.6 / 190 pkt
Econo result
0pkt.
Summary
Pros:
very solid and well-build casing,
low astigmatism,
slight coma,
sharp image in almost whole field of view,
very low brightness loss on the edge of the field of view,
good blackening inside inner tubes,
circular pupils on a black background,
high quality of prisms.
Cons:
very weak transmission in the tube with a mirror,
verage colour rendition,
noticeable chromatic aberration on the edge of the field of view.
First night binoculars, equipped with rangefinders, were Leica products (Geovid 8x56 BRF and 15x56 BRF), presented at the turn of 2005 and 2006. Small wonder you can find plenty of comparisons to the Leica in our test of night rangefinder Zeiss, especially that each of these companies dealt with the topic in a different way.
Let's start the description of the Carl Zeiss Victory's 8x56 T* RF test results. If you glance at the exit pupils of this set of binoculars, especially its right pupil, you see at once how the problem of positioning the rangefinder was solved.
As you can notice we deal here with a semitranslucent mirror, set in not exactly central position. The transmission graph below shows that such an idea was disastrous in the case of a night binoculars; this time we presented two separate graphs - one for each tube.
As you can see, for the right inner tube the transmission barely exceeds the level of 70% in the centre of the visible spectrum. In the case of blue light it even has problems with exceeding 60%. For a night set of binoculars it means, unfortunately, a disaster.
Even if you look at the left tube, where there is no mirror, redirecting part of the light to the rangefinder, you still would have some reasons to complain. The transmission never gets higher than 90% and, what's more, the curve is very inclined so we have about 15% of difference between the transmission for blue and red colour. I suppose it is not necessary to explain how it influences the colour rendition. Such a performance is even stranger because the Carl Zeiss Victory 8x56 T* FL, a model without a rangefinder tested by us, showed a much better and flatter graph, with the transmission reaching an excellent result of 95%.
We definitely favour the solution used by Leica which provides the same transmission level for both inner tubes and the presence of the rangefinder is shown only by a distinct decrease of transmission on the borderline between red light and infrared.
The photo below allows us to compare the dimensions of the Leica and the Zeiss. You can notice that the latter is significantly bigger. It is connected to Abbe-Koenig prisms which, in this case, are quite well-fitted to the size of the binoculars and don't cause any vignetting, so visible in the case of the Leica.
When we pass to the main optical properties, the Zeiss doesn't have practically any serious flaws. The chromatic aberration on the edge could have been lower but it is, in fact, the only thing you can carp about. The rangefinder Victory 8x56 T* RF model compares very unfavourably with the normal Victory 8x56 T* FL, though. Not only you have to pay several houndreds Euro more for it but also you get narrower field of view, weak transmission and average colour rendition. Is a rangefinder worth such a price? Everybody must answer this question on their own.
As we already mentioned the rangefinder we must say something about its efficiency and performance. Its operation is problem-free so you won't have any troubles with it, no matter day or night. The day and night efficiency we asses very well too. For objects in a closer distance, situated about several dozen meters from the instrument, the measurements, showed by the Zeiss and the rival Leica, were in perfect accordance. When we tried to measure the distance to objects several hundred meters away, the differences reached 1-2 metres which is completely within the declared margin of error. The rangefinder function of this set of binoculars should be considered flawless.