Alpen Optics Wings ED 10x42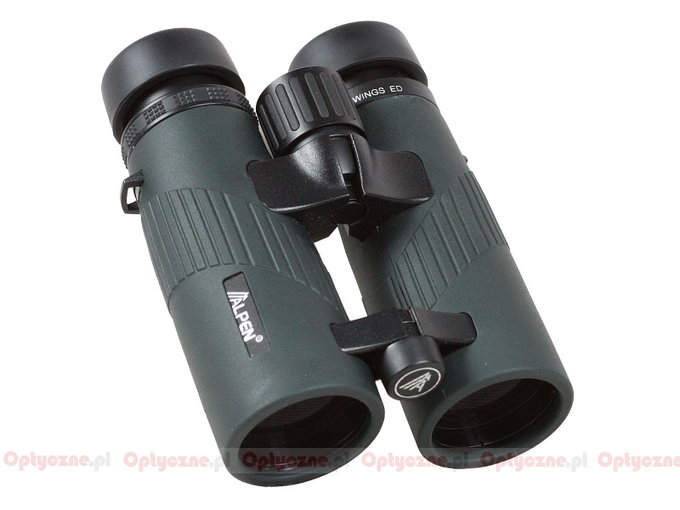 The Wings ED series are the newest sets of binoculars in the Alpen Optics line-up because they were launched only in 2009. They consist of just two roof-prism models with the following parameters: 8x42 and 10x42. Both instruments are equipped with low-dispersion ED glass objective lenses which is supposed to guarantee very good correction of spherical and chromatic aberration.
The Schmidt-Pechan prisms are PXA phase correction coated and the reflective surface is covered by SHR metallic layers. Additionally, all lenses are coated by UBX multi-layers.
The set of binoculars is waterproof and nitrogen-filled. The buyer gets objective lenses covers, a rainguard, a cleaning cloth and also a small hard case which can be closed down and allows you to attach the instrument to your belt. A lifetime warranty is already the Alpen Optics company's standard.
Manufacturer data
Magnification
Lens diameter
Angular field of view
Prisms
Eye relief
Weight
Price
10
42
110/1000(6.3o)
BaK-4/roof
15 mm
595 g
1499 PLN
Results of the review
Real front lens diameter
Left: 42+/- 0.05 mm
Right: 42+/- 0.05 mm
8 / 8.0 pkt
Real magnification
9.91+/- 0.05x
3/3.0
Transmission
83.1+/- 1%
11/25.0
Chromatic aberration
Low in the centre and quite decent at the edge. Low-dispersion glass makes itself felt here.
7.8/10.0
Astigmatism
Corrected in the right way but still not perfect. Slight but still noticeable "sparking" of the stars.
7.2/10.0
Distortion
The distance of the first curved line from the filed centre compared to the field of view radius: 44% ± 5%
4.5/10.0
Coma
Occurs in the distance of 60–70% from the centre of the field. A bit higher than average at the edge.
6.5/10.0
Blurring at the edge of the FOV
The blur occurs in the distance of 73% ± 4% from the field of vision centre.
4/10.0
Darkening at the edge the FOV
Very slight.
4.4/5.0
Whiteness of the image
Over 10% of difference between the red part transmission and the transmission in middle part of the visible spectrum makes itself felt.
3/5.0
Collimation
Perfect!
5/5.0
Internal reflections

| | |
| --- | --- |
| Left: | Right: |
| | |

Background quite dark. Distinct false pupil next to the real one is moderately intensive.
3.9/5.0
Housing
Neat, handy and solid. Modelled after the EL Swarovski series a bit. Comfortable to hold and to look through. Eyecups made of plastics with three twist-up regulation stops. Nothing creaks under pressure. Good quality rubber, finely ribbed so we get a secure grip. The rubber is a bit loosely-fitted near objective lenses.
7.2/8.0
Focusing
Big and comfortable central screw. It moves smoothly but a bit too easy and its movement makes us hear a distinct "squelching" sound. Individual focusing on the right eyepiece through a comfortable, big and ribbed ring. It moves the outside lens.
4.3/5.0
Tripod
Is situated at the front. Moderately useful but comfortable access.
2.5/3.0
Interpupilary distance
from 52.2 to 73.7mm
4/6.0
Closest focusing distance
2.10 m
2/2.0
Eyepieces FOV
Apparent field of view of 63.1 deg (according to simple formula) and 57.7 deg (according to tangent formula).
12.5/20.0
Field of view
Measured by us amounted to 6.37 ± 0.03 degrees and it was by 0.07 degree larger than the field given in specifications. A typical field of view for this equipment class.
6/8.0
Quality of the interior of the barrels
Inner tubes black and slightly shiny. Dark grey, matt bottom. Very clean. During the same testing session we were able to compare several sets of binoculars produced by very renowned manufacturers and it was exactly the Wings ED, made in China, which could put them to shame in this category.
4.5/5.0
Vignetting

| | |
| --- | --- |
| Left: | Right: |
| | |

Slightly egg-shaped pupils.
OL: 0.9%, OR: 0.6%
7/8.0
Prisms quality
Good quality BaK-4.
8/8.0
Antireflection coatings
Greenish everywhere. Medium intensity.
5/5.0
Warranty [years]
Lifetime warranty
6/6.0
Final result

72.3%

137.3 / 190 pkt
Econo result
0pkt.
Summary
Pros:
solid and physically light casing at the same time,
field of view a bit wider than that of its direct competitors,
chromatic aberration well-corrected,
slight astigmatism,
decently corrected coma,
slight brightness loss at the edge of the field,
good darkening and cleanliness inside the inner tubes,
exit pupils only minimally egg-shaped,
good quality BaK-4 prisms,
lifetime warranty
Cons:
transmission could have been higher,
it should have been sharper at the edge of the field of view.

I ordered the Alpen Optics Wings ED 10x42 pair of binoculars because I was very curious how it would fare. Why exactly this instrument? Let's have a look at the following chart. The Olympus EXWP I and the Vortex Viper were our big 10x42 test hits. The Pentax DCF ED 10Ś43 is a more expensive model of a renowned producer with low-dispersion glass in objective lenses. When you compare the parameters of those four instruments and you read descriptions, delivered by their producers, it seemed that the Wings ED had a chance of becoming as successful as the Olympus and the Vortex. After all, the Wings ED, exactly like the Viper and the Pentax, has objective lenses equipped with low-dispersion glass. Although you can find sources where it is described as fluorite glass I personally doubt it a bit. Ordinary, cheaper ED glass in this price segment is already a notch or two above average. Additionally, this set of binoculars is fully multi-coated on all air-to-glass surfaces and it features PXA phase correction and metallic coating as well; its field of view is wider than that of its competitors from the chart, its weight and dimensions are smaller and it comes with a rich selection of accessories included in the box. In theory and on paper everything looked just fine. It's time for the reality check.
We should start perhaps from the transmission graph which is presented below.
In fact I more or less knew what to expect just looking at the characteristic greenish coatings of the Wings ED. The transmission curve is also quite characteristic, with a noticeable "hole" in the middle of the visible spectrum. As a result the average transmission value after that centre reaches 83%. It is a decent result but, taking into account these much-praised prisms coatings, it should be at least 5% higher. Fortunately, we see this situation improve significantly in the red part of the spectrum where the set of binoculars doesn't have any problems with exceeding the 90% limit.
How does the rest of the parameters look like? Low-dispersion glass in objective lenses seems to make the grade because the chromatic aberration, even at the edge of a quite significant field, is not bothersome. One more thing I like very much here. In roof-prism binoculars such limitation of weight and dimensions often entails using smaller prisms. As a result, the producer simply throws the baby out with the bathwater. Small prisms force narrow field of vision which is dark at the edge and truncated exit pupils. The Wings ED is a nice exception to this rule. It is smaller and physically lighter than its competitors but its field of view is larger. What's more, this field's edges are not too dark and the exit pupils are truncated just minimally. One thing you can carp about is a relatively fast decrease of sharpness at the edge of the field. Both the Vortex and the Olympus fared better there. The field of view, wider than in the case of competitors, comes to the Alpen's defense here, however.
One more thing makes the Alpen stick out in a positive way among other instruments from the same price/quality segment - the standard accessory kit. A set of covers, a strap, a hard case with a strap too, a cleaning cloth – these things don't surprise anymore as we can find them even with instrument costing around 100 USD. Alpen went further when it comes to the Wings ED series, though. We get a very interesting hard case which can be attached to your belt so you can have the binoculars always within reach. As I go hiking very often and I usually take both, a camera and a set of binoculars, with myself I know how uncomfortable it is to hang two devices round your neck – I don't say it is impossible but it creates many problems in terms of weight and functionality. The Alpen's idea solved all these problems so I personally would give a lot of points for this solution.
To sum up scoring a bit over 130 points reflexes well on the tested set of binoculars. It's true that the most serious Alpen's rivals, like the Vortex Viper of the Olympus EXWP I, had slightly better scores but the Wings ED still can compete with them, having advantages that weren't taken into account in our chart but are important for many users, like weight, dimensions or accessories. This group can be extended to the Bushnell Legend 10x42 which had the same result as the Wings ED. As you see the competition in this class is fierce and the choice – very rich so you can easily find something which comes up to your expectations, especially that all the binoculars, described above are really very good options.