Steiner Night Hunter 8x30 XP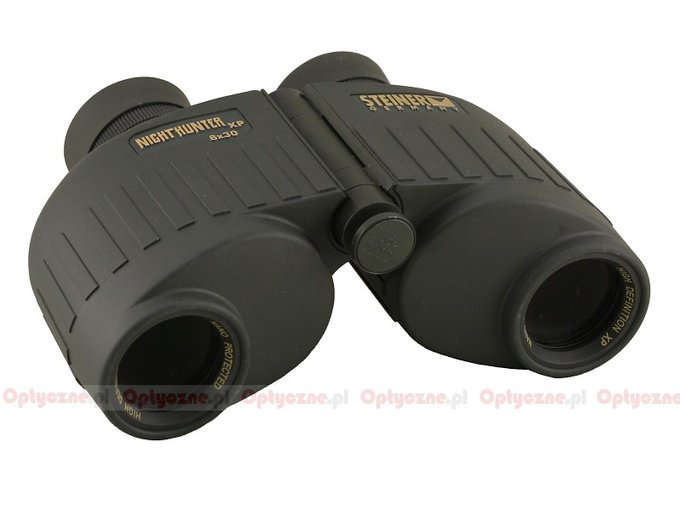 The German Steiner company had long defied the fashion for producing more difficult and more expensive roof-prism instruments. Steiner, as the only one of major manufacturers, had in its line-up Porro binoculars scattered around many series, from the low to the high end. A potential buyer could pick and choose between cheap Safari devices, more expensive Rangers and Observers, Skippers, Navigators and Commanders, designed to be used on water, and finally the top-notch Night Hunters XP.
Unfortunately and to our grief the roof prism trend has finally caught up with Steiner. The cheapest Safari binoculars have been swapped for roof-prism devices. Porro-prism Rangers have been replaced by roof-prism Rangers PRO. Roof prism instruments even stormed the high-end series so the Night Hunters XP, where instead of a prorro-prism 9x40 model we see roof-prism 8.5x44 and 10x44 models. Luckily for other parameters and objective sizes we still deal with the Porro system. We can choose between the following Night Hunter devices: 8x30, 7x50 and 8x56.
The Night Hunter XP series impresses with the build quality and standard accessories included. We get a product produced completely in Germany which is not only waterproof up to a depth of 5 meters but also nitrogen-filled (with a possibility of easy refill) and put in a very solid, rubber casing, oil-proof and acid-proof. The instrument withstands temperature variations between -40 C and +80 C.
When it comes to optics we deal here with a classic Porro construction without the ocular bridge but with individual focus system. All air-to-glass surfaces are covered by high quality antireflection coatings. Additionally the outer lenses feature hydrophobic coatings which prevent the dirt and humidity from sticking and make the cleaning of the lens easier.
The buyer, apart from a 30-year guarantee, gets also protective objective lens caps on solid straps, a rainguard, three types of eyecups (standard, short for spectacles wearers and profiled, to keep the unwanted sidelight out), a stylish hard case and a comfortable neoprene strap with the fast Clic-loc attachment system.
Manufacturer data
Magnification
Lens diameter
Angular field of view
Prisms
Eye relief
Weight
Price
8
30
130/1000(7.4o)
BaK-4/Porro
20 mm
528 g
2241 PLN
Results of the review
Real front lens diameter
Left: 29.95+/- 0.05 mm
Right: 29.98+/- 0.05 mm
8 / 8.0 pkt
Real magnification
7.93+/- 0.05x
3/3.0
Transmission
95.1+/- 1%
23/25.0
Chromatic aberration
Medium in the centre and at edges.
4.9/10.0
Astigmatism
Very low.
8.4/10.0
Distortion
The distance of the first curved line from the field centre compared to the field of vision radius: 45% +/- 3%.
5/10.0
Coma
Appears far from the field centre (about 75-80%) and at the edge is medium at most.
8.4/10.0
Blurring at the edge of the FOV
The blur occurs in the distance of 77% +/- 3% from the field of view centre.
5/10.0
Darkening at the edge the FOV
Not very significant but noticeable.
4.2/5.0
Whiteness of the image
Perfect. Beautiful and flat transmission curve.
5/5.0
Collimation
Perfect.
5/5.0
Internal reflections

| | |
| --- | --- |
| Left: | Right: |
| | |

A lot of flares coming from the areas near the housing of prisms.
1.9/5.0
Housing
Classic Porro. Very comfortable to hold and to look through. We get three sets of rubber-coated eyecups: normal, profiled and short. The rubber's texture is good. Objective lens cups are well-fixed. You can refill the nitrogen. Some grease on the bridge.
7.4/8.0
Focusing
Individual on each eyepiece; they move smoothly and comfortably. If the focus is set in an appropriate way you don't have to move the eyepieces and still you will be able to observe everything from the distance of less than 10 metres to infinity.
5/5.0
Tripod
No tripod exit. In our 8x32 binoculars test we granted all the instruments the average mark of 1.5 points as in the case of the equipment of this class a tripod exit is rarely used.
1.5/3.0
Interpupilary distance
from 56.2 to 74.1mm
5/6.0
Closest focusing distance
3.8 m
0.5/2.0
Eyepieces FOV
Apparent field of view of 58.5 deg (according to simple formula) and 54.2 deg (according to tangent formula).
10/20.0
Field of view
Measured by us amounted to 7.38 +/- 0.03 degrees and it was in accordance with the specifications. A typical field for this class of equipment.
5.5/8.0
Quality of the interior of the barrels
Black and matt. No glue. Some specks of dust on the prisms.
4.5/5.0
Vignetting

| | |
| --- | --- |
| Left: | Right: |
| | |

OL: 0.9%, OR: 1.5%.
6.5/8.0
Prisms quality
High quality BaK-4.
8/8.0
Antireflection coatings
High quality hydrophobic coatings. Green-yellow on objectives and eyepieces. Greenish on prisms. Low intensity.
5/5.0
Warranty [years]
30
5/6.0
Final result

76.7%

145.7 / 190 pkt
Econo result
0pkt.
Summary
Pros:
very solid and stylish casing, giving an impression of fully sealed and armoured,
sensationally high transmission,
perfect colour rendition,
negligible astigmatism,
very low coma,
not significant brightness loss at the edge of the field,
high class coatings and prisms,
very good blackening inside inner tubes,
rich standard accessory kit,
long warranty period.
Cons:
light area near exit pupils,
sharp image already from 3.8 metres,
in a Porro construction of this class the image quality at the very edge of the field should have been better and the field itself- a bit wider.
It's worth starting the test review with the transmission graph. You should take a good look at it because you won't see a nicer graph for any 8x32 class binoculars – even when it comes to such aces as Leica, Swarovski or Zeiss. Splendid coatings and Porro system prisms really show their true calibre.
Not only the transmission reaches a very high maximum level of 97% but also we get a beautiful flat and high function graph, stretching across very wide range of wavelength from less than 450 to as much as 730 nm. Small wonder the binoculars provide nice and light images with perfect colour fidelity. A standing ovation!
The correction of such off-axis aberrations as coma and astigmatism is the proof that both the optics and the casing are very solidly-made. In this category the Steiner is beyond reproach.
There are some disadvantages, though. The field of view amounting to 7.4 degrees doesn't impress us at all. Old Porro constructions of the 8x30 class could give you fields of view in the range of 8.5-8.8 degrees. Contemporary brand name competitors feature fields ranging from 7.8 to 8.0 degrees. The Steiner lags behind them even more because the edge of the field is far from sharp and shows distinct chromatic aberration and distortion. It shouldn't have happened in a set of binoculars of this class – here we should simply expect a field of view at the level of 8 degrees and sharp to almost the very end.
The high quality of workmanship is an important and worth emphasizing feature of the Steiner. Even though we try to mark such things during our tests, our scores are not always absolutely reliable. A pair of binoculars is usually at our disposal for about one-two months and during that time it is difficult to assess how it would look after 2-3 years of intensive wear and tear. The Steiner, tested here, is an exception to that rule because the specimen is owned by one of the testers. This set of binoculars has been used for a year and a half and it has survived a safari in Kenya during which it had to withstand rains and tiny dust of savannah; many times it visited sandy beaches of the Baltic Sea and then it has scored a significant number of strolls in the woods. It looks practically the same as a new instrument straight from the box. Such a fact speaks for itself.
Turbulences in the currency markets are responsible for the fact that currently we must pay over 2200 PLN for the Night Hunter in Poland. When I bought it, the price tag was 1600 PLN. The difference is quite significant and now I would be definitely more hesitant whether or not to spend such a huge amount of money on it. Mechanically this equipment is simply flawless (providing that we like individual focusing); optically it could have been better. After all it is a Porro device and, costing about 2000 PLN, it should be able to compete easily with roof-prism instruments twice or even thrice that expensive. Unfortunately it yields to those the best a bit.