Meopta Meostar B1 8x32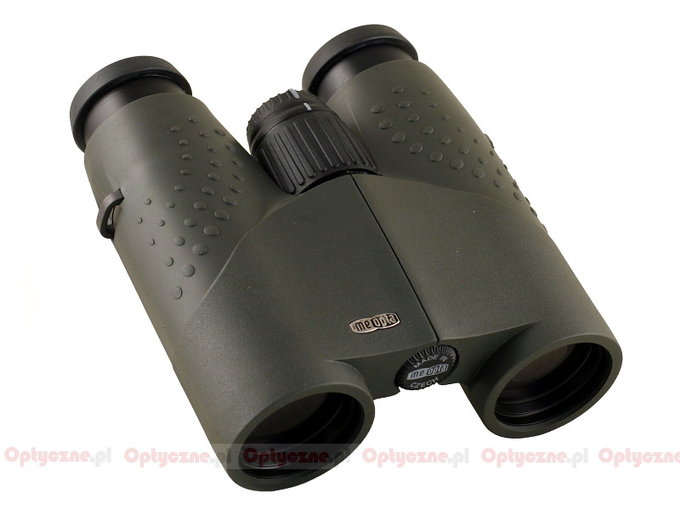 The B1 Meostar series, produced by Czech Meopta, was launched in 2005. Since that time the company has enlarged its line-up successively. Currently we can choose from models with the following parameters: 8×32, 10×32, 7×42, 8×42, 10×42, 7×50, 10×50, 12×50 and 8×56.
These binoculars are constructed in the roof-prism Schmidt-Pechan system. The prisms are made of BaK-4 glass, with special Meobright coatings and phase-correction coated. The producer states that the objectives are composed of 4 elements and there's still a focusing lens behind them. The eyepieces are made of 4 elements as well.
The casing is made of aluminum and armoured by high quality rubber. The binoculars are waterproof and nitrogen-filled. The buyer gets a joined eyepieces cap, separate caps for objectives, a comfortable neck strap and a case included in box.
Manufacturer data
Magnification
Lens diameter
Angular field of view
Prisms
Eye relief
Weight
Price
8
32
140/1000(8o)
BaK-4/roof
15.4 mm
570 g
2820 PLN
Results of the review
Real front lens diameter
Left: 32.05+/- 0.05 mm
Right: 32.05+/- 0.05 mm
8 / 8.0 pkt
Real magnification
7.9+/- 0.05x
3/3.0
Transmission
89.7+/- 1%
17/25.0
Chromatic aberration
Slight in the centre, medium at most at the edge.
6.9/10.0
Astigmatism
Corrected in the right way.
7.5/10.0
Distortion
The distance of the first curved line from the field centre compared to the field of view radius: 32% ± 3%
3/10.0
Coma
Slight.
7/10.0
Blurring at the edge of the FOV
The blur occurs in the distance of 73% ± 5% from the field of view centre.
4/10.0
Darkening at the edge the FOV
Barely visible.
4.5/5.0
Whiteness of the image
Noticeable yellow with pink hue from time to time. Big difference (more than dozen percent) in transmission between red and blue colour.
2.5/5.0
Collimation
Perfect.
5/5.0
Internal reflections

| | |
| --- | --- |
| Left: | Right: |
| | |

The background looks quite well but you see the "germs" of false pupils.
4/5.0
Housing
Handy and small but solid at the same time. Comfortable to hold but the armouring is a bit too slippery and the eyecups – too small so they fall into eye sockets. Plastic eyecups with 3 regulation stops. Rubber armour sticks out a bit near the bridge.
6.3/8.0
Focusing
Comfortable central wheel which moves smoothly (full turn of 590 degrees). The individual focusing through an additional knob on the central wheel. Very comfortable solution. Nothing moves outside.
4.7/5.0
Tripod
Moderately comfortable access. In our 8x32 binoculars test we granted all the instruments the average mark of 1.5 points as in the case of the equipment of this class a tripod exit is rarely used.
1.5/3.0
Interpupilary distance
from 57.1 to 75.4mm
5/6.0
Closest focusing distance
1.38 m
2/2.0
Eyepieces FOV
Apparent field of view of 62.8 deg (according to simple formula) and 57.5 deg (according to tangent formula).
12.5/20.0
Field of view
Measured by us amounted to 7.95 ± 0.03 degrees and was a bit narrower than in the specifications. A quite wide field of view for this class of parameters.
6.5/8.0
Quality of the interior of the barrels
Inner tubes black and matt, the bottom dark as well, some insignificant specks of dust. Very nice!
4.8/5.0
Vignetting

| | |
| --- | --- |
| Left: | Right: |
| | |

OL: 0.0%, OR: 0.7%
7.5/8.0
Prisms quality
High quality BaK-4.
8/8.0
Antireflection coatings
Bluish on objectives, greenish on prisms, blue-pink on eyepieces. Low intensity.
5/5.0
Warranty [years]
10
4.5/6.0
Final result

74.1%

140.7 / 190 pkt
Econo result
0pkt.
Summary
Pros:
handy, small but well-build casing,
good maximum transmission,
chromatic aberration well-corrected,
low astigmatism,
not bothersome coma,
negligible brightness loss at the edge of the field of view,
low inner flares,
sharpness already from less than 1.4 metres,
good field of view for this class of equipment,
excellent blackening and cleanliness inside the inner tubes,
good quality of coatings and prisms.
Cons:
too high distortion,
the sharpness at the edge could have been better,
too small eyecups,
too weak colour fidelity for this price segment.
We deal here with undoubtedly an interesting instrument. The Meopta has really many major advantages. Dimension- wise it is one of smaller 8x32 class binoculars and it is already an important good point in itself. What's more, the field of view's size doesn't lag behind the most serious competitors. When we add low coma, slight astigmatism, good prisms which don't truncate pupils and don't cause brightness loss at the edge of the field of view, good build quality and meticulous care in blackening inside the inner tubes, we get a device certainly worth our attention.
Unfortunately there were some slip-ups too. Let's start with the transmission graph.
The maximum transmission is good because it amounts to almost 94% and for a set of binoculars with Schmidt-Pechan prisms it is a result which can gain recognition. Regrettably the Meopta hasn't acquired coatings able to provide flat transmission graph. The optical system showed significant differences when it comes to the transmittance of particular wavelengths and it caused problems with colour rendition. It's worth emphasizing, though, that the situation is still better than in the case of Russian devices or even Carl Zeiss Jena binoculars. It doesn't change the fact, though, that in this category the Meopta lags behind other instruments from this price-quality segment.
Next, a noticeable distortion and the blur at the edge which appears too quickly should also be considered as disadvantages. Too small eyecups, on the other hand, don't have to be a bad point for everyone. In my case, though, the eyepieces "fell" into my eyes – their size was too small so I couldn't lean them against my eye sockets.
To sum up the Meopta Meostar B1 8x32 seems to be a quite well-done optical instrument but not without flaws. These flaws exactly make it a bit overpriced right now– if you spend almost 600 Euro on a small pair of binoculars you wouldn't like to have some reason to complain about it.