Leupold Golden Ring 8x32 HD
The Golden Ring HD series is the highest quality series of binoculars, produced by the American company Leupold. It consists of roof-prism models with the following parameters: 8x32, 8x42 and 10x42.
The binoculars' objectives feature fluorite glass, their Schmidt- Pechan prisms are made of BaK-4 glass and phase correction coated. The producer boasts of using antireflection multilayer coatings, different on every air-to-glass surface but well-matched so they work seamlessly together (the so-called Index Matched Lens System). It is supposed to ensure high transmission of the whole instrument and perfect colour rendition.
Additionally, the outer lenses are covered by DiamondCoat coatings which will make their cleaning easier and prevent them from getting dirty. The metal body of the binoculars is padded with high quality rubber, waterproof and filled with argon and krypton. The binoculars come with a lifetime warranty.
Manufacturer data
Magnification
Lens diameter
Angular field of view
Prisms
Eye relief
Weight
Price
8
32
140/1000(8o)
BaK-4/roof
17.5 mm
765 g
4699 PLN
Results of the review
Real front lens diameter
Left: 32+/- 0.05 mm
Right: 32+/- 0.05 mm
8 / 8.0 pkt
Real magnification
8.01+/- 0.05x
3/3.0
Transmission
93.9+/- 1.5%
21/25.0
Chromatic aberration
Very low in the centre, low on the edge with a slight blue rim.
7.8/10.0
Astigmatism
By and large corrected in a perfect way.
9.3/10.0
Distortion
The distance of the first curved line from the field centre compared to the field of vision radius: 51% +/- 3%
5.5/10.0
Coma
Starts only near 80% from the field centre and is low on the very edge.
8.9/10.0
Blurring at the edge of the FOV
The blur occurs in the distance of 78% +/- 3% from the field of vision centre.
5/10.0
Darkening at the edge the FOV
Slight but noticeable.
4.3/5.0
Whiteness of the image
Nice. Quite flat transmission curve.
4.1/5.0
Collimation
Perfect.
5/5.0
Internal reflections

| | |
| --- | --- |
| Left: | Right: |
| | |

It could have been darker but still the result above average.
4.3/5.0
Housing
Very big and heavy for this class of equipment. It weighs more than some 42 mm class binoculars. The veneer near the central roller sticks out, near the objectives – no. The casing features the material of good quality, nice to hold in your hand. Plastic twist-up eyecups. Instead of a tripod exit a very interesting lock of the inner tubes' gauge.
6.9/8.0
Focusing
Very big and comfortable central wheel with the full turn of 340 degrees. It moves smoothly but is well-damped. The individual focus ring on the right eyepiece is huge and convenient. It moves the eyepiece's outer lens and works quite heavily.
4.3/5.0
Tripod
Optional tripod adapter. In the place of attaching the adapter there is a screw to lock the inner tubes' gauge. In the 8x32 binoculars' test we awarded all instruments the same, average value of 1.5 points in this category as a tripod exit is rarely used in this class of equipment.
1.5/3.0
Interpupilary distance
from 55.4 to 74.2mm
5/6.0
Closest focusing distance
1 m.
2/2.0
Eyepieces FOV
Apparent field of view of 65.0 deg (according to simple formula) and 59.2 deg (according to tangent formula).
14/20.0
Field of view
Measured by us amounted to 8.11 +/- 0.03 degrees and it was by 0.11 of a degree wider than stated in the specifications. A huge field of view for this class of equipment.
7/8.0
Quality of the interior of the barrels
Inner tubes black and matt. Gray bottom. Some specks of dust on the prisms and the inner lenses of the objectives.
4/5.0
Vignetting

| | |
| --- | --- |
| Left: | Right: |
| | |

OL: 0.9%, OR: 1.2%
6.5/8.0
Prisms quality
Good quality, big BaK-4 prisms.
8/8.0
Antireflection coatings
Purple-pink on objectives and eyepieces. Greenish on the prisms. Medium intensity.
4.5/5.0
Warranty [years]
lifetime
6/6.0
Final result

82.1%

155.9 / 190 pkt
Econo result
0pkt.
Summary
Pros:
very solid barrel,
splendid transmission,
well-corrected chromatic aberration,
perfectly corrected astigmatism,
low coma,
good colour rendition,
slight brightness loss on the edge of the field of view,
good quality of prisms and coatings,
low flares,
good blackening inside the binoculars,
lifetime warranty.
Cons:
This pair of binoculars is another example, after the Fujinons FMTR-SX and Docters Nobilem, that you can produce a practically flawless instrument, which will be additionally cheaper than its prestigious rivals and at least equally good if not better than them, providing that you are not limited by the weight. The Leupold, tested here, didn't have any problems with prevailing noticeably over such legendary sets of binoculars as the Leica Ultravid HD or the Swarovski EL.
In the 8x32 class weight is a very important issue, though. These binoculars are bought exactly because they should be smaller and physically lighter than those of 40-43 mm class. The Leupold weighs 765 grams so as much as most of the 8x42 or 10x42 instruments…
If you can gloss over this flaw of the Leupold, you will have no other reasons to complain. This set of binoculars has everything a high-end modern optical instrument in this category should have. The transmission graph, presented below, proves that the producer used really high quality technologies here.
Even the best sometimes can't reach results like these. It is also worth emphasizing that many basic Leupold's parameters, not always scored in our tests, are better than in the case of its immediate competitors. For example the combination of the field of view and eye relief value places these binoculars higher than the Leica, Swarovski, Nikon HG or Kowa. Only the Alpen Rainier 8x32 can compete with the tested instrument.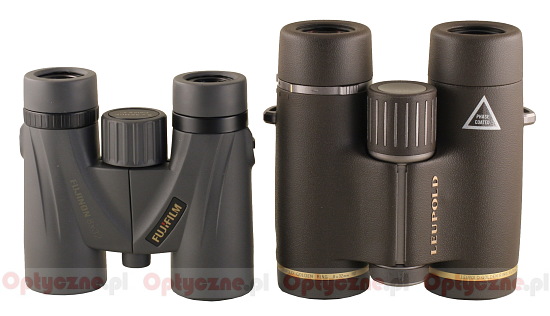 Lightest (Fujinon HCF) and heaviest 8x32 binoculars in our test.
Taking into account the results of our test it is even more strange that the Warsaw Artemix company, the official distributor of Leupold in Poland, consistently refuses to import binoculars produced by Leupold for tests and sales, focusing solely on riflescopes. Fortunately the European head office works efficiently and they had no trouble with delivering us a pair of binoculars for our tests.