Kowa Genesis 8x33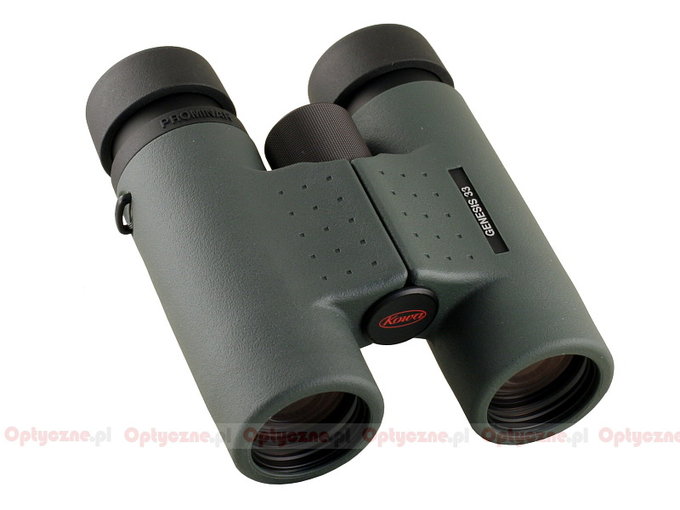 Kowa is a Japanese producer with quite modest but very well-known line-up. Its basic part consists of instruments mainly for ornithologists. In 2007 Kowa enlarged the offer by including a new flagship series of binoculars, Genesis, with objective lenses 44 mm in diameter. At the beginning of 2009 the producer complemented the series adding 8x33 and 10x33 models.
The parameters of the new Kowa products are impressive indeed. Every set of binoculars is constructed in the Schmidt-Pechan roof prism system; the prisms are covered by special C3 coating, offering a reflectance of 99% across the entire visible spectrum (400 to 700nm). Additionally the prisms are phase- coated. The producers weren't skimpy on lenses of special kind either – in 33 mm class constructions there are as many as two low-dispersion Prominar XD lenses in each objective. The design of the binoculars is far from simple too. Each objective lens is apochromatic (as we mentioned it includes as many as two low-dispersion elements) and behind it there is a single focusing lens; then we get some prisms and a 4-element eyepiece.
Casings of this series of binoculars are made of magnesium alloys and are armoured by high quality rubber. The instruments are waterproof and nitrogen-purged. The buyer gets a rainguard, a tethered objective lens caps which can be attached to the inner tubes of the binoculars, a neck strap, a cleaning cloth and a stylish hard case included in box.
Manufacturer data
Magnification
Lens diameter
Angular field of view
Prisms
Eye relief
Weight
Price
8
33
140/1000(8o)
BaK-4/roof
15 mm
590 g
3801 PLN
Results of the review
Real front lens diameter
Left: 33.08+/- 0.05 mm
Right: 33.09+/- 0.05 mm
8 / 8.0 pkt
Real magnification
8.18+/- 0.05x
3/3.0
Transmission
91.1+/- 1%
19/25.0
Chromatic aberration
Low in the centre, noticeable lower than medium at the edge.
8.3/10.0
Astigmatism
Low.
8.5/10.0
Distortion
The distance of the first curved line from the field centre compared to the field of view radius: 66% +/- 3%
8/10.0
Coma
Appears near 75-80% of the field and is low at the edge.
7.9/10.0
Blurring at the edge of the FOV
The blur occurs in the distance of 73% +/- 5% from the field of view centre.
4/10.0
Darkening at the edge the FOV
Noticeable.
3.7/5.0
Whiteness of the image
Very good.
4.3/5.0
Collimation
Perfect.
5/5.0
Internal reflections

| | |
| --- | --- |
| Left: | Right: |
| | |

Noticeable. The result should have been a tad better for this price.
3.1/5.0
Housing
Very solid but ergonomic at the same time. Plastic, regulated eyecups with four stops. The rubber near objectives sticks out a bit.
7.8/8.0
Focusing
Big and comfortable central wheel which moves smoothly (full turn of 560 degrees). Individual focusing on the right eyepiece (you must move the ring upwards to change its location). It moves the inner lens.
4.3/5.0
Tripod
There is a quite comfortable exit. In our 8x32 binoculars test we granted all the instruments the average mark of 1.5 points as in the case of this class equipment a tripod exit is rarely used.
1.5/3.0
Interpupilary distance
from 56.1 to 75.4mm
5/6.0
Closest focusing distance
1.35 m
2/2.0
Eyepieces FOV
Apparent field of view of 66.2 deg (according to simple formula) and 60.1 deg (according to tangent formula).
14.5/20.0
Field of view
Measured by us amounted to 8.09 +/- 0.03 degrees and it was by 0.09 degree bigger than in the specifications. A quite big field for this class of equipment.
6.5/8.0
Quality of the interior of the barrels
Inner tubes black and matt. Grey bottom. Clean. Big PROMINAR inscription written with white paint. The binoculars are blackened inside to make them black and to eliminate inner flares, not to provide a black background for white paint…we hope there will be no inscription made of flashing multi-coloured diodes in the next model.
4/5.0
Vignetting

| | |
| --- | --- |
| Left: | Right: |
| | |

OL: 7.3% OR: 1.5%
3/8.0
Prisms quality
Good quality BaK-4.
8/8.0
Antireflection coatings
Purple-orange-yellow on objectives. Green-yellow on prisms. Purple-yellow on eyepieces. Low intensity.
5/5.0
Warranty [years]
2
2/6.0
Final result

77.1%

146.4 / 190 pkt
Econo result
0pkt.
Summary
Cons:
casing is solid but relatively light and handy at the same time,
very good transmission,
good whiteness rendition,
well-corrected chromatic aberration,
very low astigmatism,
slight coma,
well-corrected distortion,
wide field of view,
good quality of prisms and coatings.
Cons:
truncated exit pupils,
the image at the edge of the field could have been sharper,
not very sensible practice of putting ad slogans inside the binoculars' inner tube,
short guarantee period for this price segment.
Let me start in a bit subjective way. Personally I like Kowa binoculars. They are always solidly made and stylishly designed – holding them in your hands and using them is a pleasure. It is true not only for the high-end Genesis series but also the lower BD series as well. What's more, these binoculars manage to avoid many serious optics slip-ups so their purchase can be recommended practically on spec. It would be difficult not to be pleased with such a product.
The competition on the market is fierce, though, and the Kowa binoculars are definitely not cheap. How do they compare with their rivals? Do they have any edge over the other devices? Our test will answer these questions.
When it comes to the build quality of the casing we have no reservations whatsoever. Everything is fine apart from that unfortunate PROMINAR inscription inside the inner tube. I do wish I knew who came up with such a ludicrous idea. The binoculars are blackened inside because they have to be black, not to prepare a dark background for a light inscription…It is certainly not a serious flaw but nevertheless the device lost one point because of it in the blackening category.
It can be seen that the binoculars' designers strived to get a small, physically light and handy instrument. They succeeded although the binoculars has the objective lens with a diameter of 33 mm so by 1-3 mm larger than other devices tested here by us. These compact dimensions backfired, though, because the prisms are a bit too small making the exit pupils distinctly egg-shaped.
The binoculars feature a huge field of view, even a bit wider than those officially declared 8 degrees – in fact it is a record-breaker in this class, among contemporary produced roof prism instruments. Once again, though, too much emphasis was put on the big field of view and with small dimensions and vignetting prisms, we get the edge not as sharp as we would expect as a result. The Kowa would be probably better off with the field of view of about 7.8 degrees. Nobody could criticize it for it being too narrow but its edge would look definitely better.
Our carping ends here because in the majority of important testing categories the Kowa reaches very good or even outstanding results. Let's start with the transmission which graph is presented below.
The maximum transmission level is reached in the wide area near the middle of the visible spectrum and amounts to 91-92% – a great performance indeed. What's more, the graph is quite flat so the binoculars' colour rendition is good.
The high quality of optics – its workmanship and layout- is confirmed by the results in such categories as astigmatism, coma or distortion. Also these low-dispersion elements do a good job here because the tested set of binoculars really corrects the chromatic aberration well.
To sum up everybody who has an opportunity to use the Kowa Genesis 8x33 will enjoy its performance and the images it provides. Whether it is worth almost 1000 Euro which you must pay for that pleasure is an open question though. In my opinion such an expensive device should have less disadvantages after all.