Swift Optics Horizon 10x42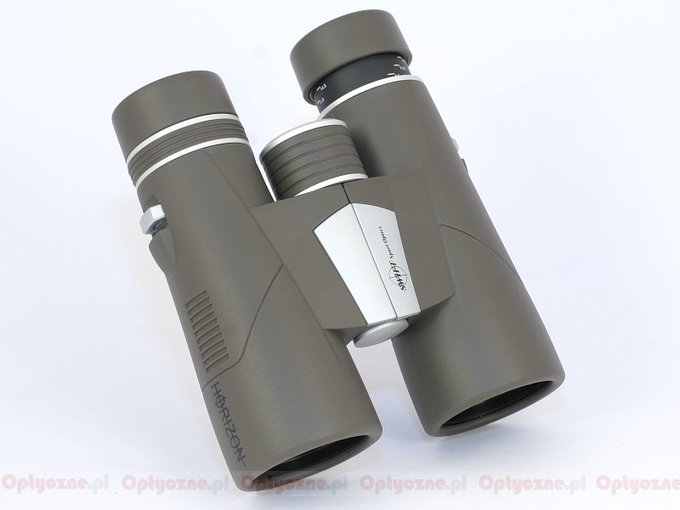 The Horizon series is 2007 year's novelty from the Swift Optics company. These binoculars are to replace the well-known Ultra Lite line.
In the Horizons BaK-4 glass roof prisms were used. All the elements are covered by new, specially designed multilayer coatings which are supposed to ensure a particularly high transmission level. The reflection surface on the roof prisms is sliver-coated. Additionally, the eyepieces were constructed in such a way as to guarantee a wide field of view and a comfortable eye relief at the same time.
The binoculars are waterproof, nitrogen-filled and come with 25-year-long warranty. The body is made of die cast durable magnesium-alloy.
Manufacturer data
Magnification
Lens diameter
Angular field of view
Prisms
Eye relief
Weight
Price
10
42
114/1000(6.5o)
BaK-4/roof
15 mm
760 g
1199 PLN
Results of the review
Real front lens diameter
Left: 42.2+/- 0.05 mm
Right: 42.15+/- 0.05 mm
8 / 8.0 pkt
Real magnification
9.87+/- 0.15x
3/3.0
Transmission
91+/- 3%
18.5/25.0
Chromatic aberration
Medium in the centre, distinct at the edge.
4.2/10.0
Astigmatism
Slight.
7/10.0
Distortion
The distance of the first curved line from the field centre compared to the field of view radius : 40% +\- 6%
4/10.0
Coma
Low.
7.8/10.0
Blurring at the edge of the FOV
The blur occurs in the distance of 74% +\- 4% from the field of view centre.
4/10.0
Darkening at the edge the FOV
Slight.
4.3/5.0
Whiteness of the image
Slight yellow.
3.9/5.0
Collimation
Perfect.
5/5.0
Internal reflections

| | |
| --- | --- |
| Left: | Right: |
| | |

Almost perfect. Should be followed as an example.
4.8/5.0
Housing
Light, small, handy, stylish and solid at the same time. Comfortable, plastic eyecups with detented stops. No reservations.
8/8.0
Focusing
Comfortable central screw well-damped (370 degrees). Convenient individual focus ring but it moves the lens.
4.6/5.0
Tripod
There is a comfortable exit.
3/3.0
Interpupilary distance
from 57.5 to 76.3mm
5/6.0
Closest focusing distance
1.35 m.
2/2.0
Eyepieces FOV
Apparent field of view of 63.8 deg (according to simple formula) and 58.2 deg (according to tangent formula).
13/20.0
Field of view
Measured by us amounted to 6.46 +\- 0.03 degrees and it was in perfect accordance with the specifications. A wide field for this class of equipment.
7.5/8.0
Quality of the interior of the barrels
Inner tubes black and slightly shiny. Dark gray bottom. Clean.
4.8/5.0
Vignetting

| | |
| --- | --- |
| Left: | Right: |
| | |

OL: 6.6%, OR: 0.9%
5/8.0
Prisms quality
Good BaK-4.
8/8.0
Antireflection coatings
Yellow-orange-purple on the objectives. Green on the prisms. Yellow-orange-green on the eyepieces. Low intensity.
5/5.0
Warranty [years]
25 years
5/6.0
Final result

76.5%

145.4 / 190 pkt
Econo result
0pkt.
Summary
Pros:
solid and stylish housing,
high transmission,
slight astigmatism,
low coma,
slight brightness loss at the edge of the field,
good whiteness rendition,
low flares,
wide range of IPD,
minimal focus already from 1.35 meters,
wide field of view,
good blackening inside,
good quality of coatings and prisms,
good warranty conditions.
Cons:
left pupil significantly truncated and egg-shaped.

I must admit I was surprised by the Swift company's decision of replacing the Ultra Lite series by the new Horizon. The roof prism Ultra Lite, costing a bit over 300 USD, was a good offer and gave quite a good performance. Will you be able to produce something better for this price? Is a quite well-done product worth improving? Well, it turns out that yes, it is. The Horizon's score in our test is the irrefutable proof, as it scored 6 points more than the Ultra Lite. What's important, the Horizon's dimensions are smaller (although the device is heavier) it has a wider field of view and its body is made of durable magnesium-alloys. What's even more important, the Horizon seems to be optically better than the Ultra Lite being few dollars cheaper at the same time.
Actually, the comparison of the pros and the cons lists would be enough for any commentary here. We can state boldly that the Horizon 10x42, next to the Olympus EXWP-I and the Vortex Viper, becomes one of the leaders of the econo ranking in the 10x42 class.