Leica Ultravid 10x42 BR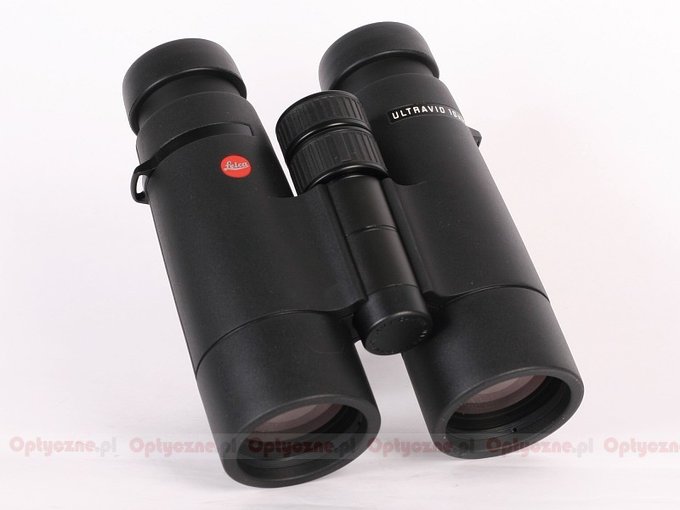 The Ultravid binoculars series consists of roof prism models with the following parameters: 8x20, 10x25, 8x32, 10x32, 7x42, 8x42, 10x42, 8x50, 10x50 and 12x50.
The Ultravid binoculars' barrels are made of titanium and magnesium alloys (in the case of the smallest models – of aluminum). Such a choice of the materials guarantees high working precision of the binoculars' mechanism and its resistance to the environmental factors (humidity, dust, extreme temperatures). In the same time it ensures high durability of binoculars and reduces their weight. The devices are watertight (down to five meters), can be used in the –25 to +60 degrees C range and are up to 25% physically lighter than aluminum instruments.
The Ultravid binoculars (chosen models) come with two covering standards – they can be padded with the highest quality leather (and marked as BL) or with soft, elastic rubber, which increases the barrel's mechanical resistance and improves the hold in difficult conditions (those models are marked as BR).
The objectives of the binoculars are made from the highest quality optical glass lenses which have undergone an exceptionally precise and long-term grinding processing. The outstanding brightness and contrast is owed to a unique HLC technology (HighLux System), patented by Leica and used on the roof prisms' reflective surface, put in the Schmidt –Pechan system. The prisms are additionally covered by P40 phase correcting coatings. Lenses are coated by antireflection HDC multilayers, which are harder than glass - they improve contrast and damp down flares. The binoculars are nitrogen-filled which prevents lens fogging.
Manufacturer data
Magnification
Lens diameter
Angular field of view
Prisms
Eye relief
Weight
Price
10
42
110/1000(6.3o)
BaK-4/roof
15.8 mm
765 g
6449 PLN
Results of the review
Real front lens diameter
Left: 41.99+/- 0.05 mm
Right: 41.96+/- 0.05 mm
8 / 8.0 pkt
Real magnification
10+/- 0.15x
3/3.0
Transmission
88+/- 3%
15.5/25.0
Chromatic aberration
Low in the centre and at the edge.
7.9/10.0
Astigmatism
Corrected in an almost perfect way.
9.2/10.0
Distortion
The distance of the first curved line from the filed centre compared to the field of view radius: 59% +\- 7%
7/10.0
Coma
Slight.
7.2/10.0
Blurring at the edge of the FOV
The blur occurs in the distance of 80% +\- 3% from the field of view centre.
5.5/10.0
Darkening at the edge the FOV
Negligible.
4.6/5.0
Whiteness of the image
Image slightly cream-yellow.
3.4/5.0
Collimation
Exemplary.
5/5.0
Internal reflections

| | |
| --- | --- |
| Left: | Right: |
| | |

Average.
2.9/5.0
Housing
Very solid and handy in the same time. Regulated eyecups.
7.8/8.0
Focusing
Comfortable central screw with pulled out click stop. Pulling out and pressing sometimes change the focus. Individual focus quite comfortable, nothing moves outside.
4.4/5.0
Tripod
Z opcjonalnym adapterem.
2/3.0
Interpupilary distance
from 55.2 to 74.7mm
5/6.0
Closest focusing distance
2.40 m.
1.5/2.0
Eyepieces FOV
Apparent field of view of 62.8 deg (according to simple formula) and 57.5 deg (according to tangent formula).
12.5/20.0
Field of view
Measured by us amounted to 6.28 +\- 0.03 degrees and was in accordance with the specifications.
6.5/8.0
Quality of the interior of the barrels
Matt and dark. Several small specks of dust on the right prism. Bottom is shiny very slightly.
4.4/5.0
Vignetting

| | |
| --- | --- |
| Left: | Right: |
| | |

No.
OL: 0.0%, OR: 0.0%.
8/8.0
Prisms quality
High quality BaK-4.
8/8.0
Antireflection coatings
Green-yellow-blue on objectives. Pink on prisms. Green-blue-pink on eyepieces. Low intensity.
5/5.0
Warranty [years]
lifetime
6/6.0
Final result

79.1%


6th place in the overall ranking of the 10x42 binoculars test.
150.3 / 190 pkt
Econo result
46th place in the econo ranking of the 10x42 binoculars test.
-6.3pkt.
Summary
Pros:
exceptionally solid and stylish housing, very comfortable to hold,
good transmission,
astigmatism corrected very well,
slight coma,
low chromatic aberration,
distortion corrected quite well,
negligible light fall-off at the edge of the field of view,
perfectly circular pupils,
high quality of prisms and coatings,
exceptionally good blackening inside the inner tubes,
lifetime warranty.
Cons:
noticeable flares near exit pupils,
whiteness reproduction could have been better.

Everyone who has ever had the Leica Ultravid binoculars in his or her hands knows fully well that it is an excellent instrument without any serious flaws. The "pros" list speaks for itself and the "cons" above are nothing of the high calibre.
You might ask, then, why the Leica took only the sixth place in our 10x42 binoculars test? The problem is that the device had too few really outstanding results. Not only Leica's main rivals from the great trio (Swarovski and Zeiss) but also some of the Nikons managed to outperform it. Even significantly cheaper instruments like the Bushnell Elite or the Bynolyt Albatross were hard on its heels. Spending over 2000 USD on the Leica seems to be a moot point in such a case….