Kahles 10x42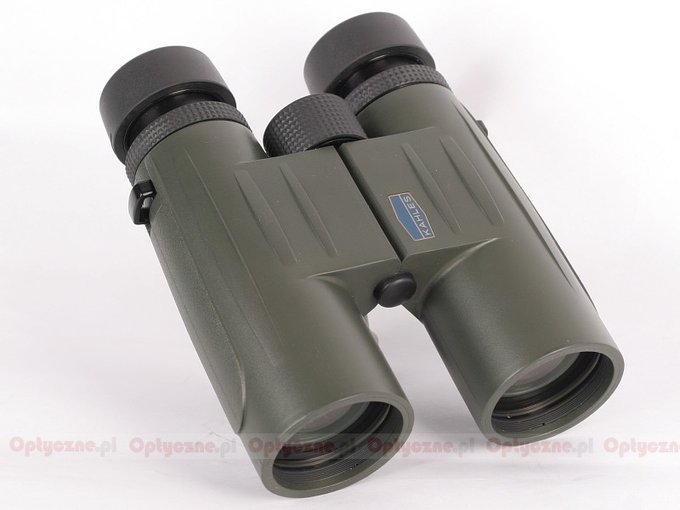 The Kahles company's offer is quite modest as it includes only three roof prism models with the following parameters: 8x32, 8x42 and 10x42. All of them are equipped with AMV anti-reflection coatings which task is to ensure a high transmission level (the highest in the range from 500 to 540 nm, where our sight is the most sensitive). The prisms are put in the Schmidt-Pechan system and phase correction coated. The whole optics is put into a metal housing covered with a high quality rubber armour. The instruments are waterproof and nitrogen-filled. The binoculars can be bought in three colour versions (gray, green and camouflage).
Manufacturer data
Magnification
Lens diameter
Angular field of view
Prisms
Eye relief
Weight
Price
10
42
105/1000(6o)
BaK-4/roof
15.5 mm
736 g
3290 PLN
Results of the review
Real front lens diameter
Left: 42.03+/- 0.05 mm
Right: 42.07+/- 0.05 mm
8 / 8.0 pkt
Real magnification
10+/- 0.15x
3/3.0
Transmission
85+/- 3%
12.5/25.0
Chromatic aberration
Slight.
6.5/10.0
Astigmatism
Low.
7.3/10.0
Distortion
The distance of the first curved line from the field centre compared to the field of view radius: 54% +\- 9%
6/10.0
Coma
Very low.
8.7/10.0
Blurring at the edge of the FOV
The blur occurs in the distance of 77% +\- 3% from the field of view centre.
5/10.0
Darkening at the edge the FOV
Low.
4.1/5.0
Whiteness of the image
Almosf perfect.
4.8/5.0
Collimation
Exemplary.
5/5.0
Internal reflections

| | |
| --- | --- |
| Left: | Right: |
| | |

Slight.
3.6/5.0
Housing
Very stylish, light, handy and solid at the same time. Comfortable to hold and to look through. Some grease near the eyecups.
7.1/8.0
Focusing
Very comfortable and smooth central screw (480 degrees). It moves heavily near the right objective but there's a protuberance to have a hold. Nothing moves outside.
4.9/5.0
Tripod
The exit moderately difficult to reach
2.5/3.0
Interpupilary distance
from 58.3 to 74.1mm
5/6.0
Closest focusing distance
1.8 m
2/2.0
Eyepieces FOV
Apparent field of view of 60.1 deg (according to simple formula) and 55.4 deg (according to tangent formula).
11/20.0
Field of view
Measured by us amounted to 6.01 +\- 0.03 degrees and was in accordance with the specifications.
5/8.0
Quality of the interior of the barrels
Big black speck of dirt glued to the inner part of the lens in the right eyepiece. It is clearly visible in the field of view when you look through the binoculars. Black but slightly shiny and ribbed near the prisms. Light bottom.
2.2/5.0
Vignetting

| | |
| --- | --- |
| Left: | Right: |
| | |

OL: 1.7%, OR: 0.5%.
Slightly truncated pupils.
6.5/8.0
Prisms quality
High quality BaK-4.
8/8.0
Antireflection coatings
Yellow-orange on objectives. Purple-yellow on prisms. Green-pink on eyepieces. Low intensity.
5/5.0
Warranty [years]
25
5/6.0
Final result

73%


17th place in the overall ranking of the 10x42 binoculars test.
138.7 / 190 pkt
Econo result
42 place in the econo ranking of the 10x42 binoculars test.
-3.1pkt.
Summary
Pros:
handy and, at the same time, solid housing,
very low coma,
low astigmatism,
chromatic aberration quite well corrected,
excellent whiteness rendition,
low flares,
sharp image already from 1.8 metres,
good quality coatings,
favourable warranty conditions.
Cons:
a big speck of dust glued to the inner lens in the right eyepiece,
egg-shaped pupils,
the image at the edge of the field of view could have been sharper.

The Kahles binoculars are often considered to be the rivals of the highest price class instruments. Unfortunately a slip-up with a huge speck of dust glued to the inner lens of the right eyepiece makes them equal with the worst products from Chinese factories, in which tufts of dust and hairs are found on a regular basis. In order not to sound groundless and prove our accusations we tried to take a photo of that dirt although it wasn't easy because it was near the edge of the field of view. The result of our efforts can be seen below.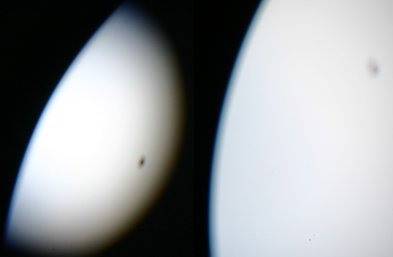 If you look through the binoculars the effect is even worse. Even a complete amateur will be able to see that dirt and find that something is wrong. It reflects badly on the quality control in the Kahles factories and its distributors. Perhaps nobody had ever looked through the binoculars before – in such a state it was sent to the shops and then to us for the tests. It would be rather difficult to imagine that somebody looked through them and just waved them aside…
It's a pity, because looking at the other test categories we find that the Kahles is a well-made product, rather difficult to fault. Slightly egg-shaped pupils are the price paid for small dimensions and the image at the edge could have been sharper but, apart from that, it's really hard to find a flaw here.
We can praise confidently good correction of basic optical aberrations, high quality coatings, which give excellent and natural colour rendition, or handy and physically light casing.