Swift Optics 930 Ultra Lite 10x42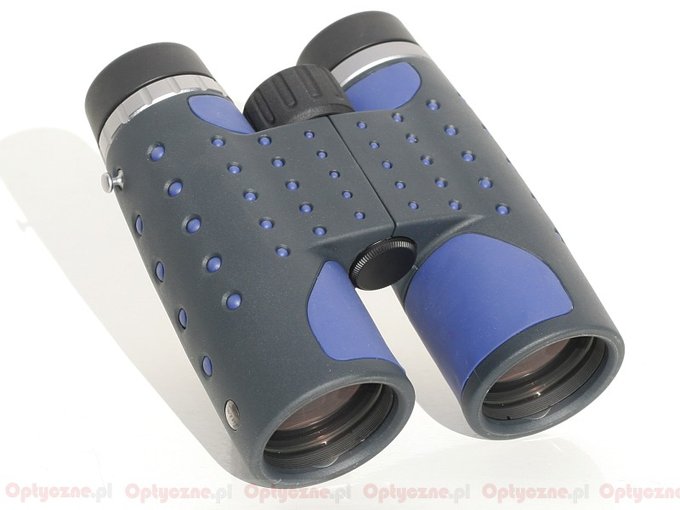 As it is touted by the producer, the Ultra Lite series devices are the only binoculars that have two kinds of special rubber on the barrel – one to amortize efficiently any falls, even from significant heights, and the other to ensure a comfortable, reliable hold. As a result the binoculars are, in our opinion, very interesting and original; the device differs greatly from other competitors' products.
When it comes to the optics, in the binoculars were used BaK-4 glass prisms put in the roof Schmidt-Pechan system. All the elements were covered by new, specially designed multilayer antireflection coatings which are supposed to ensure particularly high transmission. Additionally, the eyepieces are constructed in such a way to have a wide field of view and a comfortable eye relief.
The binoculars are waterproof and come with a 25-year-long guarantee.
Manufacturer data
Magnification
Lens diameter
Angular field of view
Prisms
Eye relief
Weight
Price
10
42
105/1000(6o)
BaK-4/roof
16 mm
680 g
1249 PLN
Results of the review
Real front lens diameter
Left: 41.87+/- 0.05 mm
Right: 41.87+/- 0.05 mm
7 / 8.0 pkt
Real magnification
9.85+/- 0.15x
3/3.0
Transmission
91+/- 3%
13/15.0
Chromatic aberration
Medium in the centre, very high at the edge.
3.3/10.0
Astigmatism
Slight.
6.6/10.0
Distortion
The distance of the first curved line from the field centre compared to the field of view radius : 31% +\- 5%
3/10.0
Coma
Very low.
8.1/10.0
Blurring at the edge of the FOV
The blur occurs in the distance of 82% +\- 3% from the field of view centre.
6/10.0
Darkening at the edge the FOV
Very low.
4.2/5.0
Whiteness of the image
Slight yellow.
4/5.0
Collimation
Exemplary.
5/5.0
Internal reflections

| | |
| --- | --- |
| Left: | Right: |
| | |

Very low.
4/5.0
Housing
Quite compact. Very comfortable to hold and to look through. Eyecups with detented stops. Original.
7.8/8.0
Focusing
Very comfortable central screw, with a 540-degree turn. Individual focusing also comfortable but a bit less so – it moves the lens.
4.3/5.0
Tripod
There is a comfortable exit.
3/3.0
Interpupilary distance
from 55.5 to 74.6mm
5/6.0
Closest focusing distance
1.35 m.
2/2.0
Eyepieces FOV
Apparent field of view of 59.4 degrees.
6.5/10.0
Field of view
Measured by us amounted to 6.03 +\- 0.03 degrees and was in accordance with the specifications.
5.5/8.0
Quality of the interior of the barrels
Dark and quite matt. A bit of gray bottom sticks out. Clean.
4.3/5.0
Vignetting

| | |
| --- | --- |
| Left: | Right: |
| | |

OL: 5.9%, OR: 0.6%.
3.5/8.0
Prisms quality
Good BaK-4.
8/8.0
Antireflection coatings
Pink on the objectives. Green-pink on the prisms and eyepieces. Low intensity.
5/5.0
Warranty [years]
25 lat
5/6.0
Final result

74.8%


24th place in the overall ranking of the 10x42 binoculars test.
127.1 / 170 pkt
Econo result
7th place in the overall ranking of the 10x42 binoculars test.
8.4pkt.
Summary
Pros:
very solid and original casing,
high transmission,
very low coma,
well-corrected astigmatism,
sharp image in most part of the field,
slight light fall-off at the edge of the field of view,
good whiteness rendition,
sharp image already from 1.35 metres,
high quality of coatings and prisms,
long guarantee.
Cons:
egg-shaped left pupil,
high chromatic aberration at the edge of the field of view,
a bit too high distortion.

It often happens in our tests that real life verifies brutally all the binoculars' advantages, so touted in promotional brochures by the producer. Taking this truth into account the Swift Ultra Lite surprised us even more pleasantly. Its praised casing is really interesting, original, solid and it sticks out in a positive way against the background of other rivals from the same price segment. New coatings are indeed doing a great job ensuring high transmission. In this price class other producers usually cover prisms with aluminum reflection coatings so their products have the transmission level about 80-85%. The Swift exceeds 90% and it really should be praised for it.
Because of its small dimensions the binoculars have just one serious slip-up, connected with very high chromatic aberration at the edge of the field. Its level was so high that it broke a kind of record among other binoculars in our 10x42 test. In the field centre the aberration stops being so bothersome and even against the background of other competitors the instrument fares quite well.
If we deal with a set of roof prism binoculars with the price tag of 400 USD, one serious slip-up can be forgiven. It is even easier done when we see good or very good results in other categories. We can complain a bit about truncated pupils (although any light losses caused by them are efficiently made up by excellent coatings) and a bit high distortion level.