Hawke Endurance II 10x42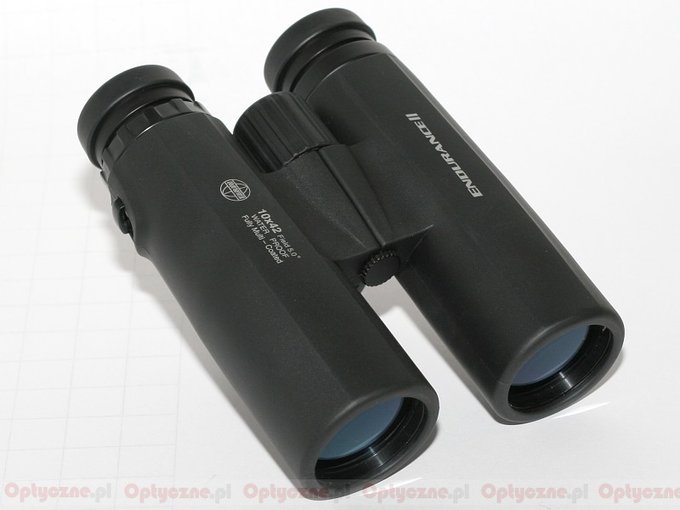 The Endurance II series is a set of binoculars with a 10x magnification and front lenses with a diameter of 42 mm. According to the producer it is a perfect daytime instrument. Good optical properties were reached because several technologies have been integrated here: the lenses and prisms were made of BaK-4 optical glass, characterized by a high degree of light transmittance; the roof prism system was used, where the lenses of an objective and eyepieces are positioned in one line; all lenses inside the binoculars were covered by anti-reflection multi-coatings of silicon dioxide. The device's hard and completely waterproof body has been designed for performance, durability & comfort, making the binoculars fit to use in any weather conditions. The focus is set by turning one ring for both eyepieces' viewers. The graduated Twist-up system allows you to adjust the eye relief appropriately. The Endurance binoculars are supplied with comfort neck straps, and eyepieces' caps.
Manufacturer data
Magnification
Lens diameter
Angular field of view
Prisms
Eye relief
Weight
Price
10
42
87/1000(5o)
BaK-4/roof
? mm
690 g
799 PLN
Results of the review
Real front lens diameter
Left: 41.81+/- 0.05 mm
Right: 41.83+/- 0.05 mm
7 / 8.0 pkt
Real magnification
10.6+/- 0.2x
2.5/3.0
Transmission
58+/- 4%
4/15.0
Chromatic aberration
Slight in the centre, a bit higher on the edge.
6.3/10.0
Astigmatism
Low.
6.2/10.0
Distortion
The distance of the first curved line from the field centre compared to the field of view radius: 33% +\- 3%
3/10.0
Coma
Slight.
6/10.0
Blurring at the edge of the FOV
The blur occurs in the distance of 71% +\- 3% from the field of view centre.
3/10.0
Darkening at the edge the FOV
Noticeable but still slight.
3.1/5.0
Whiteness of the image
Light yellow.
4.2/5.0
Collimation
Perfect.
5/5.0
Internal reflections

| | |
| --- | --- |
| Left: | Right: |
| | |

Not very high but you can see the light escaping by the side through the false pupil
2.9/5.0
Housing
Long and narrow with slippery rubber but still quite solid. Some squelches during moving, eyecups with click-stops, too much grease on the bridge. The eyecups are distinctly too short.
4.2/8.0
Focusing
Comfortable central wheel which squelches and is a pain to turn (you can turn it at as many as 1200 degrees). You can't focus with the inner tubes maximally folded – they block the wheel. The ring on the right eyepiece not very comfortable, with sharp edges; it moves the lens and clicks very loudly, you can easily scare away the animals you observe.
2.2/5.0
Tripod
Difficult to access.
2.5/3.0
Interpupilary distance
from 59.1 to 76mm
4/6.0
Closest focusing distance
1.8 m
2/2.0
Eyepieces FOV
Apparent field of view of 51.4 degrees.
5/10.0
Field of view
Measured by us amounted to 4.85 +\- 0.03 degrees and it was by 0.15 of a degree narrower than given in the specifications. A very narrow field of view for its class.
4/8.0
Quality of the interior of the barrels
Inner tubes dark and matt. Bottom with plenty of scratches. Minimal specks of dust.
4.2/5.0
Vignetting

| | |
| --- | --- |
| Left: | Right: |
| | |

Truncated right pupil.
OL: 0%, OR: 6.8%.
4/8.0
Prisms quality
High class BaK-4.
8/8.0
Antireflection coatings
Greenish on objectives and eyepieces. Prisms not covered. Distinct intensity.
3.5/5.0
Warranty [years]
2
2/6.0
Final result

58.1%


53rd place in our overall ranking of 10x42 binoculars' test.
98.8 / 170 pkt
Econo result
54th place in the econo ranking of 10x42 binoculars' test.
-14pkt.
Summary
Pros:
quite good quality of body,
high quality of prisms,
correct blackening inside the binoculars,
minimum focus already from 1.8 metres,
coma, astigmatism and chromatic aberration quite well controlled,
good colours rendition.
Cons:
very narrow field of vision, even smaller than provided in official specifications,
low transmission,
focusing needs a lot of turning of the central wheel,
significant distortion,
fuzzy image on the edge of the field,
slightly truncated the right exit pupil,
right eyepiece's focusing is loud,
false pupils,
prisms not covered by antireflection coatings.

When the Delta Optical company intended to launch the Forest series binoculars on the market, the prototypes were sent to us for testing. We managed to find a lot of shortcomings, their list was sent to DO and then they forwarded it to their factory in China. As a result the final product lacked most of drawbacks, found by us previously. Imagine now our surprise and amusement when we got hold of the Hawke Endurance II 10X42 binoculars. Although outside it is similar to the Forest it also includes all the flaws of its prototype. After all, the main accusations we had made against the Forest series prototypes concerned clearly visible false pupils, too short eyecups, the right eyepiece's focus moving too tightly and too loudly, lack of coatings on the prisms and too narrow field of view…
The Hawke Endurance II is nothing less than the Delta Optical Forest before the lifting. If you add that the Hawke is almost two times more expensive, the choice seems to be pretty obvious.