Docter 10x42 B/CF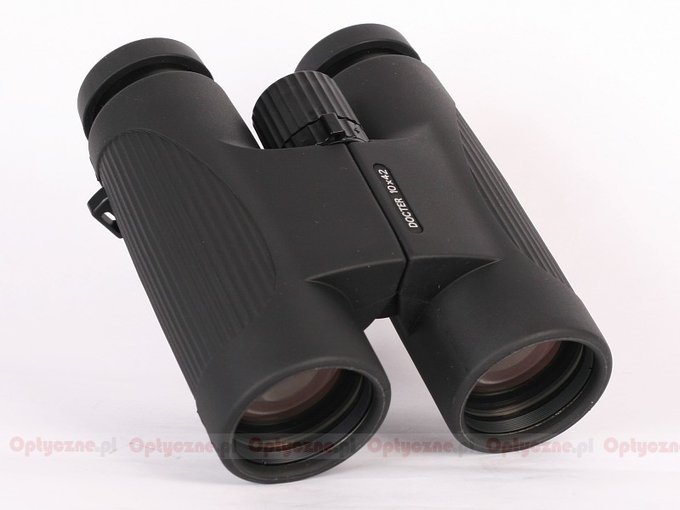 After the reunification of Germany the Carl Zeiss Jena company, renowned for its outstanding quality, lost the right to use the Zeiss brand name. The factory was bought by the Analytik Jena company and started to produce its own optical instruments, among which feature Docters 8x42 and 10x42 B/CF. It's a kind of mini-series of roof prism binoculars with the lenses' diameters of 42 mm. These instruments have BaK-4 prisms phase correction coated. All air-to-glass surfaces are covered by high quality multi-coatings which are supposed to ensure good transmission.
The binoculars have central focusing device, are waterproof ad nitrogen-filled, They also come with a 30-year-long guarantee.
Manufacturer data
Magnification
Lens diameter
Angular field of view
Prisms
Eye relief
Weight
Price
10
42
114/1000(6.5o)
BaK-4/roof
14 mm
843 g
3200 PLN
Results of the review
Real front lens diameter
Left: 42.05+/- 0.05 mm
Right: 42.06+/- 0.05 mm
8 / 8.0 pkt
Real magnification
9.77+/- 0.25x
3/3.0
Transmission
86+/- 3%
13.5/25.0
Chromatic aberration
Medium.
6.5/10.0
Astigmatism
Slight.
7.8/10.0
Distortion
The distance of the first curved line from the field centre compared to the field of vision radius : 47% +\- 8%
5/10.0
Coma
Slight.
7/10.0
Blurring at the edge of the FOV
The blur occurs in the distance of 73% +\- 2% from the field of view centre.
4/10.0
Darkening at the edge the FOV
Low/
4.3/5.0
Whiteness of the image
Noticeable cream-yellow.
3.3/5.0
Collimation
Perfect.
5/5.0
Internal reflections

| | |
| --- | --- |
| Left: | Right: |
| | |

Visible. Distinct false pupil.
2/5.0
Housing
Very solid and comfortable to hold and to look through. Regulated eyecups. Grease near eyecups. Lack of objectives cups in the set.
7.7/8.0
Focusing
The model of smoothness and ergonomics. Perhaps the best solution in the test so far. You can focus the binoculars practically with one finger using two comfortable central screws. Nothing moves outside.
5/5.0
Tripod
No.
0/3.0
Interpupilary distance
from 57.1 to 73.5mm
4/6.0
Closest focusing distance
2.30 m.
1.5/2.0
Eyepieces FOV
Apparent field of view of 63.6 deg (according to simple formula) and 58.1 deg (according to tangent formula).
13/20.0
Field of view
Measured by us amounted to 6.51 +\- 0.03 degrees and was in perfect accordance with the specifications. A wide field of view for this equipment class.
7/8.0
Quality of the interior of the barrels
Inner tubes and the area near prisms are black but not perfectly matt. Some dust and a small damp patch at the edge of one prism.
3.8/5.0
Vignetting

| | |
| --- | --- |
| Left: | Right: |
| | |

OL: 0.9%, OR: 0.9%.
7/8.0
Prisms quality
High quality BaK-4.
8/8.0
Antireflection coatings
Pink-orange on the objectives. Greenish on the prisms and eyepieces. Very low intensity.
5/5.0
Warranty [years]
30
5/6.0
Final result

71.8%


23rd place in the overall ranking of our 10x42 binoculars test.
136.4 / 190 pkt
Econo result
48th place in Econo rank of our test of 10x42 binoculars.
-7.9pkt.
Summary
Pros:
wide field of view,
very solid housing,
excellent solution of the focusing mechanism,
low coma,
slight astigmatism,
chromatic aberration quite well-corrected,
very low brightness loss at the edge of the field,
high quality of coatings and prisms,
good warranty conditions.
Cons:
lack of tripod exit,
the image at the edge could have been sharper,
distinct false pupils.

Docter decided to tackle a difficult challenge. It wanted to produce a set of binoculars with the field of view significantly wider than that of the most serious rivals from the Leica, Swarovski and Zeiss stables, and almost twice cheaper at the same time. Docter succeeds in accomplishing such a feat in the case of instruments with bigger objective lenses' diameters but the task is easier as it manufactures porro-prism binoculars and competes with roof prism rival devices. Here it is much more difficult because Docter's roof prism instrument had to compete with roof prism rivals too.
The task was ambitious and small wonder that many problems arose. Very wide field at the edge is not as sharp as we would like it to be and its distortion level is noticeable. What's more, the Docter had two slip-ups which cost it as many as 6 points in total – these are too high flares with distinct false pupils and the lack of a tripod exit.
When it comes to other categories, the Docter deserves almost only praise. The designers turned special attention to the ergonomics of the binoculars' usage which is one of the best among all the products from our 10x42 test. With such a wide field of view they also managed to correct well the most important optical aberrations, namely chromatic aberration, coma and astigmatism.
What else can be written in the summary? The Docter 10x42 is undoubtedly a very good instrument with a wide field of view. The problem is that the competitors don't let the grass grow under their feet. Docter has always wanted to compete directly with products of such companies as Leica, Minox, Zeiss or Swarovski. In the meantime, though, less known but certainly not less ambitious companies have been putting big pressure on it. It would be difficult not to notice the similarity between the Docter, the Ecotone SR-4 and the Bushnell Discoverer. Both these rival binoculars had a very similar score in our test and their price is at the level of 2000 PLN. The problems don't end with them. Perhaps the most formidable opponent of the Docter is the Bynolyt Albatross, which, although a bit cheaper, had a significantly better score.