Leupold BX-2 Alpine 8x42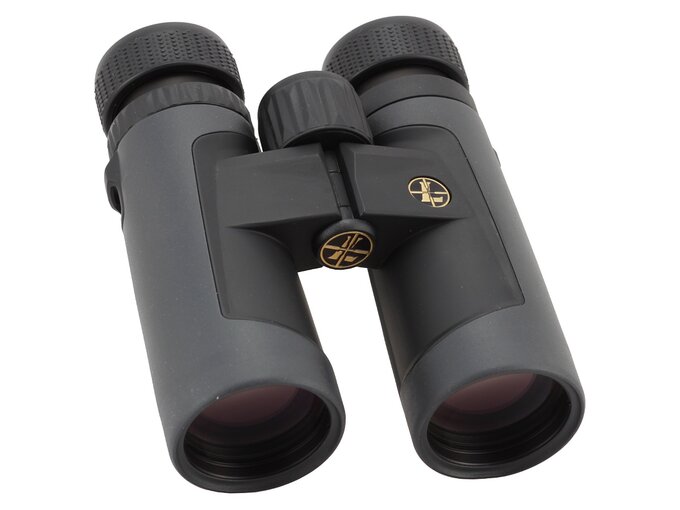 When it comes to binoculars on the Polish market, it must be said the Leupold company was a bit out of luck. For many years a Warsaw-based shop called Artemix was their official representative; the only problem was that they focused mainly on offering spotting scopes for shooting.
The situation changed in 2020 when Kolba.pl, another Polish shop, became Leupold's official stockist; immediately they were able to offer all lines of products of this producer.
It was the right move, especially that the BX-2 Alpine series is an interesting option as its price/performance ratio seems to be very favourable. That series consists of four roof prisms models with the following parameters: 8x42, 10x42, 10x52, and 12x52.
At a price point of around 300 USD you get quite a lot. Barrels of all binoculars are made of low weight magnesium composites; they are also waterproof, and nitrogen purged. Producers ensure you that all air-to-glass surfaces are covered by anti reflection multi coatings and the outer elements feature hydrophobic coatings. Roof prisms are additionally phase-correction coated.
Buyers get in the box with binoculars: two objective caps, a rainguard, a strap, a case, and a cleaning cloth. The series comes with lifetime warranty of the producer.
Manufacturer data
Magnification
Lens diameter
Angular field of view
Prisms
Eye relief
Weight
Price
8
42
130/1000(7.4o)
BaK-4/roof
18 mm
689 g
1139 PLN
Results of the review
Real front lens diameter
Left: 42.02+/- 0.05 mm
Right: 42.03+/- 0.05 mm
8 / 8.0 pkt
Real magnification
8.05+/- 0.05x
3/3.0
Transmission
85.9+/- 1%
13/25.0
Chromatic aberration
Low in the centre but distinct on the edge.
6.3/10.0
Astigmatism
Very nice indeed! Almost point-like images of stars.
8/10.0
Distortion
Distance between the first curved line and the field centre compared to the field of view radius: 92% ± 3%
10/10.0
Coma
Starts in a distance of 65-70% of the field of view radius and is between medium and high level on the very edge.
5.9/10.0
Blurring at the edge of the FOV
Blur occurs in a distance of 67% ±3% from the field of view centre.
2/10.0
Darkening at the edge the FOV
Easy to notice.
2.8/5.0
Whiteness of the image
Slight yellowish hue turning green. Noticeably slanted transmission curve.
3.9/5.0
Collimation
Perfect.
5/5.0
Internal reflections

| | |
| --- | --- |
| Left: | Right: |
| | |

Quite sensible. Areas near exit pupils are rather dark.
3.9/5.0
Housing
Nice and quite shapely. Area close to the bridge is made of metal, then the barrel is covered by rubber armour with slight texture. Sticks to your hands very well. The armour covers the body of binoculars very well but next to objective lenses you can pull it back easily and almost put your finger between the rubber and the barrel. Rubberized eyecups with three detention stops look a bit clumsy. Binoculars are comfortable to hold and to look through.
6.5/8.0
Focusing
Significant central wheel with rubberized ribbing. It moves smotthly and without squelching but with a quite light resistance. Its focus throw amounts to about 540 degrees. Dioptre correction done by a comfortable ring on the right eyepiece. It moves the outer element.
4.3/5.0
Tripod
Easy to access.
3/3.0
Interpupilary distance
from 56.1 to 78.2mm
5/6.0
Closest focusing distance
1.55 meters.
2/2.0
Eyepieces FOV
Apparent field of view of 58.4 degrees according to simplified formula and 54.1 degrees according to tangent formula.
10/20.0
Field of view
Measured by us amounted to 7.26 ± 0.04 degrees and it was by 0.14 of a degree narrower than stated in official specifications. A typical field for this class of equipment.
5.5/8.0
Quality of the interior of the barrels
Quite dark and matt inner tubes. Visible apertures. A cell with the focusing element and bottom near the prisms are dark and rough. A quite sensible blackening; clean inside, visible just particular minuscule specks of dust.
4.2/5.0
Vignetting

| | |
| --- | --- |
| Left: | Right: |
| | |

OL: 1.70%, OR: 1.72%
6/8.0
Prisms quality
Good quality BaK-4.
8/8.0
Antireflection coatings
Greenish on objectives and prisms, greenish-yellow-blue on eyepieces. Medium intensity.
4.5/5.0
Warranty [years]
lifetime
6/6.0
Final result

72%

136.8 / 190 pkt
Econo result
0pkt.
Summary
Pros:
shapely casing made of magnesium composites,
very good correction of astigmatism,
practically zero distortion,
dark areas near exit pupils,
sharp image already from a distance of 1.55 metres,
good blackening and cleanliness inside the tubes,
BaK-4 glass prisms,
good quality antireflection coatings,
lifetime warranty.
Cons:
a lot of blurry areas on the edge of the field of view,
parameters stated by the producer don't reflect well the reality.
Let's start from the fact that the producers deserve some bashing for not exactly professional approach concerning the parameters of their products. On the official site you can find several significant mistakes and, in order not to sound groundless, let me list some of them. The minimum focusing distance of the tested model officially amounts to 13.5 feet so 4.1 meters. It looks weird at first glance because modern roof prism 42 mm binoculars usually feature a minimum focusing distance of about 2 meters. What's interesting, our measurements showed that the minimum focusing distance of the Alpine 8x42 is just 1.55 meters, an excellent result every producer would boast of. Why Leupold shoots themselves in the foot bringing up a completely unbelievable, bogus value, far worse than the real one? Search me.
It's not the end of slip-ups. The length of the binoculars, according to official specifications, is 5 inches so 127 mm. You can say at once that it is a value typical rather for 32 mm class instruments because the real length of the Alpine 8x42 amounts to 142 mm with eyecups in resting position and 148 mm with eyecups twisted up.
According to official specifications the binoculars weigh 24.3 ounces or 689 grams. In reality their weight is 674 grams. Once again the producers accept a value that is not only false but also unfavourable to their product. Then comes the field of view – officially it is 7.4 degrees but in reality it is a bit narrower, amounting to 7.26 degrees.
If Leupold wants to be treated as a serious market player and a reliable producer mistakes like that should never happen. Personally I don't understand such sloppiness and lack of professionalism.
The final score of the BX-2 Alpine 8x42 shows clearly that you deal with binoculars of good quality that compares favourably to their direct rivals we've tested and praised on our site. The Leupold managed to get almost as many points as the Bresser Prisch ED 8x42 PhC and a bit more than the Delta Optical Chase 8x42 ED. Still the Delta remains a bit smaller and it features a bit wider field of view.
The biggest flaw of the Alpine 8x42 seems to be its sharpness on the edge of the field. As the field itself is not especially wide for the 8x42 class it should have been corrected a tad better. Still in other testing categories the binoculars had medium results or higher and in some areas this device fared really well. Overall we think it is a recommendable product, definitely worth your attention, especially if you are interested in a piece of equipment for about 300 USD.