Vixen New Foresta II 8x42 ED DCF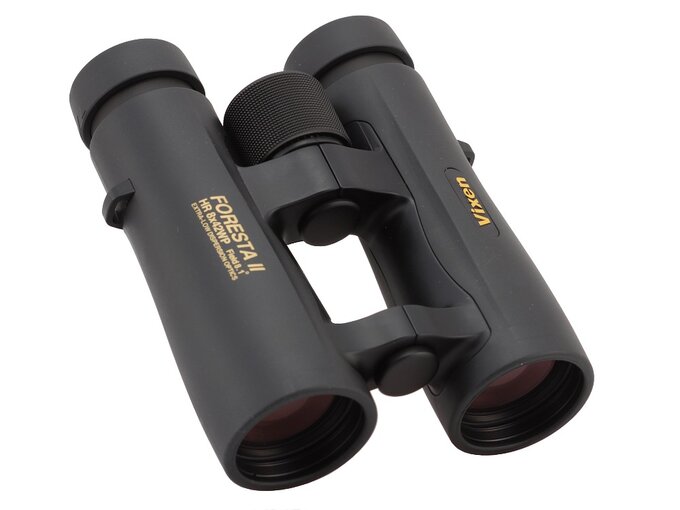 The series of Vixen New Foresta II comprises five models with the following parameters: 8x32, 10x32, 8x42, 10x42, and 8x56. All of them are Schmidt-Pechan roof prism constructions, with phase-corretion coated prisms made of BaK-4 glass.
The New Foresta II binoculars feature objective lenses made of low dispersion ED glass; apart from that the producers claim that all optical surfaces are antireflection multi-coated.
The chassis of the binoculars is made of aluminum and padded with high quality rubber armour that sticks well to your hands. The device is nitrogen-purged and waterproof.
Buyers get in the box with the binoculars: a joined cap for eyepieces, caps for objective lenses, a strap, an optics cleaning cloth and a special, profiled carrying case. The product comes with a 5-year warranty period of the producer.
Manufacturer data
Magnification
Lens diameter
Angular field of view
Prisms
Eye relief
Weight
Price
8
42
142/1000(8.1o)
BaK-4/roof
17 mm
730 g
1799 PLN
Results of the review
Real front lens diameter
Left: 42.08+/- 0.05 mm
Right: 42.1+/- 0.05 mm
8 / 8.0 pkt
Real magnification
8.06+/- 0.05x
3/3.0
Transmission
80.4+/- 1%
10/25.0
Chromatic aberration
Low in the centre, medium on the edge.
7/10.0
Astigmatism
Decent result but stars spark a bit.
6.5/10.0
Distortion
Distance between the first curved line and the field centre compared to the field of view radius: 92% ± 3%. Lines on the very edge feature slight moustache distortion.
10/10.0
Coma
Weak. Coma appears already in a distance of 45% of the field of view radius and on the very edge is between high and very high .
1.4/10.0
Blurring at the edge of the FOV
Blur appears in a distance of 87% +\- 4% from the field of view centre.
7/10.0
Darkening at the edge the FOV
Noticeable
3.7/5.0
Whiteness of the image
Distinct yellowish hue. A level that lags behind that of contemporary pairs of binoculars.
2.5/5.0
Collimation
Perfect.
5/5.0
Internal reflections

| | |
| --- | --- |
| Left: | Right: |
| | |

The situation is not perfect because you can notice an arc close to the exit pupil. When you look at lanterns at night you can see long spikes.
3.1/5.0
Housing
Physical dimensions typical for 42 mm class devices. An open hinge construction. The binoculars are comfortable to hold and to look through. The armour is made of rubber of good quality but perhaps it is a tad too slippery. Rubberized eyecups with four detention stops. Rubber next to objective lenses doesn't stick out and it covers the chassis properly well – below you can feel solid metal construction. Produced in China.
8/8.0
Focusing
Very big, ribbed central wheel, very comfortable to use. It turns smoothly and is properly damped (focus throw of 450 degrees). Individual focusing done through a click-stop button on the central wheel. Nothing moves outside.
5/5.0
Tripod
There is an exit but frar from the centre of mass.
2.5/3.0
Interpupilary distance
from 57.8 to 77.9mm
5/6.0
Closest focusing distance
2.15 meters.
2/2.0
Eyepieces FOV
Aparent field of view of 64.6 degrees (simplified formula) and 58.9 degrees (tangent formula).
13/20.0
Field of view
Measured by us amounted to 8.02 +\- 0.04 degrees and it was slightly narrower than stated in official specifications. A field that still remains quite wide for this class of equipment.
7/8.0
Quality of the interior of the barrels
Tubes are black and quite mat, with a lot of ribs. Dark bottom. Some specks of dust on the prisms.
4.2/5.0
Vignetting

| | |
| --- | --- |
| Left: | Right: |
| | |

OL: 1.28%, OR: 1.30%
6/8.0
Prisms quality
High quality BaK-4.
8/8.0
Antireflection coatings
Blue-green on objectives, yellowish on the prisms, pink-blue-yellow on eyepieces. Medium intensity.
4.5/5.0
Warranty [years]
5
3.5/6.0
Final result

71.5%

135.9 / 190 pkt
Econo result
0pkt.
Summary
Pros:
solid chassis of good quality,
significant field of view,
sensible correction of chromatic aberration,
practically zero distortion,
sharpness kept on a good level in the majority of the field of view,
properly blackened interior of tubes,
good quality BaK-4 prisms,
wide IPD range available.
Cons:
colour rendition lags behind contemporary standards,
too low transmission,
huge problems concerning coma correction.
In theory the Vixen Foresta II 8x42 ED DCF has everything that is needed to fare well in our tests and be completely recommendable to a wide group of binoculars fans. You get a product of a renowned producer, sold at a price which can guarantee a good workmanship without being too high. The field of view is rather large, exceeding slightly 8 degrees, and the eye relief distance amounts to a very good value, that of 17 mm.
What went wrong? It seems the antireflection coatings are to blame. At such a price point they should have been better and the transmission graph, shown below, proves that much.
Not only the maximum transmission value barely exceeds 80% but also the shape of the graph is not flat. There is a high loss of purple and blue light so the images provided by the Vixen are noticeably yellowish. I haven't tested a contemporary pair of binoculars at this price point with such a weak colour rendition result for a long time.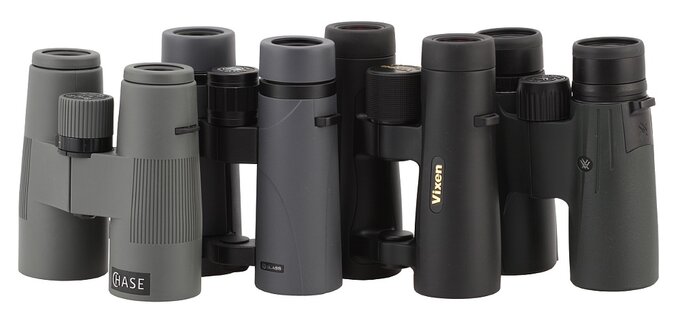 Delta Optical Chase 8x42 ED, Bresser Pirsch ED 8x42 PhC, Vixen New Foresta II 8x42 ED DCF and Vortex Viper 8x42 HD.
There's one more slip-up - the Vixen corrects coma rather weakly; however, the final result of our test is not that bad because the Vixen can also offer you a lot. The instrument experience no problems whatsoever when it comes to chromatic aberration and astigmatism, it corrects distortion exceedingly well and keeps a proper sharpness across a quite wide field of view. Apart from that its build quality is beyond reproach and its declared parameters remain in accordance with the real ones.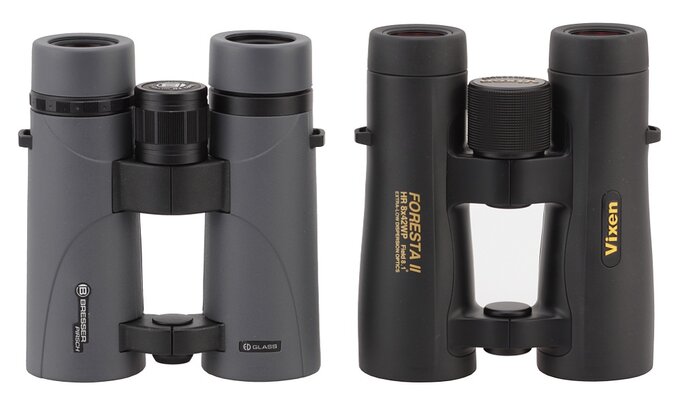 Bresser Pirsch ED 8x42 PhC and Vixen New Foresta II 8x42 ED DCF
Strong competition might be an issue, though - we think here about products coming even from the same distributor. Astrozakupy.pl, the authorized distributor of Vixen for Poland, also sells Bresser. Among other devices they offer the Pirsch ED 8x42 PhC we've tested recently. The Pirsch not only managed to gather a bit more points but it also comes with a noticeably lower price tag.
It's true that it doesn't provide such an impressive field of view as that of the Vixen but the eye relief distance is better, the Pirsch weighs less and, generally, in our test it didn't have all these serious slip-ups. In my view it is a far more recommendable pair of binoculars and also nicer to look at.
While ordering the New Foresta II 8x42 for tests I thought I would handle a potential market hit. The reality proved far less interesting. If only the Vixen had good quality coatings... I am sure high transmission and proper colour rendering would elevate the final result of the Vixen well above 140 points, making it an instrument distinctly better than the Bresser, and also strong rival of such well-put-together pairs of binoculars as the Bushnell Forge 8x42 and the Olympus PRO 8x42.