Docter Nobilem 8x56 B/GA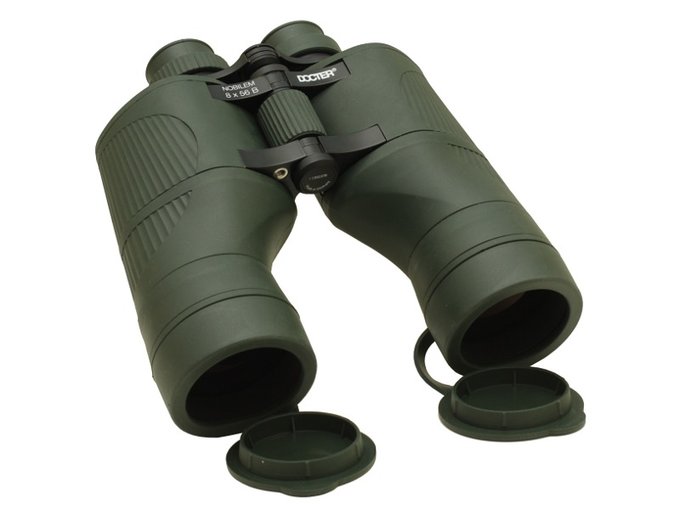 After the reunification of Germany the Carl Zeiss Jena company, renowned for its good quality, lost the right to use the Zeiss brand name. The factory was bought by the Analytik Jena company and started to produce its optical instruments, among which feature Docter Nobilem series binoculars. It is a series of porro-prismatic devices with the following objective lenses: 50, 56 and 60 mm. We got the 8x56 model for our tests.
All the Nobilem series binoculars are heavy, big instruments equipped with large prisms. They consist of a two-element objective lens and a four-element eyepiece (as we assume from the advertising leaflet's schematic picture). All air-to-glass surfaces are covered by high class antireflection multi-layer coatings. The binoculars are made of aluminum (newest version made of magnesium composites), generously covered by high quality rubber. They are watertight.
The binoculars come with centrally regulated sharpness and a 30-year-long guarantee.
Manufacturer data
Magnification
Lens diameter
Angular field of view
Prisms
Eye relief
Weight
Price
8
56
110/1000(6.3o)
BaK-4/Porro
17.5 mm
1350 g
3490 PLN
Results of the review
Real front lens diameter
Left: 56.1+/- 0.05 mm
Right: 56.04+/- 0.05 mm
8 / 8.0 pkt
Real magnification
7.79+/- 0.2x
3/3.0
Transmission
98+/- 3%
24.5/25.0
Chromatic aberration
Very low in the centre and at the edge.
8.4/10.0
Astigmatism
Very low.
8.5/10.0
Distortion
The distance of the first curved line from the field centre compared to the field of vision radius: 79.5% +\- 4%.
9/10.0
Coma
Not very visible.
8.4/10.0
Blurring at the edge of the FOV
The blur appears in the distance of 90.3% +\- 2% from the field centre.
8/10.0
Darkening at the edge the FOV
In a small distance from the edge.
4.5/5.0
Whiteness of the image
Almost perfect.
4.8/5.0
Collimation
Exemplary.
5/5.0
Internal reflections

| | |
| --- | --- |
| Left: | Right: |
| | |

Visible but at a sensible level.
3/5.0
Housing
Solid, big and heavy. It is comfortable to hold. The objective lenses caps fall off and they are attached on thin elastics.
6.5/8.0
Focusing
Comfortable knob – well-damped and smooth. The bridge moves minimally sideways.
4/5.0
Tripod
Situated in a strange, not very stable place.
2/3.0
Interpupilary distance
from 53.5 to 75.3mm
5/6.0
Closest focusing distance
4.38 m.
2/2.0
Eyepieces FOV
Apparent field of view of 50.3 deg (according to simple formula) and 47.5 deg (according to tangent formula).
4/20.0
Field of view
Measured by us amounted to 6.46 +/- 0.05 degrees and was by 0.16 +/- 0.05 wider than stated in the specifications.
5/8.0
Quality of the interior of the barrels
Everything is black and matt. Clean.
4.9/5.0
Vignetting

| | |
| --- | --- |
| Left: | Right: |
| | |

OL: 0.0%, OR: 0.0%
8/8.0
Prisms quality
Without reservations. Good quality BaK-4.
8/8.0
Antireflection coatings
All surfaces covered by high class multi-layer coatings. Low intensity.
5/5.0
Warranty [years]
30
5/6.0
Final result

81.3%

154.5 / 190 pkt
Econo result
0pkt.
Summary
Pros:
sensational transmission,
very low chromatic aberration,
slight coma,
negligible astigmatism,
low distortion,
sharp image almost to the edge of the field,
low brightness loss at the field of view borders,
solid housing,
very good whiteness reproduction,
excellent blackening and cleanliness inside the inner tubes,
perfectly circular exit pupils,
excellent prisms and coatings,
long guarantee.
Cons:
strange position of the tripod exit,
loose-fitting objective caps.
The Docter Nobilem 8x56 is a set of binoculars which review must be almost full of superlatives. The Analytik Jena continues the good traditions of the Carl Zeiss Jena company and the Nobilem series is an excellent example of it. The 8x56 model is characterized by an outstanding transmission, large field of view, very low astigmatism and chromatic aberration minimal even at the edges of the field. The latter advantage is especially worth emphasizing as the Docters have had one of the whitest image of all binoculars tested here so far. In such a white image any aberration flaws would be clearly visible but the Docters simply didn't have any of them. The usage of the huge Porro system prisms is also worth emphasizing, as it resulted in a clear, bright image, free from any brightness losses at the edges.
The Docter's result is so good that it is difficult to find any disadvantages. In principle, you must pay for a decent field of view, splendid transmission and lack of vignetting because you have to deal with huge prisms, significant weight and bulky dimensions of the binoculars. The constructional solution of the tripod exit, which was put on the side of the barrel, not on the central axis which is a standard position, surprises us. The rubber armour of the binoculars makes the access very difficult and the huge weight of the instrument suggest some problems with the usage. Objective caps are a disadvantage when it comes to the barrel construction – they are too loose and they are tethered to the inner tubes on thin rubber straps that don't look as if they had a long life-span. All these flaws are not very bothersome, though, and the price, twice lower than in the case of the Swarovski, Zeiss or Leica models which are comparable in terms of quality, is very appealing. Nevertheless you must spend as much as about 1000 USD anyway. For this sum, though, you get excellent binoculars for the rest of your life (the 30-year-long guarantee persuades us of it very efficiently).
At the very end we show the Docter's transmission graph which is an example to be followed by all other companies. No other binoculars, tested by us, have had a nicer graph so far.