Bresser Pirsch ED 8x42 PhC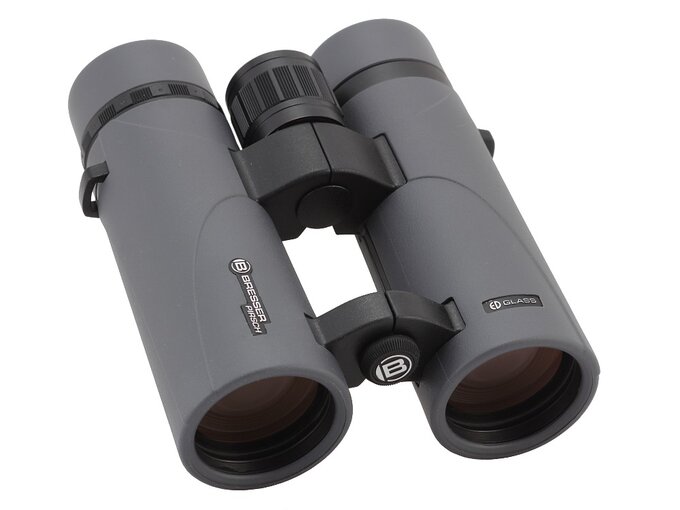 Bresser offers two roof prism lines of binoculars called Pirsch. The cheaper one is based on ordinary glass in the objective lens, the more expensive devices boast low dispersion ED glass. The line includes the following models: 8×42, 10×42 and 8×56.
In the Bresser Pirsch ED binoculars you get an inverting system based on Schmidt-Pechan prisms which are dielectric and phase-corrected. All air-to-glass surfaces are supposed to be covered by antireflection multi coatings.
The chassis of the binoculars is argon-purged, waterproof and submersible up to a depth of 1 meter for 30 minutes.
Buyers get in the box: protective caps for objectives, a rainguard for eyepieces, a strap for binoculars and another one for the case, and an optics cleaning pen. The binoculars come with lifetime warranty of the producer.
Manufacturer data
Magnification
Lens diameter
Angular field of view
Prisms
Eye relief
Weight
Price
8
42
125/1000(7.1o)
BaK-4/roof
18.3 mm
636 g
1299 PLN
Results of the review
Real front lens diameter
Left: 41.97+/- 0.05 mm
Right: 41.96+/- 0.05 mm
8 / 8.0 pkt
Real magnification
8.01+/- 0.05x
3/3.0
Transmission
87.7+/- 1%
15/25.0
Chromatic aberration
Slight in the centre, near medium on the edge.
5.7/10.0
Astigmatism
Almost point-like images of stars! A very good result!
8.7/10.0
Distortion
Distance of the first curved line from the field of view centre compared to the field of view radius: 38% ±4%
4/10.0
Coma
Starts in a distance of 75% of the field of view radius and is between medium and high levels on the very edge.
6.5/10.0
Blurring at the edge of the FOV
Blur occurs in a distance of 85% ±3% from the field of view centre.
7/10.0
Darkening at the edge the FOV
Almost imperceptible. Excellent result!
4.8/5.0
Whiteness of the image
A slightly slanted transmission curve with a peak for yellow-orange light. As a result, images are slightly warm.
4/5.0
Collimation
Perfect.
5/5.0
Internal reflections

| | |
| --- | --- |
| Left: | Right: |
| | |

Falls a bit short of perfection. Visible arches near the exit pupil.
3/5.0
Housing
Shapely, stylish open hinge design, comfortable to hold and to look through. Gray, matt rubber armour with slightly rough texture sticks well to the chasis, also near objectives. Significant rubberized eyecups with 3 detention stops.
8/8.0
Focusing
Big, comfortable central wheel that moves smoothly and is well damped. Running through the whole distance range need a turn through an angle of 760 degrees – it means you have to turn it quite a lot. Shapely dioptre adjustment ring situated on the right eyepiece moves the outer element.
4.5/5.0
Tripod
Quite accessible but far from the centre of gravity.
2.5/3.0
Interpupilary distance
from 58.1 to 76.2mm
5/6.0
Closest focusing distance
2.05 meters.
2/2.0
Eyepieces FOV
Apparent field of view of eyepieces amounts to 56.3 deg according to simplified formula and 52.4 deg according to tangen formula.
8/20.0
Field of view
Measured by us amounted to 7.03 ±0.04 deg and was a tad narrower than stated in official specifications. A typical field for this class of equipment.
5/8.0
Quality of the interior of the barrels
Tubes are dark and ribbed inside, nicely matted too. Bottom and screws are black and just slightly shiny. Few specks of dust.
4.3/5.0
Vignetting

| | |
| --- | --- |
| Left: | Right: |
| | |

OL: 2.10%, OP: 4.47%.
4/8.0
Prisms quality
Good quality BaK-4.
8/8.0
Antireflection coatings
Green-pink-yellow on objective lenses, green-purple on prisms, purple-green on eyepieces. Medium intensity.
4.5/5.0
Warranty [years]
lifetime
6/6.0
Final result

71.8%

136.5 / 190 pkt
Econo result
0pkt.
Summary
Pros:
stylish, shapely, relatively lightweight casing,
sensible transmission,
good colour rendering,
excellent correction of astigmatism,
low brightness loss on the edge of the field,
moderate coma,
good quality prisms made of BaK-4 glass,
good quality anti-reflection and dielectric coatings,
lifetime warranty,
favourable price performance ratio.
Cons:
So far the binoculars produced by Bresser haven't been performing well in our tests; the launch of the Pirsch ED series made me hopefull that it might change. Photos and official information concerning that device were really promising and interesting enough. The binoculars look solid, its chassis is stylish, fully waterproof and fogproof, shapely and not heavy, weighing just 636 grams (and in reality our scales showed even 4 grams less). It is a very good result for the 42 mm class.
There is low dispersion ED glass in objective lenses, prisms are dielectric and phase corrected, and all air-to-glass surfaces are supposed to be multi-coated. In the 8×42 model you find a very comfortable eye relief, amounting to 18.3 mm. Field of view seems to be the only thing we would like to see a tad improved. Of course a value exceeding 7 degrees is not bad but in this class a high-end pair of binoculars is expected to have a field as wide as 7.5 deg or more. On the other hand it should be noticed that Bresser didn't take a shortcut here by offering a completely narrow field of, say 6.3-6.5 deg, a practice you can observe quite often in the 8×42 class.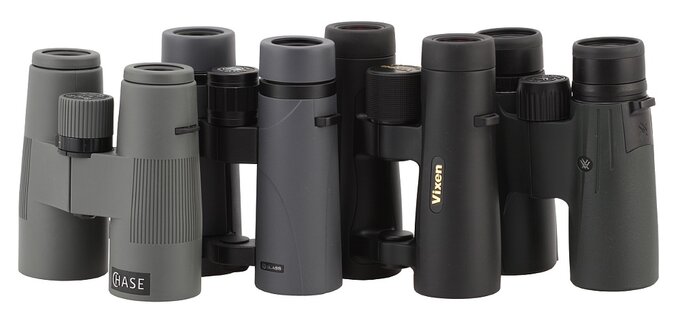 Delta Optical Chase 8×42 ED, Bresser Pirsch ED 8×42 PhC, Vixen New Foresta II 8×42 ED DCF and Vortex Viper HD 8×42.
Having several hundred tests of binoculars under my belt, I know what will be the tone of my review as soon as I look through the new instrument for the first time. The Pirsch ED 8×42 looked well on photos and on paper, after taking it out of its box it also made a good impression, and when I looked through it for the first time the situation became even better. I don't say it created that classic WOW effect because its field of view was a bit too narrow for it but the rest was in perfect order. Anyway I couldn't notice any distinct flaws.
Vortex Viper HD 8×42 i Bresser Pirsch ED 8×42 PhC.
Image in the center is sharp, well contrasted, with proper colour reproduction even if with a slightly warm hue (and some users like it), brightness and sharpness loss on edges is low and chromatic aberration kept well in check.
At night the binoculars corrects astigmarism in a great way and deals sensibly well with coma. Also images of bright lampposts didn't give us any reasons to complain.
The transmission graph, presented below, is really good, taking the Pirsch's ED price point into account.
In the middle of the visible spectrum we land near 88%, reaching even 90% for orange and red light. The graph is just slightly slanted and the loss of blue light is slight. Overall, there are really no reasons to complain.
The Bresser Pirsch ED 8×42 PhC didn't have any noticeable slip-ups in our test (maybe apart from too truncated exit pupils); in many categories it fared well or even very well. It lacks only a tad wider field of view to make us completely happy. Still, as it is, you don't have an impression you look through a keyhole so the field of view might be called sensible. The properly designed and manufactured optics is closed in a stylish, shapely casing which is lightweight but looks solid. All of that can be bought for just 300 Euro and you get lifetime warranty of the producer too.
I don't doubt the Bresser Pirsch ED 8×42 PhC is going to be a very serious market player. If you think about buying an 8×42 instrument and you don't plan to exceed a sum of 300 Euro by much you should get seriously interested in this pair of binoculars.