Olympus 8x42 PRO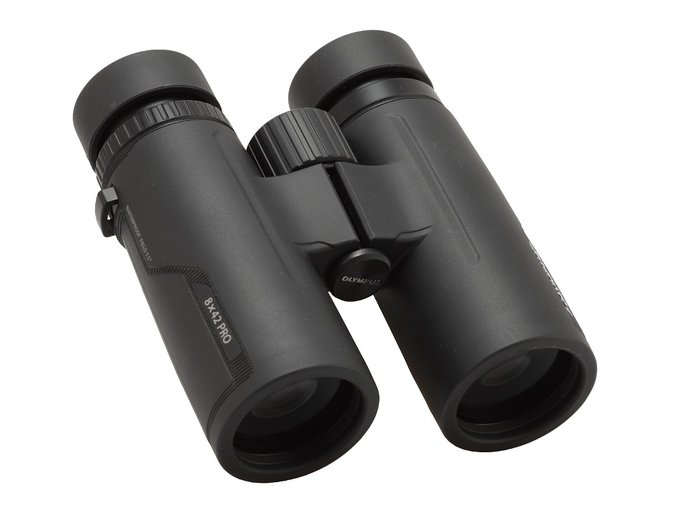 The Olympus company made us wait for their binoculars launches in the class of objectives bigger than 30 mm quite a long time. All fans of Olympus equipment finally had a reason to be happy when, by the end of October 2018, the company showed two new PRO models, the 8x42 and the 10x42.
Both are roof Schmidt-Pechan devices with phase-correcting and dielectric coatings on prisms. Additionally, the producer boasts of using low dispersion ED glass and ZERO coatings (Zuiko Extra-low Reflection Optical) so both models are supposed to be characterized by high light transmission, reaching 94%.
The casing of the binoculars is supposed to be waterproof, dirt-proof and resistant to internal foggig; the binoculars are submersible to 1 meter up to five minutes.
Buyers get a case, objective caps, a rainguard and a comfortable strap in the box. The models come with a 15-year warranty period. After registering the product on the special MyOlympus page you can extend that period to 25 years and, knowing the high quality of Olypus warranty services I think it is a very sensible move.
Manufacturer data
Magnification
Lens diameter
Angular field of view
Prisms
Eye relief
Weight
Price
8
42
131/1000(7.5o)
BaK-4/roof
18 mm
670 g
1999 PLN
Results of the review
Real front lens diameter
Left: 41.92+/- 0.05 mm
Right: 41.93+/- 0.05 mm
8 / 8.0 pkt
Real magnification
8.16+/- 0.05x
3/3.0
Transmission
84.7+/- 1%
12/25.0
Chromatic aberration
Low in te centre and on the edge as well.
7.5/10.0
Astigmatism
Slight.
7.8/10.0
Distortion
Distance of the first curved line from the field centre compared to the field of view radius: 95% ± 2%
10/10.0
Coma
Appears in a distance of 75% of the radius from the field centre and is medium on the very edge.
8/10.0
Blurring at the edge of the FOV
Blur occurs in a distance of 74% ± 4% from the field of view centre.
4/10.0
Darkening at the edge the FOV
Moderate.
3.8/5.0
Whiteness of the image
Quite flat transmission graph with a minimum surplus of blue and a slight dip at 550 nm. Images with slight blue hue.
4/5.0
Collimation
Perfect.
5/5.0
Internal reflections

| | |
| --- | --- |
| Left: | Right: |
| | |

Nice.
4.1/5.0
Housing
Quite shapely for the 42 mm class, comfortable to hold and to look through. Padded with dark rubber which sticks to your hand sensibly well and doesn't stick out anywhere. Rubberized eyecus with 3 detention stops but can be twisted up and down smoothly as well. Produced in China.
8/8.0
Focusing
Big ribbed central wheel which turns smoothly but with hardly any resistance. The focusing needs a lot of turning – going through the full scale takes as much as 1080 degrees, a huge value, definitely too big. Dioptre correction on the right eyepiece done through a comfortable, ribbed ring. It moves the outer lens.
4.3/5.0
Tripod
Comfortable access.
3/3.0
Interpupilary distance
from 56.1 to 78mm
5/6.0
Closest focusing distance
1.20 meters.
2/2.0
Eyepieces FOV
Apparent field of view of 61.0 deg (according to simple formula) and 56.1 deg (according to tangent formula).
11.5/20.0
Field of view
Measured by us amounted to 7.47 +/- 0.04 degrees and was in a perfect accordance with specifications. A snesible field for this class of equipment.
6/8.0
Quality of the interior of the barrels
Black, ribbed interior of the tubes but they could have been more matted. Bottom and areas next to prisms are dark grey and matt. Some specks of dust visible on the prisms.
4.1/5.0
Vignetting

| | |
| --- | --- |
| Left: | Right: |
| | |

OL: 1.92%, OR: 3.04%.
5/8.0
Prisms quality
Good quality BaK-4.
8/8.0
Antireflection coatings
Green on objectives and prisms. Green-pink on eyepieces. Medium intensity.
4.5/5.0
Warranty [years]
15 years
5/6.0
Final result

75.6%

143.6 / 190 pkt
Econo result
0pkt.
Summary
Pros:
solid casing,
good correction of chromatic aberration,
slight astigmatism,
invisible distortion,
proper coma correction,
sensible colour rendering,
nice areas around exit pupils,
good blackening of the interior of tubes,
good quality prisms made of BaK-4 glass,
sharp images already from 1.2 metres,
good warranty conditions.
Cons:
transmission distnictly lower than declared,
noticeable sharpness loss on the edge of the field of view,
central wheel needs too many turns to cover the whole range.
When in 2006 we did our huge
10x42 binoculars test
, the Olympus EXWP I and EXPS I were among its biggest winners – they managed to get a place on the podium in our Econo ranking as devices with the best price-performance ratio. In fact the Olympus EXWP I 10x42 for many years was one of pairs of binoculars which I recommended the most often.
Unfortunately the same couldn't be said about the Olympus EXWP I 8x42 which, even if optically and mechanically good, had too narrow field of view, amounting to just 6.3 degrees. I rarely recommend binoculars with eyepieces' field of 50 degrees or less so that instrument definitely didn't manage to impress me.
That's why, when in 2018 the PRO series was shown, I was really happy that the declared field of view of the 8x42 model amounts to 7.5 degrees which means they used eyepieces with a very sensible apparent field of view of 60 degrees.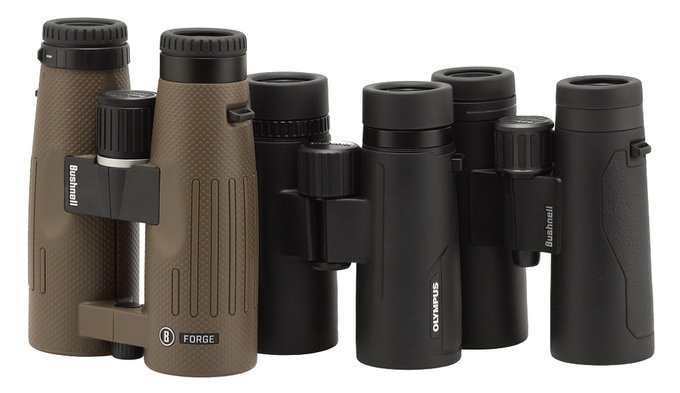 Bushnell Forge 8x42, Olympus 8x2 PRO and Bushnell Engage 8x42.
Finally that pair of binoculars was sent for testing to our office and its field proved to be corrected properly well when it comes to chromatic aberration, distortion, astigmatism and coma. You can have some objections concerning its flatness because the sharpness on the edge could have been better, but, in fact, it remains its single flaw.
The producer declared that the light transmission is on a level of 94%. I admit that in a case of a Schmidt-Pechan pair of binoculars that costs less than 500 Euro it was a really bold declaration; after all a level of 90% is rarely exceeded even in devices 2-3 times more expensive. That's why I waited impatiently for the results of our measurements and you can see them below, in a form of a graph presenting a correlation between transmission and wavelength.
Honestly, I have to say it is the bigest letdown of the entire test. What's the use of declaring those 94% when in the most important part of the spectrum, so in the middle of the visible range, you get just about 85%? The highest result, slightly exceeding 87%, you get at 450-460 nm wavelength. It is also strange as the images provided by the binoculars are tinted blue, not I feature I personally appreciate or like. I'd rather the binoculars made the image warmer with slight yellow or green colouring. I also don't like when the producers skew the parameters of their instruments; small wonder this paragraph sounds so bitter.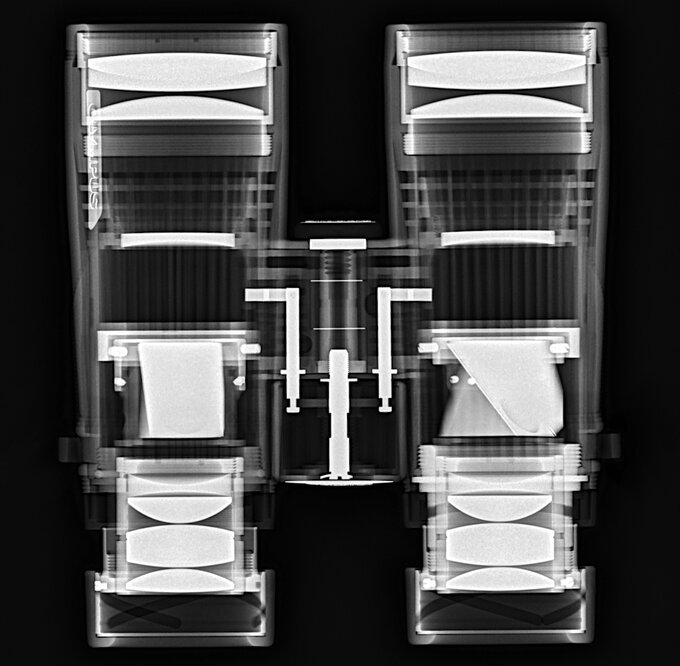 X-ray photo of the Olympus PRO 8x42. Phot. Obserwatorek.
Still I don't think we should end our test in that unpleasant tone. The Olympus 8x42 PRO is definitely a well-done model, more useful than its predecessor, the EXWP I 8x42. Apart from its transmission slip-up all the rest of its performance should be described in superlatives only because in no other category its results were weak. Additionally it comes in a nitrogen-filled, sealed casing, waterproof and rather sturdy. The producer also offer you a long warranty period. As a result the binoculars managed to gather over 137 points in our test and a very high place in
our 8x43 models ranking
, right among much more expensive instruments. Despite its transmission problem it remains a completely recommendable pair of binoculars.